HD photographs of La Loire et le Loiret statue in Tuileries Gardens Paris - Page 22

We were in the 1st Arrondissement of Paris at the Jardin des Tuileries, when we took these high definition photos showing a statue group called La Loire et le Loiret, which was sculpted by Corneille Van Cleve.


Paris Statues
- << Previous 21 22 23 24 25 26 27 28 29 30 Next >>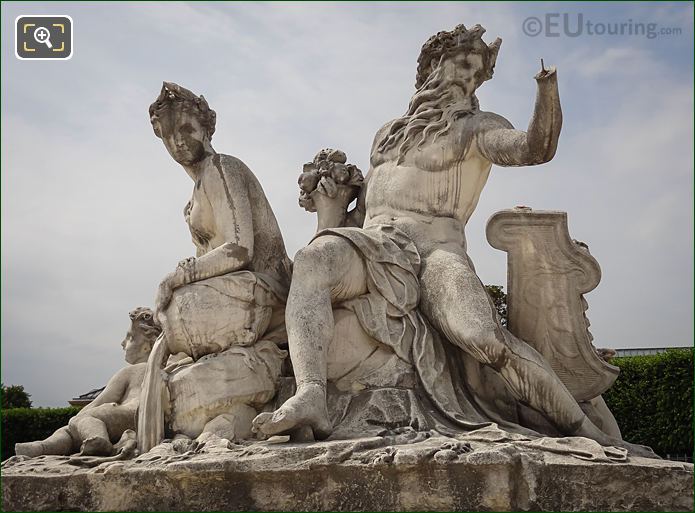 The Jardin des Tuileries was originally designed to accompany a palace for Queen Catherine de Medicis, the widow of King Henri II, back in the 1500s, yet after the River Seine flooded it was redesigned by Andre Le Notre in the 1600s for King Louis XV, and at the start of the 1700s the first statues started to be placed within the gardens followed by this one of La Loire et le Loiret.
La Loire et le Loiret is a statue group designed to represent the River Loire and the River Loiret that travel through France and this was first produced as a plaster model in 1699, but as you can see from this close up photograph, the hand is missing on this particular statue.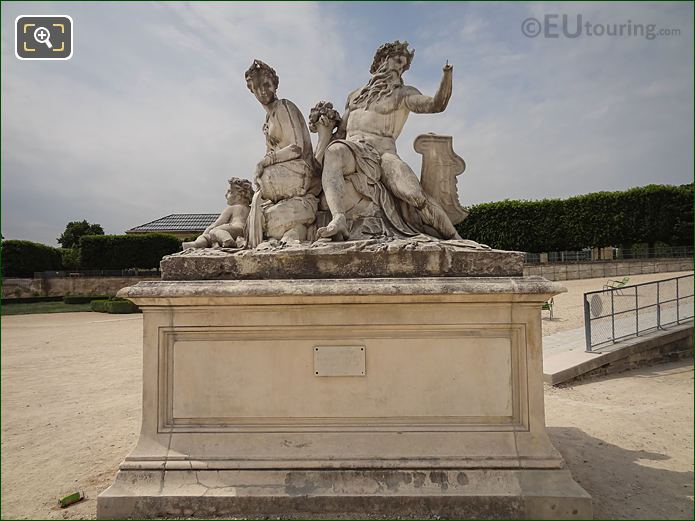 After the model constructed in plaster had been approved, this was started to be executed in marble at its full size of 2.3 metres in height, with a length of 2.73 metres, which took between the years of 1703 and 1707 by the French sculptor Corneille van Cleve.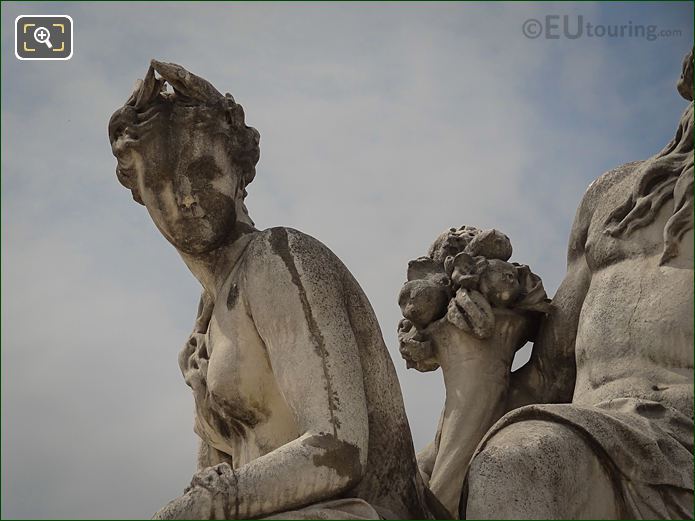 Corneille van Cleve was born in Paris in 1645 to a family of goldsmiths, and he apprenticed in the workshop of a sculptor called Michel Anguier before entering the Academie Royale de Peinture et de Sculpture, which translates in English to the Royal Academy of Painting and Sculpture, where he eventually became a professor, then a director.
Now La Loire et le Loiret was originally destined for an entirely different royal residence called the Chateau de Marly, where it was to be placed within its park to accompany another statue group on the same theme of rivers called La Seine et la Marne, which was sculpted by Nicolas Coustou.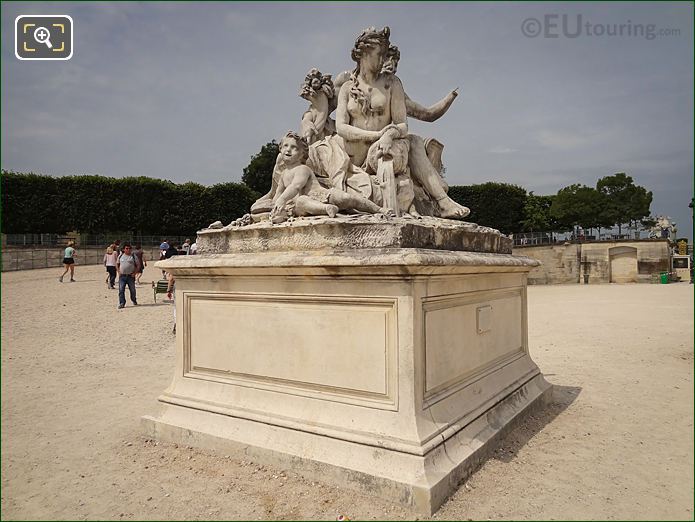 However, it was not within this park for very long, as it was transferred to the Jardin des Tuileries by 1719, where it was placed close to the western entrance of the gardens by the Place de la Concorde in an area known as the Fer a Cheval, which in English mean horseshoe, and this is where you will find the two sloping ramps that lead up to terraces on either side.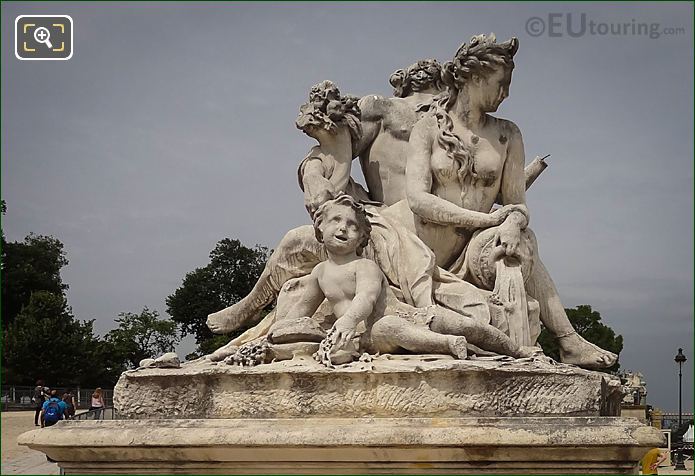 This allegorical statue group of The Loire and the Loiret in marble, actually had the dates of 1703 - 1707 on the marble, so hence why it is known when this was first executed by Corneille van Cleve, and it was to remain in the same position of the Tuileries Gardens until 1993.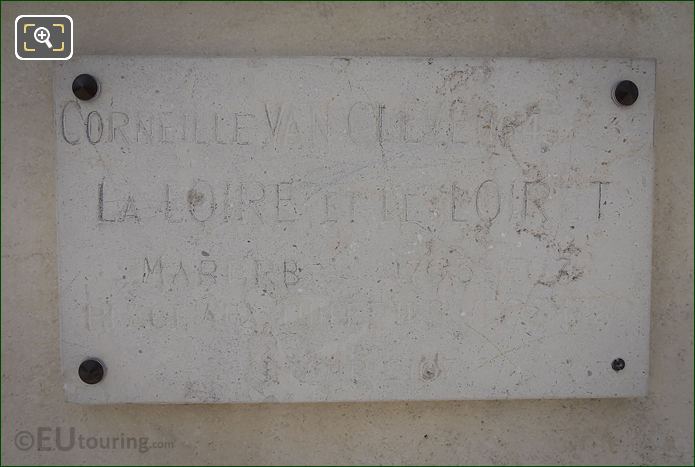 Because La Loire et le Loiret statue was classed as an historical monument in its own right, the Musee du Louvre, who also manage the Tuileries Gardens, wished to preserve this statue for future generations to enjoy, and therefore it was transferred to the museum and a copy, or cast was put in its place.
The original marble statue, was then fully restored to its former glory thanks to the patronage of the Paris Mutual Urban during the years of 2004 through to 2006, and can now be seen within the Richelieu wing in a dedicated area called the Cour Marly, where other works that were originally at the Chateau de Marly are also on display.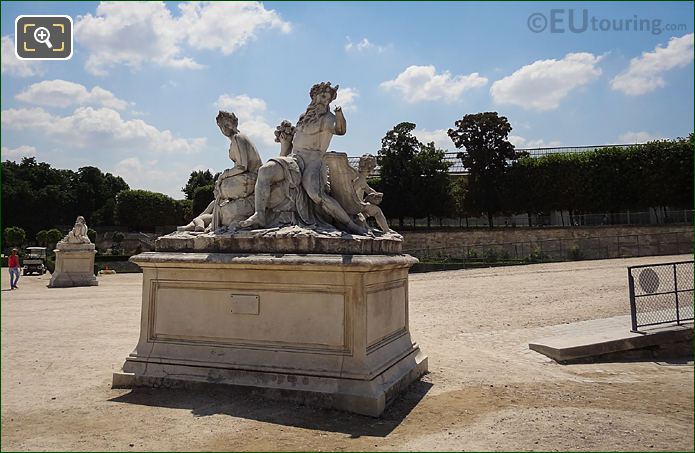 Yet for those of you who are not lucky enough to venture inside the famous Louvre Museum, you can still get to see the exact copy on its large pedestal base within the same Fer a Cheval area of the Jardin des Tuileries by the ramp closest to the River Seine, which would take you up to the terrace where the Musee de l'Orangerie is located.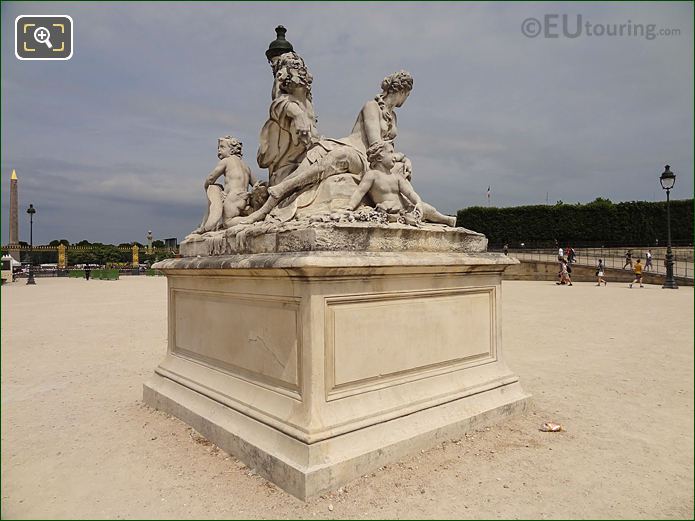 And La Loire et le Loiret is located within the Tuileries Gardens in the 1st Arrondissement of Paris, opposite the statue called La Seine et la Marne, close to the octagonal basin and another two statues groups as allegories representing different rivers.

Paris Statues - << Previous 21 22 23 24 25 26 27 28 29 30 Next >>


If you would like to use any of these photos for non commercial use we only ask that you please do include recognition to ourselves "eutouring.com", but if you are not sure with regards to usage, please contact us.