HD photographs of Meditation Avec Bras statue in Jardin des Tuileries - Page 640

We were again within the Jardin des Tuileries in the 1st Arrondissement of Paris, when we took these high definition photos showing a statue called Meditation Avec Bras, which was sculpted by Auguste Rodin.


Paris Statues
- << Previous 631 632 633 634 635 636 637 638 639 640 Next >>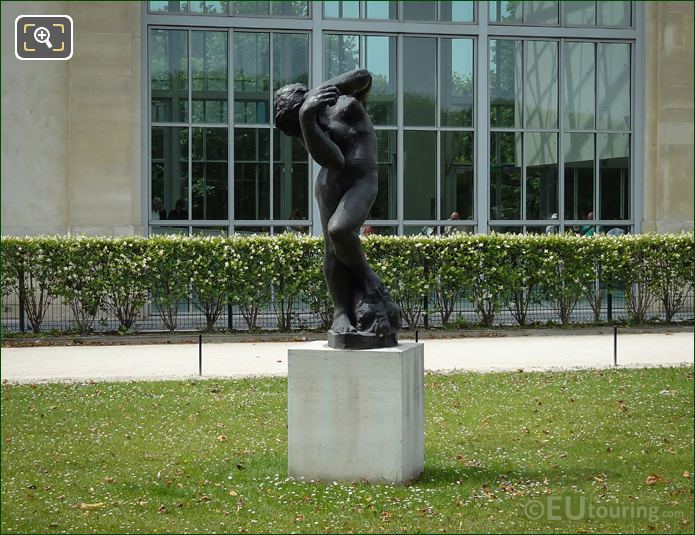 This first HD photo shows the statue called Meditation Avec Bras, which in English translates to Meditation With Arms, and this is to distinguish this particular sculpture from another produced by Auguste Rodin that has a female figure in exactly the same position but without arms.
And here you can see a close up of the statue, which was first created in 1881, yet this particular one was cast in bronze in 1905, and Auguste Rodin encouraged casts and additions for the same piece of art, which is why there are numerous pieces held throughout the world in public and private collections.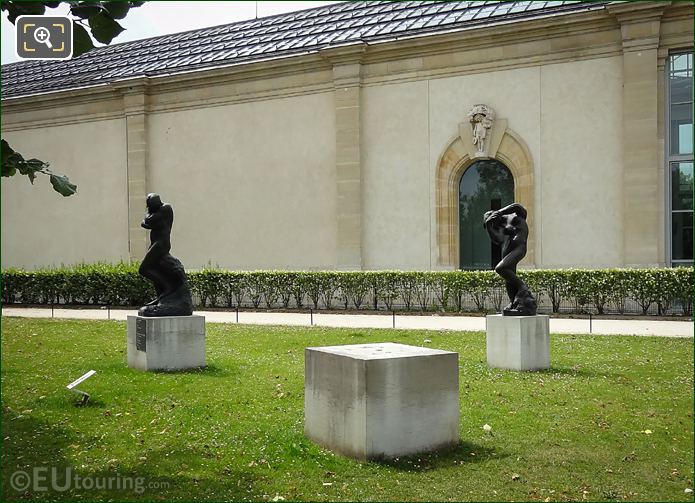 Now here you can see the Meditation statue to right of the image, and another statue by Rodin called Eve to the left, and as you can see, there should be a third bronze statue, which is called The Man, also known as Adam, but was missing when we took these photographs, probably for maintenance or restoration work.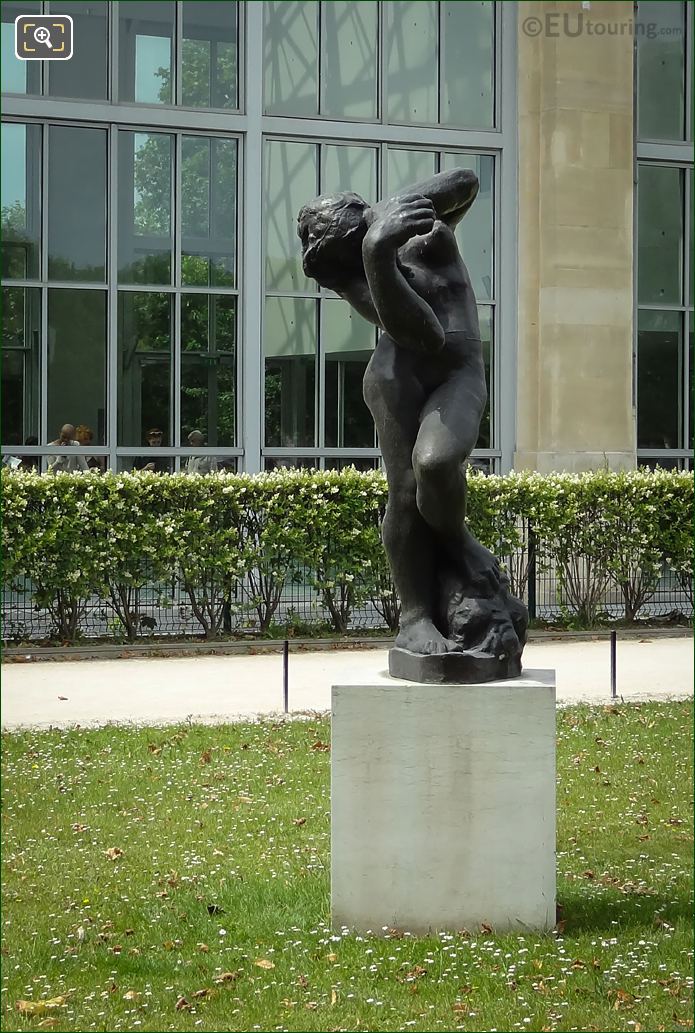 So, to give you a bit of background information, Auguste Rodin was born in Paris on 12th November 1840 with a full name of Francois Auguste Rene Rodin, and he became a French sculptor, yet he never had formal training at the Ecole des Beaux Arts, even though he wanted academic recognition.
Yet Auguste Rodin became classed as the originator of modern sculpture, even though he did not set out to be, but throughout his career and lifetime, many of his works were criticised, with lots of his nude statues initially being termed unsuitable for the public and exhibitions.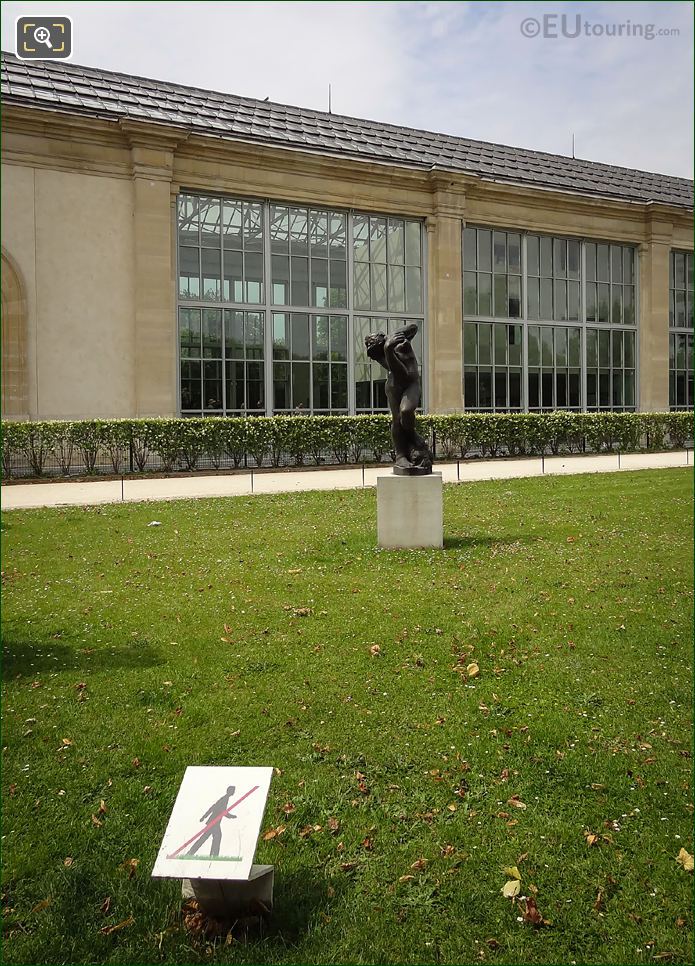 However, Auguste Rodin became a well recognised French sculptor and received many different commissions, even though he initially had a hard time getting noticed and ended up working for places such as Sevres designing vases and table ornaments.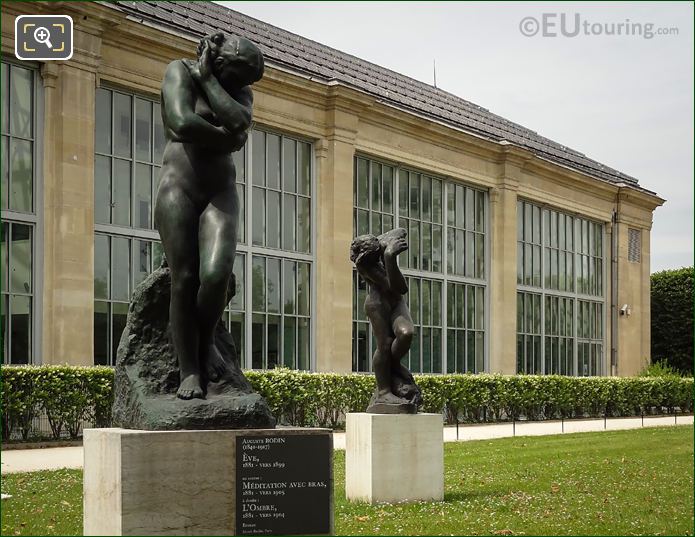 But later in his career, one of the commissions was by the Directorate of Fine Arts in 1880, which was for a decorative entrance to a museum, even though the museum was never actually constructed, but Auguste Rodin worked on this over decades until he passed away in 1917.
Now this particular sculpture is called The Gates of Hell and combines numerous different figures, and the Meditation statue was one of these that he realised into a large scale model, that was then cast in 1905, as you can see from the details on this close up image of the plaque.
And although Auguste Rodin passed away in Meuden within the Ile de France region, he had lived at the Hotel Byron, and bequeathing his studio along with the right to make casts from his plaster models, the Musee Rodin was founded in Paris, holding more than 6,000 sculptures and 7,000 works on paper like his sketches and studies, which is why you can also get to see these statues of Meditation With Arms and Eve in the Tuileries Garden.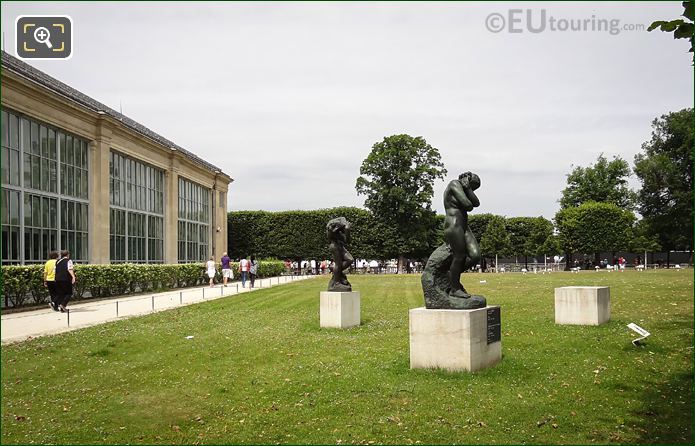 Although this very last HD photo provides you a greater perspective as to the location of the Meditation Avec Bras statue by Auguste Rodin, that is positioned on a lawn area in front of the Musee de l'Orangerie, which is the building you can see to the left of the image.

And this area is located at the south western end of the Jardin des Tuileries on the terrace called the Terrasse de l'Orangerie, which is the upper terrace closest to the River Seine in the 1st Arrondissement of Paris.

Paris Statues - << Previous 631 632 633 634 635 636 637 638 639 640 Next >>


If you would like to use any of these photos for non commercial use we only ask that you please do include recognition to ourselves "eutouring.com", but if you are not sure with regards to usage, please contact us.