Maxim's Musee Art Nouveau museum Paris

Created by Pierre Cardin from his own private collection, the Maxim's Musee Art Nouveau Museum is designed like a typical art nouveau apartment of a courtesan from the Belle Epoch era, which is located above the famous Maxim's de Paris restaurant.


About the Maxim's Musee Art Nouveau

When you look back at the history of the restaurant in Paris called Maxim's, it started in unusual circumstances, and with a twist of fate it ended up with Pierre Cardin purchasing the restaurant that he used to go to regularly.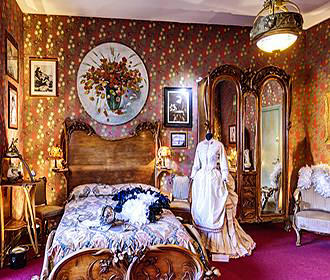 You will find that Pierre Cardin has always been an avid fan of the art nouveau style from the short lived Belle Epoch era and for over fifty years he has continually amassed a large collection of over 550 different items from all over the world, which he wanted to showcase.

So, he decided to transform the top floors of the building above the Maxim's de Paris restaurant into the Musee Art Nouveau Museum, by recreating an apartment of a celebrated courtesan, in order to allow the public to not only discover the rich history of the restaurant, but also this period.

The building itself has now been classified as one of the historical monuments in Paris, as in fact, it was only just finished in time for the opening of the 1900 International Exhibition or World Fair and has retained all its traditional art nouveau style, but of course this has been enhanced even further with the museum.

And within the 12 rooms of the apartment that make up the museum, you will be able to discover pieces from prestigious creators such as lamps by Tiffany, many items of furniture like a sofa, a serving table by Majorelle, vases, china, table ware, silverware and much, much more.
Yet the oldest item was a piece of furniture that was a serving cart within Maxim's de Paris, which was originally ordered by the founder of this restaurant in Paris, Maxime Gaillard and this was witness to the birth of art nouveau.


Visiting Maxim's Musee Art Nouveau Museum

Spanning three floors and around 300 metres squared of space, this museum in Paris is normally open on a Tuesday and Wednesday, yet is closed at all other times, except for private events.

A tour of the Musee Art Nouveau lasts one hour, which can be conducted in English or in French, although we would like to point out that it cannot be accessed at any time without the guided tour.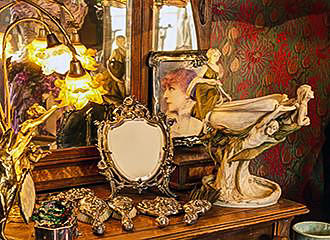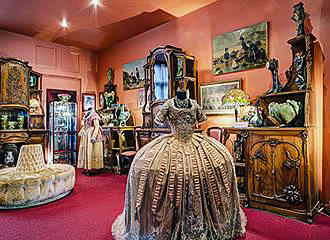 As of 2018, the cost of entry is €25 per person including the tour guide. But we would like to point out that reservations in advance are required, although there is a reduced rate of €10 for disabled visitors, plus it is free to those under age 18, although proof of eligibility is required.

However, as of 2020 you will find that only groups are currently allowed to visit this museum in Paris, and we would like to point out that you also have to contact the museum prior and book well in advance, yet for large groups, special occasions or corporate functions of fifty people plus, you can organise a tour of the museum followed by lunch or dinner.


Access to the Maxim's Art Nouveau Museum

Located within the 8th Arrondissement only a few steps from the Place de la Concorde and a very short walk from the River Seine, when it comes to public transport in Paris, you can reach this unique museum and the Maxim's Restaurant via the Metro station called the Concorde stop serving lines 1, 8 and 12.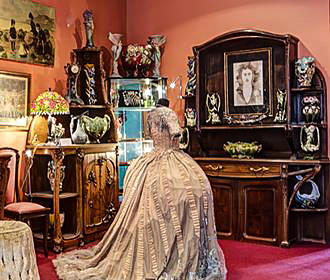 In the opposite direction you have the Madeleine stop serving lines 8, 12 and 14, which is located by the Place de la Madeleine and its church. However you can also utilise the Paris buses on lines 42, 45, 72, 73, 84 and 94, with the closest being 42, 45 and 84, which are virtually outside Musee Maxim's on the Rue Royale.

You also have the Noctilien via lines N11 and N24, which is the Paris Noctilien night bus Service that takes over when the other Paris transport stops for the night, so if you are still visiting other Paris tourist attractions located in the area such as the Avenue des Champs Elysees for example, then these are a great option.

In addition to these, there are Velib stations for the self service bike hire scheme, plus you have sightseeing bus tours like the firm l'OpenTour, and if you have your own vehicle, you may be pleased to know that there is a public car park located within walking distance as well.
Address and contact details
Maxim's de Paris, Musee Art Nouveau Museum, 3 Rue Royale, 75008, Paris, Ile de France, France
Tel: +33 (0) 1 42 65 30 47
Fax: +33 (0) 1 42 65 30 26


Related information
Maxim's de Paris Restaurant
Maxim's de Paris Restaurant history
Transport options
Paris Metro lines 1, 8, 12, 14
Bus line 24
Bus line 42
Bus line 52
Bus lines 72, 73
Bus line 84
Bus line 94
Night bus line N11
Night bus line N24
Attractions close by
Buddha-Bar
Luxor Obelisk
Musee du Jeu de Paume
Tuileries Gardens
Waldeck-Rousseau monument
Musee des Lunettes et Lorgnettes Pierre Marly
Place de la Madeleine
Pont de la Concorde
King Albert I statue
Jardins des Champs Elysees
Clemenceau statue
Charles de Gaulle statue
Musee Petit Palais
Grand Palais
Winston Churchill statue
Pont Alexandre III
Colonne Vendome