Musee Petit Palais Museum or the Musee des Beaux-Arts de la Ville de Paris

The Musee des Beaux-Arts de la Ville de Paris is a fine arts museum in Paris, yet is often just known as the Musee Petit Palais, and opened in 1902, it is located in the beautiful Petit Palais building that was constructed for the 1900 World Fair.


About Petit Palais Musee des Beaux-Arts de la Ville de Paris

The Petit Palais is an impressive tourist attraction in Paris, which is home to a very vast amount of different artefacts, many of which have been donated by collectors, and you will be able to discover a wide variety of different art works, such as paintings and etchings through to sculptures, plus furniture and vases through to antiquities, artefacts and objet d'art.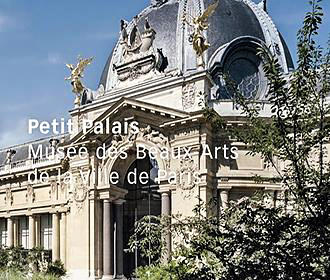 The Musee des Beaux-Arts de la Ville de Paris, basically translates to the Museum of Fine Arts of the City of Paris, yet is also often referred to as the Musee Petit Palais Museum.

When you look back at the history of the Petit Palais and the building itself, you will find that the fine arts museum officially opened as a permanent museum in Paris in 1902, which had been greatly enhanced by the Dutuit brothers.

In fact, a cupola is named after the brothers, as they had donated over 20,000 different works of art that included antiquities, drawings, etchings, 17th century Dutch and Flemish paintings, manuscripts and books from the 15th to 17th century, ancient Greek and Roman works, artefacts from the Middle Ages and the Renaissance, along with an almost complete collection by Rembrandt.

There was also another substantial donation by Edward Tuck of older works of art, which were eventually put on display at the Musee des Beaux-Arts de la Ville de Paris in 1930 and these included items like jewellery, enamels, tapestries, tableware, furniture, sculptures and paintings.
In addition to these, there have been many other donations over the years including a unique collection of art from eastern Christian churches that was donated by Roger Cabal, which makes the Petit Palais the holder of the largest collections of icons in France.

Within this incredible museum in Paris, you will discover the exhibits categorised into different themes such as the Petit Palais and its history, the Champs Elysees from the beginning to 1900, realist portraits, art during the reigns of King Louis XV and XVI, jewellery and precious metalwork, the sculptor Dalou, Claude Monet and landscape painting, Eugene Delacroix and Romantism, etc.

With the amount of works that the Musee Petit Palais holds, the permanent exhibitions are rotated regularly, so as to always provide something different for the visitor, and of course many of the works are also very fragile and cannot therefore be on permanent display.

Yet through a major renovation project to restore the building to its former glory and provide additional spaces for exhibitions, which was only completed in 2005, the permanent exhibition area of the Petit Palais is now over 5,000 metres squared compared to 3,000 prior.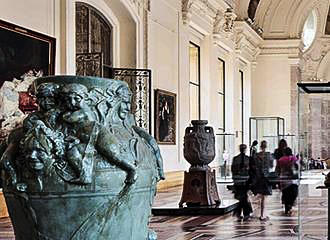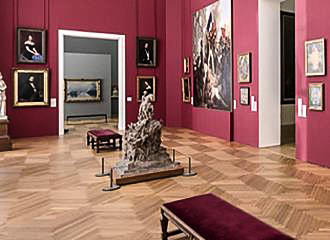 You will also find that new spaces have been created such as a bookshop and gift shop, along with an auditorium for lectures, discussions, concerts, etc, which is accessible to the disabled and is located underneath the inner courtyard garden.

In addition to these, there is now a garden cafe at the Jardins des Champs Elysees Gardens location called the Le Jardin du Petit Palais, which is the Garden Cafe situated in an idyllic situation to relax with a beverage or gourmet snack.

However, as well as the permanent exhibitions on the Avenue des Champs Elysees side of the building, on the other side you will now be able to discover larger and more impressive temporary exhibitions, with several being arranged each year, which means this is a fabulous museum and tourist attraction that you can visit while you are on holiday in Paris.


Visiting the Musee des Beaux-Arts de la Ville de Paris

The Petit Palais and the Musee des Beaux-Arts de la Ville de Paris is open on a Tuesday through to a Sunday from 10am to 6pm, yet is always closed on a Monday and on all national French holidays.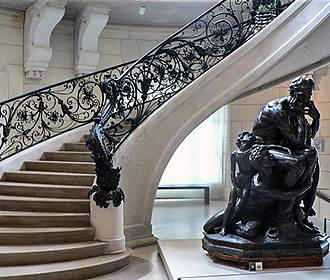 There is also a late night opening for temporary exhibitions on a Friday until 9pm, however, the ticket office closes at 5pm, and the last entry is one hour prior to the museum closing.

Because this is a City of Paris museum, you will be pleased to know that everyone can gain free entry to the permanent collections on display, however, there is a charge for temporary exhibitions and this varies in price depending on what it is.

Often there is more than one temporary exhibition being held at the same time, which means that you can purchase combined tickets to discover all of the areas at the Petit Palais.

You may also be pleased to know that there is disabled access throughout the museum along with disabled toilets and a lift, plus the Jardin du Petit Palais Garden Cafe, which runs a continuous service from 10am through to 5:15pm on the days the museum is open, is also accessible to the disabled.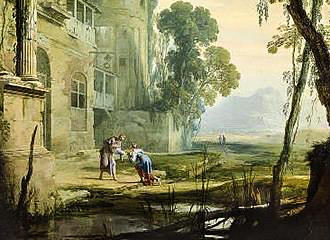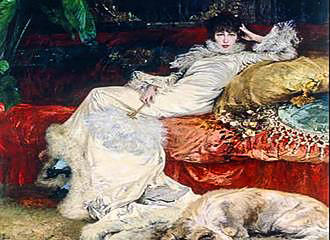 There are detailed guide sheets for reference to the permanent collections located within each gallery, however, there are also two different tour booklets available for children. At a cost of €1 each as of 2018, one tour booklet is a puzzle trail designed around the collection for children aged 4 to 6, and the other is designed as a fun way of looking at the architecture of the Petit Palais for 7 to 12 year olds.

However, audio guides designed for adults are also available, which provide a comprehensive guide to the permanent collections, and for a rental charge of €5, these are available in French, English, Spanish, German and Italian. There are also specific family guides available for the same cost as of 2018, which are available in French, English and Spanish.

Lectures, etc are accessible to all within the auditorium, although spaces are limited, and there are only five spaces designated to wheelchair users, however, there is a wide variety of different events organised, although most are only in the French language.

But there are also group and individual activities organised throughout the year on a Tuesday through to Friday from 10am to midday and from 2pm to 4pm, yet there is a charge for these on top of the exhibition admission charge, and to find out more or to book, you would need to telephone +33 (0) 1 53 43 40 36.
You will also find that there is a book shop, which is open from 10am to 6pm on a Tuesday to Thursday, along with a Saturday and Sunday, although it does not close until 9pm on Friday, when the Musee Petit Palais has a late night opening, yet is closed on a Monday.

The Garden Cafe of the Petit Palais, which you can find out more about on our dedicated page, has continuous service from 10am through to 5pm on a Tuesday to Sunday, and extended hours until 7pm on a Friday in conjunction with temporary exhibitions and the late night closing.


Access to the Musee Petit Palais

When it comes to the location, well this is a very easy place to get to, as it is located by the famous Avenue des Champs Elysees and backs on to the Jardins des Champs Elysees with its beautiful fountains, and is right opposite the Grand Palais that was also constructed at the same time as the Petit Palais for the 1900 World Fair in Paris.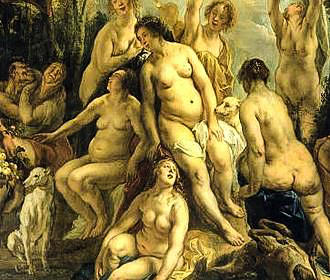 The Musee Petit Palais, or Musee des Beaux-Arts de la Ville de Paris, is situated in the 8th Arrondissement close to the most ornate bridge called the Pont Alexandre III and there are plenty of options for public transport in Paris.

You will find that the nearest Metro station is the Champs-Elysees - Clemenceau stop serving lines 1 and 13, or alternatively a little further away and you have the Franklin D Roosevelt stop serving lines 1 and 9. Going to the east you have the Concorde stop serving lines 1, 8 and 12, which is located by the Place de la Concorde and the Jardin des Tuileries.

In the opposite direction to the west of the Petit Palais you have the Place Charles de Gaulle with the incredible monument in Paris called the Arc de Triomphe, and it is here at the Charles de Gaulle - Etoile stop you could utilise the Metro lines 1, 2 and 6, plus this is also an RER train station for the RER A line. Yet there is also another RER station nearby called the Invalides stop serving the RER C line, which is also a Metro station serving lines 8 and 13. This is also within very easy walking distance on the opposite bank of the River Seine, where you can discover Les Invalides, its museums and the Tomb of Napoleon Bonaparte.

However, if you are travelling via bus you would need the bus lines 28, 32, 42, 52, 72, 73, 80, 83 and 93 along with the Noctilien Night Bus Service via lines N01, N02, N11 and N24, but the bus tours such as l'OpenTour will also get you within easy reach of the Petit Palais and numerous other tourist attractions in Paris that are located close by.