The Pavillon Laurent Restaurant in Paris

Located at the Pavillon Laurent on the Jardins des Champs Elysees, this is a very historical restaurant that is Michelin starred and provides gourmet French cuisine in an elegant and refined atmosphere overlooking the Champs Elysees Gardens.


A bit of history on the Laurent restaurant

The building itself was originally a hunting lodge and then became a dance hall during the French Revolution, but under the reign of King Louis Philippe, many new plans were put in place for improvements to the city of Paris.

It was at this time that Jacques Ignace Hittorff was put in charge of redesigned the Jardins des Champs Elysees and this building was completely restored and the name Laurent came from the third owner of this famous restaurant in Paris when he named it in 1860 after his first name.

Then back in 1977 Philippe Bourguignon arrived at the Pavillon Laurent as head sommelier and only one year later at only 27 he was named the Best Sommelier in France and continued working here.

Eventually in 2002 Philippe Bourguignon took over management of the Laurent Restaurant and to this day you will find that this Michellin starred restaurant is run with professionalism and courtesy, but with attentiveness, yet discretion, which is what Philippe has always strived for.
About the Laurent Restaurant in Paris

When visiting the Laurent you will find that the main dining room has large picture windows that look out over the trees in the gardens and therefore it is bathed with natural light and offers a chic but relaxed atmosphere.

However, during the summer season tables are laid out on the garden terrace for lunch or dinner in a secluded setting tucked away behind hedges, yet next to one of the fountains of the Jardins de Champs Elysees designed by Jacques Hittorff, which makes this a unique venue full of flowers and greenery in a tranquil setting.

There are also five different Salons or rooms that are located on the first floor that are designed for private functions and can accommodate from 10 to 60 people for either lunch or dinner and each has its own charms and unique decor.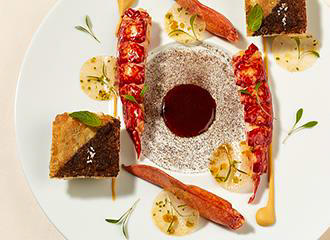 The first is the Salon Matignon, which is perfect for small groups as it can accommodate up to a maximum of 10 people and is an enchanting room with wood panelling and its own colonnaded balcony that overlooks the Gardens of the Champs Elysees.

The next is the Salon Marigny, which can accommodate between 10 and 20 people and is an elegant room with a pastoral and romantic decor defined by its stucco and this salon also provides view over the gardens.

Then there is the Salon Gabriel with its quiet and chic atmosphere and being able to accommodate up to 40 diners this room open up onto a vast tree lined terrace that is open from May through to October. And with its charm, art lovers will also appreciate the early 19 century paintings that adorn the walls of this salon.

Another called the Salon Elysee has a chic and tranquil atmosphere that can accommodate up to a maximum of 20 diners and boasts period furniture with views over the chestnut trees in the gardens that are over 100 years old.

And the Salon Imperial is the largest of all the private dining rooms at the Pavillon Laurent restaurant, and this room can accommodate up to 60 people for lunch or dinner, and overlooking the Avenue Gabriel, it has a warm and elegant atmosphere in a luxurious setting that is ideal for celebrations and receptions or even for business meetings.


Cuisine at Le Laurent Restaurant

Now the Laurent Restaurant in Paris is a 1 Michelin starred restaurant that presents gourmet food with classic French cuisine that has a contemporary twist with signature dishes like Spider crab in jellied juices, or crispy langoustines and basil.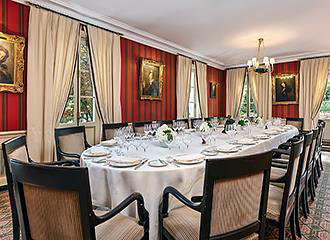 The very best produce is selected and the menu changes with the seasons and each dish marries flavours and colours for perfect harmony, both in presentation and for the taste buds and there is an a la carte menu along with a degustation menu that is served per table.

Starters could be delights such as warm black truffle tart with grated celery or pan fried monkfish cheeks, shellfish with warm herbal dressing, ink lasagne and as of 2013 these range in cost from €58 up to €145.

For a main course you could choose a fish dish such as wild sea bass lightly smoked, leek and potatoes or glazed skate with lobster juice, artichokes with curry and preserved kumquat. And to give you an idea on meat dishes on offer, these could be quail, giblet toast and celery cooked with black olives or calf sweetbread with black truffle and carbonara style pasta, which range in cost from around €72 up to €98 as of 2013.

There is the option of a cheese course or a selection of cheeses for dessert, plus there are also many very tempting desserts such as their signature dish of cheese-cake and fresh mango on a lime lemon shortbread.

Now we quickly mentioned earlier that there is a seasonal degustation menu with six courses, which are the same dishes that are served per table, and is a set price of €175 per person as of 2013, but as you can appreciate, this is subject to change.

When it comes to booking a private salon for your special occasion or event, then there are set menus available, which range in cost from €120 up to €230 per person, and you would need to contact Le Laurent restaurant to find out more, along with any special requirements such projectors, etc.

However, who could not contemplate dining in such a place without considering accompanying the meal with a fine wine, and the cellar of Le Laurent will not disappoint you, as it stocks almost 30,000 different bottles such as those renowned wines of Burgundy, Bordeaux and Alsace along with selected bottles from other countries in Europe.


Visiting Le Laurent Gourmet Restaurant in Paris

The Laurent is located in an absolutely fantastic setting in the 8th Arrondissement of Paris within the Jardins des Champs Elysees and only a stones throw from the most famous avenue in the world, the Avenue des Champs Elysees.

It is also very close the Grand Palais and the Petit Palais along with the Theatre Marigny, plus within under a 15 minute walk you could be at the Place de la Concorde, the old military building of Les Invalides, the Place Vendome and many more different tourist attractions in Paris.


This Michelin starred restaurant is open for lunch on a Monday to Friday from 12.30pm through to 2pm and dinner is available on a Monday to Saturday from 7.30pm through to 10.30pm.

The nearest Metro stations are either the Champs Elysees - Clemenceau stop or the Franklin D Roosevelt stop. However Le Laurent also offers valet parking, so if you are arriving by car, then when you reach the metro station of the Champs Elysees - Clemenceau located between the Grand and the Petit Palais, you would then take the Avenue Marigny. Drive past the theatre Marigny and take the first road on your left and the restaurant is located on the left, which is easily recognisable by its orangey pink facade.

It is suitable for families as well as couples or business people, but as you would no doubt expect, the dress code is smart attire and it is highly recommended to make a reservation, but for a private room, this does have to be booked well in advance.