The Hotel National des Invalides in Paris

The Hotel National des Invalides is often known as just Les Invalides and is one of the great landmarks in Paris that was initially thought of by King Louis XIV back in 1670 as a place to house wounded soldiers and war veterans that were no longer able to fight for France.


About Les Invalides

If you enjoy history and especially military history, then you cannot miss out on a visit to this fabulous tourist attraction in Paris, as there is such a rich history of Les Invalides, but it is also well known for having the Tomb of Napoleon I.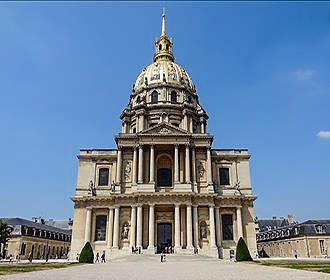 ---
Napoleon Bonaparte is often incorporated in school studies and he was a major influence of French military history, so eventually, some twenty plus years after his death, his remains were brought back to Paris up the River Seine.

After Napoleon's remains arrived back in the capital, his state funeral went through Paris stopping briefly at the Arc de Triomphe, which he had originally instructed to be built, then the procession travelled down the Champs Elysees and on towards the Hotel des Invalides, which would eventually be his final resting place.

And what better place for a military general and emperor to be buried, than in the Eglise du Dome church of a very impressive military building.
So when you are on your holiday in France and thinking of visiting the capital city Paris, you can experience this and many other monuments in Paris, however there is far more to the Hotel National des Invalides than just the architecture, churches and the Tomb of Napoleon.

In fact, Les Invalides comprises the largest single collection and complex compared to any other monuments in Paris and is world renowned for its military exhibits, plus not one, but three museums you can visit, along with an impressive, unique collection that are all housed at the Hotel National des Invalides.

Now some parts of Les Invalides are completely free to walk around, and the first thing you see is the north facade with its canons that stand on the perimeter, and these are only fired to salute a newly-elected French President.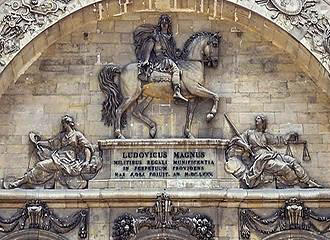 ---
So if you do not wish to pay to enter the museums themselves or the Eglise du Dome where the Tomb of Napoleon along with other tombs and funerary monuments are located, you can still go through the main entrance pavilion on the north facade and discover a tank along with canons within the Cour d'Honneur, or Courtyard of Honour in English, that also has a statue of Napoleon Bonaparte looking out from the balcony.

Yet certain sections are not open to the public at all and others like the Grand Salon on the upper floor are only open for specific events such as concerts and receptions, but if you are lucky enough to see this magnificent room, there are historical paintings and framed outfits of armour with weapons dating back centuries, but you can discover more about these via our how to get to Les Invalides page that has all public transport options and French information plans.

However, getting back to to the museums at Les Invalides, to start with you have the Musee des Plans Reliefs, which is dedicated to the three dimensional scale models produced by the military depicting fortifications and the surroundings in different towns and regions in France.

There are now only around 100 of these unique models called plans reliefs still in existence and some of these are held at the Beau-Arts Museum in Lille in the Nord Pas de Calais region, but the majority of the plans reliefs are still held at Les Invalides, which is where they have been since the late 1700s after being removed from The Louvre museum.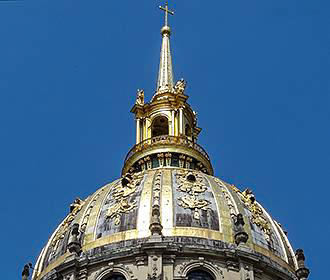 ---
Today there are approximately 28 large scale models on display at the Musee des Plans Reliefs, along with the history and construction of these incredible plans dating back to 1668, and these have also become a major source for architectural history, to what the places were like and how they have changed over the years.

Moving on, you then have the Musee de l'Ordre de la Liberation, which is a French museum in Paris dedicated to those that got together to support France during World War II at the core of the Resistance movement.

Here at the Musee de l'Ordre de la Liberation located at the Hotel National des Invalides you can see many different artefacts, souvenirs, documents, postcards and other items like uniforms and even personal letters that are broken down into three separate sections. The first being the Free France gallery, the second for the Resistance and the third called the Hall of Honour is dedicated to General de Gaulle, and this is yet another French museum with unique exhibits that give you a greater feel for how things were and some of these depict tragic or moving events including that of the deportation.

The third museum that is located in the fantastic setting of the Les Invalides is the Musee de l'Armee, which is one of the most impressive military history museums in the world and has exhibits dating from the Middle Ages.

And today Musee de l'Armee has one of the finest collections of arms, armour and uniforms, and for anyone that likes history, this is one place that should be high on your list of tourist attractions to visit, when you are on holiday in Paris.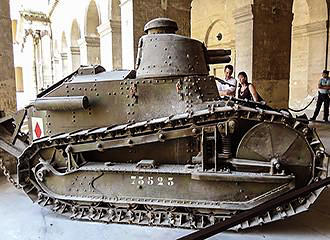 ---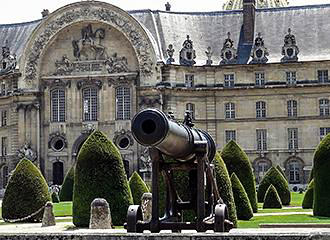 In fact, this museum in Paris houses the third largest collection of antique armour and arms in the world with an exceptional range of cannons from the French artillery located in the Cour d'Honneur part of the Hotel Les Invalides along with hunting weapons, knives and firearms, complete armour and much, much more.

A part of the Musee de l'Armee is also the Royal Church called the Eglise du Dome, which is where you can discover the Tomb of Napoleon Bonaparte in addition to other tombs and funerary monuments, a marble statue of Napoleon I in his coronation robes, plus numerous other statues, paintings like that of the cupola, etc.

But museums do not necessarily have to be like going back in time and at the Musee de l'Armee you will discover a whole section with interactive touch screens and commentaries that relate to Charles de Gaulle.

There is also a round theatre that projects a century from the Edwardian period right through to the pop years, which includes famous people along the way like Charlie Chaplin, plus you will be pleased to know that there are audio guides available in eight different languages and there is even an English booklet for children available with puzzles, etc that relate to different things you can discover at Les Invalides museums.

Visiting Hotel National des Invalides in Paris

The Hotel National des Invalides is open virtually every day of the year except for National French holidays like 1st January, 14th July and 1st November, etc.

In addition to these days, Les Invalides is also closed on the first Monday of every month and the interactive area with the Charles de Gaulle section is also closed every single Monday.

However, bar these particular days, this monument in Paris along with its French museums is open from 10am to 5pm from the start of October through to the end of March and then it opens from 10am to 6pm from the start of April through to the end of September, however, there is a late night opening until 9pm on a Tuesday when there are temporary exhibitions being held.

Although, we would like to point out that the ticket offices do close approximately 45 minutes before the whole building closes, and these are located at the south entrance close to the Eglise du Dome and the Tomb of Napoleon and the north entrance by the Cour d'Honneur with the cannons.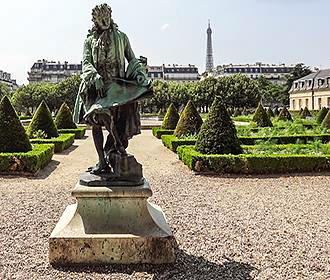 ---
The cost for a ticket as of 2020 is €14, although it is free for those under the age of 18, if an adult accompanies them, and for those aged between 18 and 25 who are resident within the European Union, or those that have an Education Pass are also elible to free entry of the permanent collections excluding any exhibitions running that still have to be paid for.

However, the good news is that the cost does include entry to The Tomb of Napoleon I and the Eglise du Dome, the Musee de l'Armee, the Musee de l'Ordre de la Liberation and the Musee des Plans Reliefs.

You may also be pleased to know that military personnel and those that are registered disabled upon proof of eligibility can also gain free entry and this is one of the tourist attractions and museums covered by the Paris Museum Pass.

Plus there is a gift shop, a book shop with so many different titles to choose from for those that want to learn more, along with a cafeteria and the audio guide that is provided free of charge for the interactive section of this historical monument and museum in Paris.

In addition, Les Invalides plays host to classic musical concerts, which are sometimes held within the Grand Salon that we mentioned earlier, or they are held within the Saint-Louis Cathedral within the Hotel des Invalides complex and range in cost, normally from around €10.

You will find that the concert halls open at either 11:50am or 7:30pm, but for an evening on the entrance via Rue de Grenelle is open, but for those that are disabled, you must telephone the day prior to the concert in order to access the complex by vehicle, which is normally prohibited, and then you can utilise a lift, or elevator in order to get to the Grand Salon.

For general access to the concerts in the Saint-Louis Cathedral you would utilise the Rue de Grenelle entrance then the passage under the vault of honour and through to the left passageway of galleries of the Cour d'Honneur. Whereas the Grand Salon is accessed via the corridors of the main courtyard, Cour d'Honneur.


Access to Hotel des Invalides

When it comes to getting to Les Invalides via Paris public transport there are many different options available to you including the RER C train line and the Metro lines 8, 12 and 13.

Additionally, some of the bus lines that will get you within easy walking distance of this historical Paris landmark include 28, 63, 73, 83, 87 and 93, not forgetting there are also the Noctilien night bus lines N01 and N02 that operate when other public transport has stopped for the night between approximately 12:30am and 5:30am.

Alternatively, you could take advantage of hop on and hop off tour bus services with the companies Open Tour and Batobus, which is actually the River Seine water bus, but to find out more about these and all your options including maps and timetables, please see our dedicated page on how to get to Les Invalides.