Tourist information on Nord Pas de Calais region in France

Just over the border from Belgium and only a short ferry crossing over the English Channel, the Nord Pas de Calais region is the quickest place to get to in France from the United Kingdom, especially if you want to go on a last minute family camping holiday, weekend break or even a day trip.


Travelling to France

The most popular ferry crossing route is from Dover to Calais, which is one of the largest passenger ports in Europe with ferry operators such and P&O Ferries and their impressive new ships. And from the port of Calais it is very simple to get to places like Beers R Us and other warehouses for cheap drink, along with the many shops and markets you can find in Calais itself, plus you will find the A16 Autoroute that takes you down towards Paris, where you can experience the architecture and culture of the famous capital city of France.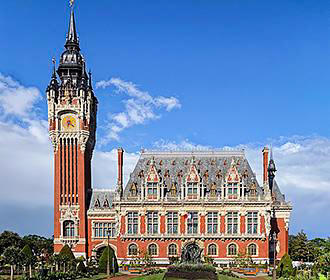 Another ferry crossing route is Dover to Dunkirk with DFDS, that was formerly the Norfolkline ferries, which is the ideal route if you are thinking of exploring the area or even visiting Belgium and not far away from the Dunkirk ferry port you will find one of the large well equipped French campsites in Nord Pas De Calais called Camping Perroquet, that has good sized touring pitches as well as mobile homes you can rent. Also this campsite is literally only metres away from the Belgium border and is situated along the coast with access to a fine sandy beach.

Boulogne-sur-Mer also has a port and is one of the main fishing ports in France, but unfortunately, there are no longer any sailings from Dover to Boulogne. But travelling from the Port of Calais to Bolougne, which is approximately a 20 minute drive on the main road or 30 to 40 minutes on the coastal scenic route, you will be able to experience many fine seafood restaurants, the old town with its castle and museum plus some excellent shopping.

The other option for getting to the Nord Pas de Calais region from the UK is via the EuroTunnel from Folkestone to Calais. This is actually a lot quicker than the cross channel ferries plus is ideal for those that are thinking of going on a family camping holiday in France with pets, as you will be able to stay with your pets throughout the trip on the EuroTunnel. Also today you will find many French campsites that allow pets like Castel Camping de la Bien-Assise.
About the Nord Pas de Calais region

The Nord Pas de Calais region is very diverse with its contrasting landscapes, around 140km of beaches, rolling hills dotted with windmills and a vast network of waterways for river cruising. There are also historical towns with their belfries and fine churches or the culture with its traditional industries such as textiles like tapestry and cloth weaving, mining, and glass works.

Being in the North of France this region has very similar temperatures to that of the UK with highs of around 25 degrees C plus in summer, going down to around 2 degrees C during the day in winter, however, this does not mean it is only a summer holiday destination as there are some French campsites open all year.

In fact, this is a great place to come to if you only want a short journey, yet wish to experience the Christmas markets at Calais or the regional city of Lille where they really do go to town! It is also absolutely ideal for children to experience the spirit of Christmas in a completely different way, or for those of you who want to get some unusual gifts for loved ones back home.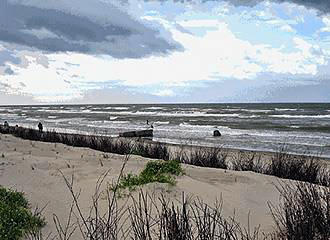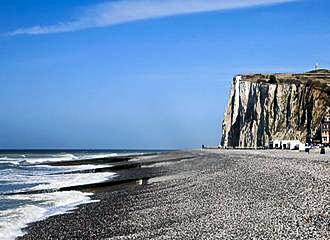 This region of France has been inhabited since pre-historic times and has always been a strategic place in terms of where it is and the fertile land, so it has been invaded and conquered many times and the French President, Charles de Gaulle, who was born in Lille, called the region a 'fatal avenue' through which invading armies repeatedly passed.

To give you an idea, nord Pas De Calais was conquered by the Celtic, the Romans, the Barbarian Franks, then occupied by Germany in World War I and again in World War II, and in fact Dunkirk was the last French town to be freed from German occupation after World War II.

Even though the Nord Pas de Calais region suffered extensive damage during both the World Wars, fortunately for us, there are still many different reminders of the past that you can experience whilst on a camping holiday or weekend trip to France, like the medieval palace, a baroque square or renaissance belfry, the gothic cathedral through to a blockhouse from where V2 bombs were launched on Britain, so this area has something to offer everyone to experience.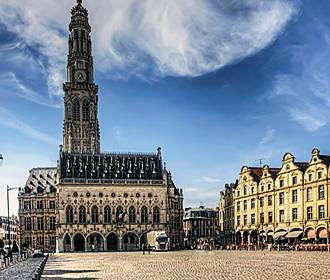 Tourist attractions and places to visit when on a family camping holiday in Nord Pas de Calais

Even though most people associate this region of France with Calais being the main town, Lille is actually the capital city of the region. It used to be the main industrial centre and has an incredible history with impressive architecture, yet is now more well known for its music and arts culture.

Calais itself is of course renowned for day trips to France and shopping with numerous places you can go such as Eastenders for beers and wines, the Cite de Europe shopping centre with Carrefour and a fabulous chocolate shop, hypermarkets such as Auchan and many more. But there are many other places to visit if you are thinking of a weekend break or a camping holiday including the lovely beaches that run along what is known as the Opal Coast where you can participate in numerous different waters ports.

For history lovers, there are the Citadel fortifications, the lighthouse with views to the White cliffs of Dover, the famous monument by sculptor Auguste Rodin, the town hall, belfry and the oldest church in Calais to name but a few places you can enjoy.