EHIC and GHIC UK Global Health Insurance Cards for holidays in France and Europe

If you are going on holiday to Paris, the capital city of France or any other destination in Europe such as Benidorm in Spain, you should make sure that you have an up to date health card, which used to be called the E111, then it was changed to the EHIC health card.

The EHIC Card was short for the European Health Insurance Card but after the Brexit and the United Kingdom leaving the EU, this has now changed again to the GHIC, which is short for UK Global Health Insurance Card.

Having this means that you will be entitled to either free or reduced cost medical care whilst you are in Europe in countries that are part of the European Union, but the new GHIC card does not cover Iceland, Liechtenstein, Norway and Switzerland, nor will it cover certain issues that travel insurance will cover you for.

Yet, sometimes, especially if you do not know the language, then it can be difficult or expensive to obtain medical treatment when you are abroad, but the EHIC medical card will help to cover the costs of state provided treatment in an emergency or for medical conditions and illness that you may need treatment for whilst on holiday.

And although it is not a nice thought, accidents or medical emergencies can happen, whether it be whilst you are driving through France and have a road traffic accident or maybe you have just tripped over and broken a bone, but whatever the reason, the GHIC card provides you with a little peace of mind.

Yet if you still have one of the old EHIC cards these are still valid until the expiry date, when you would need to request a new one as the GHIC card, yet the original E111 medical form that were prior to these are no longer valid at all. Therefore do check what you have and make sure that you obtain a new UK Global Health Insurance Card if necessary.
Eligibility and applying for an GHIC Medical Card

Every person that is resident within the UK of British or other European Nationality or someone that can prove they are resident within Britain via a Visa etc, should apply for a GHIC card, if they are travelling to France or other EU countries, even if for a day trip.

But please note that anyone residing in the Channel Islands or the Isle of Man is not eligible to receive a UK Global Health Insurance Card. If you live in Ireland or in a different Eurpoean country, then you may be eligible for a card if you are a UK State Pensioner receiving the UK pension.

You must also be over the age of 18 in order to apply for a card yourself, which can be done online at the government website for those with British Nationality, or via completion of a form in all other cases. Yet make sure that you do go to the official government website, as the GHIC health care card is completely free of charge, but some unofficial websites will actually charge you for applying!

However children should also have their own medical card, just like they now have to have their own passport, and as a parent you can request a GHIC card for your children and they will get their own card sent through.


On average, if you have applied directly to the NHS government website, then you should receive your card within approximately 7 to 14 working days, but at certain times of the year like holiday seasons, this can take longer, so do make sure that you plan well ahead. Yet if you have questions or cannot request a card online, you can telephone 0044 191 218 1999, which is also required in certain circumstances such as for those that are working or studying in a different country or are from a different country working, studying or residing within the UK.

In addition to this, each GHIC card is only valid for a period of five years, so make sure that you double check when it is going to expire. And if it will expire whilst you are on holiday in France or one of the other European Economic Area countries, which is known in short as the EEA, then you can also renew your UK Global Health Insurance Card up to six months prior to travelling to another European country.

Also, another point, is to make sure that you have a copy of your GHIC health care card, as you are provided with a PIN number on the card on the same line as your date of birth and this PIN is required so that you can renew it.


So what is and is not covered on the European Health Insurance Card?

You will find that the health care system in each country is slightly different and some things that would be covered on the UK NHS are not covered in Europe.

You must also ensure that you are treated by a state registered health care provider and not by a private practitioner, as any private treatment is not covered at all, and there is a general guide to getting healthcare in France and Paris.

You can get treatment for illness or for an accident whilst in France or Europe, and if it is an emergency then you should call the standardised European Emergency Number 112, which is valid from landlines, public phones and mobile phones.

The cover on the GHIC medical card includes treatment for chronic or pre-existing conditions, but only if treatment is necessary whilst you are on holiday and not where you have arranged for any treatment within that country.

The card also covers maternity care, but not if you are going abroad to give birth, unless this is not planned and ends up an emergency, plus also oxygen and kidney dialysis is also covered, but these do have to be pre-arranged prior to your holiday in Paris or France along with many of the other EU countries.

However, we would like to point out that even if you have the UK Global Health Insurance Card, you should also have Travel Insurance and there are many companies that also now insist you have the EHIC or GHIC card, before they will provide travel cover.

One of the main reasons for this is the fact that the EHIC health care card does not cover you if you needed to fly back to the UK, nor does it cover you if you had to be air lifted to safety, just like what happens every year to many people that are skiing in France, hiking in the mountains, or if you get stuck on rocky outcrops or out to sea when enjoying the many different watersports available throughout France.

Additionally, with the popularity of cruises that often allow you to discover many countries, we would like to point out that Travel Insurance is essential, as the GHIC UK Global Health Insurance Card does NOT cover you if you are on any type of cruise.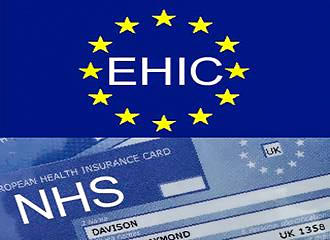 Lost or stolen medical cards

Now even if the GHIC medical card is lost or stolen whilst you are abroad, you can obtain a temporary card that will still cover you, which is called a Provisional Replacement Certificate, but make sure you have all your details copied and also the telephone number that you would need to phone in order to get a replacement.

When you telephone +44 (0) 191 218 1999 you need to be able to provide them with your full name, address where you are registered in the UK, your date of birth and also either your National Insurance Number or your NHS number.

But having your PIN number, or Personal Identification Number, is also beneficial as this is a unique number printed on to your card and is also required if you need to change any of your details such as your name or address.


What happens if you leave your card at home

You should make sure that your medical card is with you when you travel abroad, just as you need your Passport when you are going on holiday to France or other countries. But it is one of those items that can be forgotten, especially if you end up rushing around at the last minute, although we always suggest keeping the passport and medical card together.

However, even it is left behind, then provided it is within date and you have applied for your GHIC card via telephone or online, then you are still covered from the date of registering for this.

Although, if you do require medical treatment, then you would need to apply for a Provisional Replacement certificate, or PRC for short. This is a certificate that will be issued to prove that you are entitled to health care in the European Economic Area country you are visiting, and this certificate will be sent directly to the place where you are being treated.

As for a lost or stolen card, you need to be able to provide the usual details like your NHS Number or your National Insurance Number, and you would need to phone the NHS Overseas Healthcare Services team on +44 (0) 191 218 1999, with the lines being open on a Monday to Friday from 8am through 6pm GMT time, UK time.

Yet we would like to state again that any private medical treatment is not covered, so always make sure that it is a state healthcare provider you see, and also ensure that you remember to keep the 112 emergency telephone number to hand and even programmed into your mobile phone.

Another major point, that we mentioned earlier, is please do not be fooled by websites that request you to part with money for your application, as they charge this as a handling fee and it can be quite a bit per card. You can obtain the GHIC medical cards completely free of charge by going to the NHS Government website by going to www.ghic.org.uk.