French markets in France

You will probably come across at least one French market in France whilst you are on your camping holiday in France, as they are a way of life and still the preferred option for the locals compared to supermarkets, which is why there is usually at least one market in every town and village.

The French markets are a great way of obtaining fresh produce with anything from fruit and vegetables through to eggs, meat and fish. And if you see a small stall that only has one type of produce available, then this is most likely to be an independent person who has just picked the fruits or vegetables, etc and these are of course going to be the freshest possible, plus often cheaper that the larger stalls.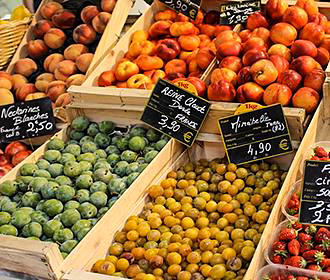 ---
Plus you will find that many of the larger towns in France hold a Sunday market and this is absolutely ideal for those of you that have arrived at your destination late on Saturday, especially if you have had a long drive through France or needed to set up on your pitch at one of the many French campsites in France. After all, who really feels like going shopping straight away!

But also, you will find that most supermarkets are closed on a Sunday unless it is either the height of summer near to tourist attractions or you are close to a major city that has large hypermarkets. Then the only option you have is to use the campsite shop, yet if you have opted for a self catering holiday in a French gite or a boating holiday on a canal for example, then the only option is to find a Sunday market or go out for dinner at a local French restaurant and wait until Monday!

There are different types of markets and some of the larger towns will hold more than one market each week, often having stalls for clothes, local French wines, leather goods, hand-made products and much more. And you can normally find out what markets are close by to where you will staying by contacting the local tourist information centre, however, we would like to point out that most markets do close during the lunch time, which is normally for at least two hours.
When you decide to visit one of the larger markets, you will often find that there is hot French food available along with charcuterie products and local French cheeses where you can purchase just the amount you want by the slice. In fact, some stalls will even offer tasting of different French foods prior to even buying.

Also, do not be put off, even if your French is not very good - most market traders and stall holders are so helpful, as they are so proud of their culture and traditions along with the quality of their produce. They are normally more than willing to help you out, even if it is with signs and hand signals, as we found out at our very first experience at one of the local French markets.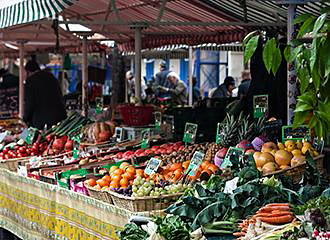 ---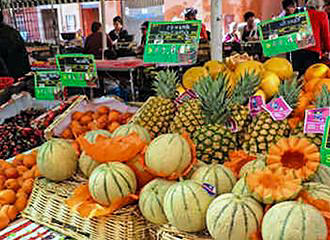 Unusual and speciality French markets

Of course, each region in France has its specialities of cuisine that normally always incorporate the local products and each year you will find specialist markets and festivals that celebrate certain regional specialities such as the ham fair at Bayonne and the truffles markets in the Dordogne, both within the Aquitaine region.

You will find that many large towns also hold special evening markets at certain times of the year and these are normally advertised in local papers and on posters, but again the local tourist information centres will be able to advise when one of the special markets or fairs is going to be held.

And these are absolutely ideal for an evening out with the whole family whilst you are on your camping holiday, as they have a lovely atmosphere, often with different types of music and entertainment along with food and drink available. You can also find hand-made gifts, unique souvenirs and presents to take back home for a constant reminder of the fun times.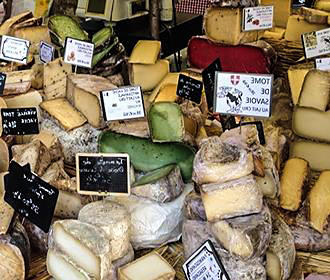 ---
Yet if you are thinking more about a skiing holiday in France or a winter holiday, then there are also the fabulous Christmas markets that you just cannot miss out on, such as the famous Christmas markets held in Strasbourg in the Alsace region, but also the elaborate markets held in Paris, the capital city of France. And at these, you not only get to enjoy the full spirit of the festive season, but you can experience delights such as roasted chestnuts and mulled wine to keep you warm.

But other types of market include flea markets and antique markets like the famous flea market at Saint Denis, which is located just outside Paris in the Ile de France region and this is actually the largest antique flea market in the world.


Paris markets

Apart from the famous flea market just outside of Paris, there are in fact around seventy different markets in Paris, and with the quality controls that are set in place, you can be assured of top quality French food, whether it be French cheeses through to fresh fish from the Brittany region.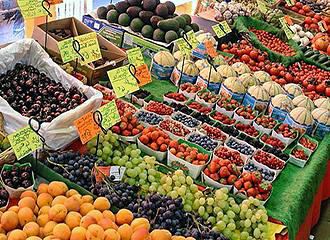 ---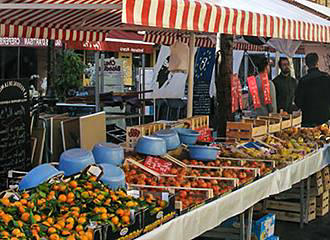 In fact, the traditional markets in Paris have been around since the Middle Ages and they are a major way of life for Parisians, which is where many of the top chefs end up going to each day for the fresh produce that they required for the gourmet restaurants in Paris.

But you do not necessarily have to think about each ingredient to prepare a nice meal, as there are many vendors at these open air markets that provide ready prepared meals such as roasted chicken, meat or cheese platters, pates, etc.

Each market is very different from the next and many of the Paris markets are also an ideal place to obtain souvenirs, plus they are held on different days of the week depending upon what arrondissement you are staying in, whilst you are on holiday in Paris. Yet these are a great way of experiencing how many locals shop and experiencing the true French market atmosphere and there are some fabulous markets close to the Eiffel Tower.

Marche is French for market, and one particular market in Paris is called the Marche du Pont d'Alma, which is located near to the River Seine where the Bateau Mouches stop. It is also near to many museums in Paris like the unusual sewers museum called the Musee des Egouts along with the tunnel and memorial where Princess Diana lost her life, but this is reputed to be one of the largest markets in Paris, that you will have a hard job even experiencing all of it.

However, we would like to point out that most markets, no matter where you are in France, will start around 7am in the morning and this is often the best time to go, so as to avoid major crowds, especially during tourist seasons.

Yet, as you can tell, going to one of the many French markets is something that all the family can enjoy and it does not have to be a chore, it can be fun and rewarding and is another great way to experience the French way of life, whilst on your holiday in Paris or France.