Tourist information on the Brittany region

The Brittany region, or Bretagne as it is called in French, is very similar to the Devon and Cornwall coastline in Britain and is a popular destination for a family camping holiday in France, especially as it is easy to reach via a ferry crossing.


Travelling to Brittany

Getting to the Brittany region is very easy from England via Portsmouth or Plymouth to the port of St Malo with Brittany ferries, however, Condor Ferries also have a fast ferry crossing from Weymouth to the port of St Malo as well.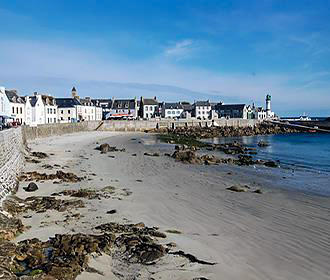 There are also ferry crossing routes into Cherbourg in the Basse Normandie region if you also wish to experience the D-day landing beaches on your holiday in France, as this region is right next to Brittany just along the coast.

Yet, for something completely different, or for those of you that love the idea of extreme sports or water sports, then you could always take a trip to the Channel Islands of Jersey or Guernsey with departures from the port of St Malo. However, we would like to point out that you cannot take your caravan or motorhome over to these islands unless you have pre-booked a campsite and obtained a permit.


About the Brittany region in France

Bretagne, or Brittany used to be a much larger region with the capital being Nantes, however this was changed in modern times and split up when a new region called the Pays de la Loire, also known as the Loire Atlantic, was created, and today the capital of the Brittany region is now Rennes, and this is where you will find the Palais du Parlement de Bretagne.
Due to the fact that this region juts out into the Atlantic ocean, in days gone by the ports of Brest and St Malo were major sea faring ports for trade between places like the Orient and the West Indies. Although, things started to change when the area became more accessible via the train and road networks, then the ferries and Brittany has now become one of the top places for a holiday in France.

Some of the coastline is very rugged with cliffs and small bays, but there are also lots of sandy beaches, many of which are manned by lifeguards in the high season. There are also many different islands off the coast of Brittany, so hence sailing and boating trips are popular ways to explore these islands and go bird watching, some of which are inhabited and others that are a nature's paradise. However, there are also over 600km of canals that are ideal for cruising and pleasure boat trips and then you have the water sports with numerous centres for canoeing, kayaking, surfing and diving, to name but a few activities.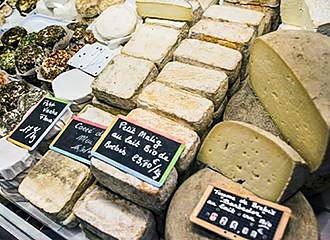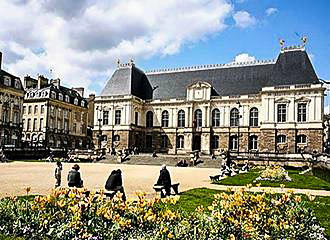 But if you prefer to be on land rather than water, then with lots of quiet roads and hundreds of kilometres of dedicated paths for hiking, cycling and horse riding, you can get to experience the culture and rich history of the area. One such French campsite that fits the bill is Camping Merlin l'Enchanteur, which is also only 5km from a golf course. And yes, you guessed it, golf is also another sport that is very popular in the Brittany region and there are actually a total of 27 golf courses to choose from, some with spectacular views over cliffs and bays.

Now everyone like the idea of eating out while on holiday, and when it comes to gastronomy, there are some mouth-watering delights awaiting you. Obviously seafood is always on the menu, with things such as lobster and oysters along with numerous other shellfish choices and yet Brittany is also a supplier of lots of different vegetables like artichokes.

For those of you meat lovers, you have the famous tender salt meadow lamb and a Breton speciality called Calfedpotfe, which is like a hotpot with pork and vegetables. But for something completely different you really need to experience one of the sweet or savoury crepes, which is another of the regional specialties of cuisine and goes down well with Breton cider.

And with a warm and temperate climate where rain falls regularly to keep the countryside lush and green, yet with lots of glorious sunny days that are ideal for lazing on the beach, it is understandable why the Brittany region is such a popular tourist destination for a family camping holiday in France.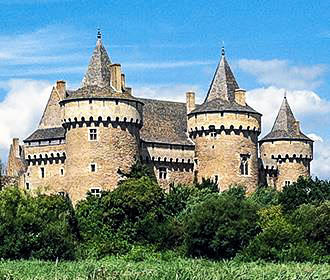 Just some of the tourist attraction and places to visit when on holiday in Brittany

Brittany is famous for its megalithic monuments from the Neolithic period in history, with thousands that are dotted all over the peninsula, and the largest alignments can be seen near the town of Carnac. Yet, it is also known for the elaborately carved sculptures of crucifixion scenes called calvaries that can be found in churchyards all over the region as well such as the 15th century calvaire at the Notre-Dame de Tronoen.

Most people have heard about the Mont St Michel and even though it is on the Normandy border and you can get to this from Basse Normandie, it is also easy to reach St Malo from Brittany and is one of the must see places with its monastery at the top of the hill with great views over the bay.

Talking of medieval places, you have the medieval city of Vannes along with St Malo itself that has lovely old cobbled streets, the high walls of the 14th century ramparts overlooking the sea and a fantastic medieval history. And here you can also visit the Manoir Musee Jacques Cartier that depicts the life of Jacques Cartier who discovered Canada along with a 14th century castle and a cathedral.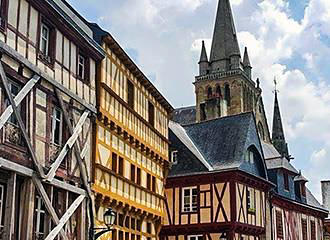 Brittany historical buildings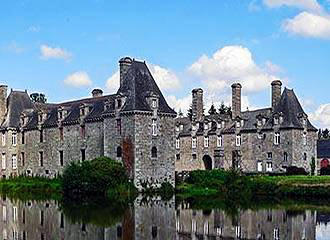 Carnac not only has the megalithic monuments but also the Musee de Prehistoire, yet there are also lots of other museums in Brittany you can visit including the unique floating maritime museum called Port Musee, the weaving and linen museum called Atelier Musee du Tissage and then you have the Musee de Bretagne in Rennes that traces the regional history.

For those that like historical buildings will be in their element, not just with the Mont St Michel, but you have the Vauban Tower designed to defend Brest harbour that has now been declared a World heritage site, the parish closes that was built in the 1500's, a Gothic cathedral in Quimper, the fortress and stately home at Saint-Vougay, the Chateau de Josselin along with its doll museum, the half-timbered houses in the capital of the region, Rennes, along with the Palais du Parlement building built in the 1600's, and many more.

However, we have said before that Brittany is a popular destination for a family camping holiday in France and with many different French campsites in Brittany to choose from, you will never be without somewhere to go that will please all ages, no matter what the weather.

To start with you have the Le Jardin aux papillons with exotic butterflies that fly around you freely, a bat discovery centre called the Maison de la Chauve-Sourisin that is unique in France and the Oceanopolis sealife centre at Brest.

But still keeping on the theme of animals, there is also a salmon discovery centre called the Odyssaum that is unique in Europe and the Hennebont Stud Farm with its stallions, traditional saddlers and a museum. Then you have the l'Aquashow, which is not just an aquarium where you can see lots of different marine life, but it also has a bird show with cormorants, birds of prey, etc, and then you have the Zoo de Pont-Scorff with around 120 different species of animals including lions, giraffes and much more for all to enjoy.

For fun and excitement for all the family you could enjoy a day at Cobac Park with quad biking, mini golf, a miniature train and pony rides along with the Aqua Cobac with pools and waterslides plus more. Yet there is also Le P'tit Délire on a very similar theme with go-karting, trampolines, tree-top adventure trails etc, but if the weather is not on your side they also have an indoor adventure centre as well.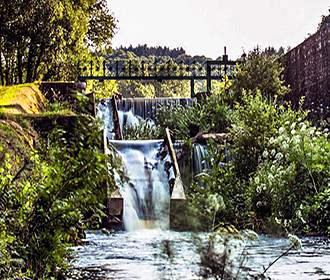 Brittany Nantes-Brest canal
Although, if you want something completely different you could enjoy a steam train ride, a ride on one of the old traditional barges or a sailing trip that takes you way back in time to the merchant ships of yesteryear where you have to get involved in the sailing as well!

So whatever you decide to do on your family camping holiday in Brittany, with a little planning, you can be sure of something that will delight everyone of every age, and it is no wonder why people come back to the same region of France year after year, as there is so much to discover.