Tourist information on Pays de la Loire region in France

With completely contrasting landscapes from the lush green countryside and the River Loire through to the hundreds of kilometres of Atlantic coastline, the Pays de la Loire region is also home to the famous Le Mans racing track, the Puy du Fou theme park and traditional cities like Saumur and Nantes, so this area will have something to suit everyone on a family camping holiday in France.


About the Pays de la Loire Region

When anyone thinks about the Loire, the first picture that springs to mind are the fabulous chateaux, and even though the Pays de la Loire does have some impressive castles and chateaux to visit, the majority of the famous ones like Chateau de Chenonceau are located in the Centre region of France.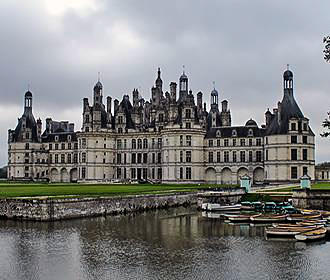 Pays de la Loire Chateau de Chambord
And being that the Pays de la Loire region was only created in the 20th century, this is of course one of the reasons why many people get confused, but another confusing point is the fact that Nantes used to be the capital city of the Brittany, yet is now the capital city of Pays de la Loire! In addition to this, many refer to having a holiday in the Vendee, but this is just a department within the region.

Located along the Atlantic coast, to the North are the regions of Brittany and Basse Normandie, then you have the Centre region to the East and the Poitou Charentes region to the South, and there are actually five departments with the Pays de la Loire, with the most well known two being the Lore Atlantic and the Vendee, with the other three being inland.

Today Nantes is the capital city of Pays de la Loire and it is actually the sixth largest city in France and is located along the River Loire, also it used to be one of the most important seaports, however, in more recent times, most of the major shipping and ship building activities have moved to Saint Nazaire, which is where the Cunard cruise ship and their flagship was built.
You will find that this is a very peaceful area for a family camping holiday in France with lush green countryside and vineyards inland, along with sand dunes, sandy beaches and salt marshes by the coast. Plus there are islands that you can visit which are reached by boat, plane, causeway or bridge and here you will find lots of relatively undiscovered places to visit like a castle, fortress and an abbey.

Yet there are numerous sporting activities available within the Pays de la Loire region and obviously cycling and hiking are two past-times that many people enjoy, but did you realise that there are actually over twenty 18 hole golf courses that are suitable for all levels, plus some very challenging golf courses as well.

Sea kayaking around the islands and sailing, especially around the Les Sables d'Olonne area in the Vendee are very popular and here you will also find the largest bathing resort within the region, plus this is where the Vendee Globe round the world yacht race starts from. However, there are also the canals with lots of different boating and barge trips and even dinner cruises you can enjoy, yet if you like canoeing, there are the Sarthe and Mayenne rivers, which lend themselves to a tranquil day out on the river watching the wildlife as you go by sedately.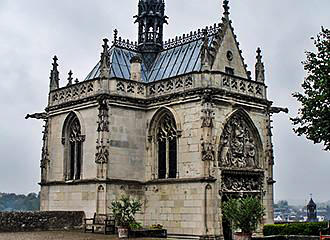 Pays de la Loire St Hubert Chapel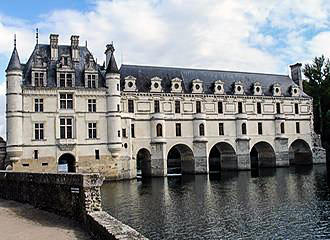 Pays de la Loire Chateau de Chenonceau
However, if water is not your cup of tea, then perhaps you enjoy horse riding and there are many equestrian centres around that offer guided treks on dedicated bridle paths and Saumur is the riding capital of this region with its National riding school, and one of the French campsites in Pays de la Loire close by is called Camping Les Nobis. But for something completely different, how about taking a hot air balloon ride around the Anjou area or a trip in a helicopter to get a birds eye view of the marshlands and the islands along the coastline.

But after an exhausting day of activities, we are sure that you will want to go and eat out at one of the many restaurants, and when it comes to the regional specialties of cuisine, this region is just as diverse with the food and drink that will delight the palate of anyone. So, if you like mushrooms, then you will be in your element, as over 70 percent of all mushroom crops in France are produced here, but fresh fish, along with fried eel that is a specialty of the Nantes area, are very popular dishes.

Then you have the salt pans around Le Croisic area and the Sel de Guerande is the most well known type of salt in France and is often used within French cuisine. But other regional cuisine includes rilletes that are basically like a type of pate, the heavily smoked and spiced sausage known as andouille and even frogs legs, plus the legendary duck with orange sauce along with the famous Petit Lu biscuits are other delights you can enjoy.

Drink is of course part of French culture and one of the main French wines produced within the Pays de la Loire region is Muscadet, which is a light dry white wine, yet there are many fruity rose wines plus red and other white wines that come from the region, especially around the areas of Saumur and Anjou. Yet you also probably know the name Cointreau and yes, you have guessed it, this famous orange liqueur is actually distilled in this region within the city of Angers and is used when making the traditional duck dish.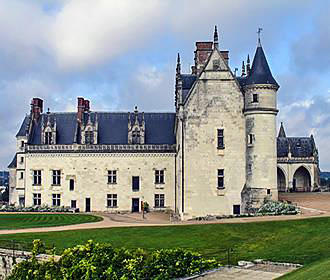 Pays de la Loire Amboise Royal Chateau
Just some of the tourist attractions and places to visit in Pays de la Loire region of France

Ok, lets start with those of you who are motor racing enthusiasts. Most people have heard of Le Mans and the famous 24 hour race, called the Circuit des 24 heures, which attracts visitors from all over the world, but adjacent to the famous Circuit de la Sarthe and the Bugatti racing track, there is a museum called the Musee de l'Automobile with vintage and more recent cars on display, that will feed your passion even further!

Then you have Puy du Fou which is probably the next most famous part of this region and inhabitants still remember the wars in the Vendee with re-enactments staged every summer, plus there is a heritage centre an eco-museum and period villages that have been created, all based around the Chateau.

But Puy du Fou is also home to the theme park called the Puy du Fou Grand Parc where you can experience different shows such as a chariot race in the Gallo Roman stadium, a falconry show and much more, not forgetting all the different rides, which makes this a great place for a family day out when on holiday in France.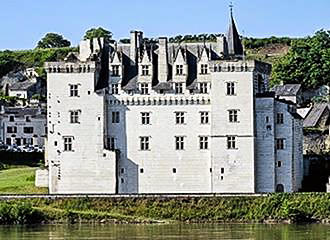 Pays de la Loire Chateau de Montsoreau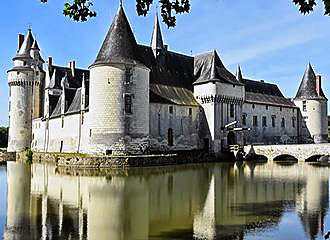 Pays de la Loire Chateau le Plessis-Bourre
Keeping on the theme of a family camping holiday, you could visit the Planete Sauvage which is a very large wildlife park with safari tours or the Zoo de la a Fleche, which is one of the major zoos in France. Yet perhaps enjoying the lovely beaches such as those of Les Sables d'Olonne and La Baule are more to your liking for a lazy day of fun in the sun.

Talking of relaxation in a tranquil atmosphere. The Ile de Versailles is an island located in the River Erdre, and only reached by tram, the whole island has been transformed into a Japanese garden, which is really pleasant and peaceful and something quite different for all to experience.

But if you are thinking more of a holiday in France where you can experience history and architecture, then you will definitely not be disappointed as there are so many places to visit in Pays de la Loire that will keep you in awe.

To start with in the town of Aumur you will find a lovely 14th century chateaux that is also home to two museums including the Musee du Cheval that is devoted to the history of horses, and then in the Vendee area there is the Logis de la Chabotterie, which is a fortified manor house with rooms depicting life as it was and the history of the Vendee wars.

Pays de la Loire sculpture
Then in the capital city of the region, Nantes you could visit the Chateau des Ducs de Bretagne that dates back to the 9 century, or the impressive Gothic cathedral with its ducal tombs, then you have the museum that is dedicated to Jules Verne who was born in Nantes.

How about Fontevaud that has the largest group of monastery buildings in Europe, with three still in existence from the 11th century which is a large yet incredible place to visit with restored rooms such as a kitchen, plus there is the abbey church, which is the final resting place of famous people like Richard the Lionheart.

Angers is a lovely old city with half timbered houses along with a cathedral and imposing chateau, plus there are numerous museums and plenty of chateaux that offer wine tasting tours, yet close to Le Mans you have the high Gallo-Roman walls just outside the town along with a 13 century abbey and gothic cathedral. In addition to this, you could visit the Chateau de Lude, which is the only chateau in France to have been built in three different styles.

Anyway, we could go on, but we are sure that you will come across many spectacular sites whilst on your family camping holiday in France in this diverse region, which is full of unusual and relatively unknown historical buildings and places to visit, that will be sure to keep everyone happy.