Tourist information on Poitou Charentes region in France

Located along the West coast of France, Poitou Charentes has one of the mildest climates and is also the second most sunny area after the Mediterranean regions, and with its sandy beaches, rich history, the famous Fort Boyard and the Futuroscope theme park, it is no wonder that this region is so popular as a holiday destination and for family camping holidays.


Information, tourist attractions and places to visit in the Poitou Charentes Region in France

This region has over 400km of sandy beaches with lively resorts like the famous La Rochelle, then there are the fragrant pine forests, yet inland you have vast open spaces, wooded valleys, the vineyards, waterways, marshlands and a terrific canal network, so this varied landscape will delight everyone, especially if you are after tranquillity or something unusual to experience.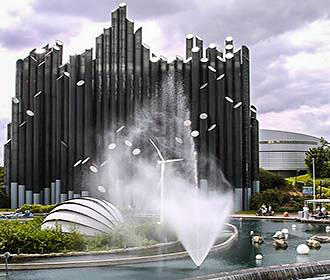 Poitou Charentes Futuroscope
To the North of Poitou Charentes you have the Pays de la Loire region, to the East is the Centre region, which is home to the famous French chateaux such as Chenonceau, then to South East you have Limousin and South is Aquitaine. Of course there are no regions to the West, as Poitou Charentes is located on the coast, yet there are islands that you can visit from one of the harbours.

As many know France takes food and drink very seriously and each region has its own specialities of French regional cuisine and the majority all produce some form of alcoholic beverage, whether it be one the famous French wines, liqueurs, ciders, etc, and the Poitou Charentes region is definitely no exception.

Cheese is produced all over France and Poitou Charentes has its own regional cheeses with numerous different kinds of tastes and textures, yet goats cheeses are the most popular and the most famous one is Chabichou.
Now when it comes to Meat and poultry they are always on the menu and beef is very popular, as is pork along with the traditional kid prepared with garlic and sorrel then you have the black chickens that have been raised here since the middle ages.

But being right on the coast, you will also find seafood on the menu and you will often see Moules de Bouchot which is one of the regional specialities of mussels. However, shellfish such as crab and prawns are caught locally along with fish like sea bass and skate, so there is also a wide choice of seafood available at most restaurants in the Poitou Chrantes region.

Even though some wines are produced here, it is not one of the well known French wine regions like the Bordeaux wines from Aquitaine or Burgundy wines, however they do have a claim to fame that everyone will have heard of.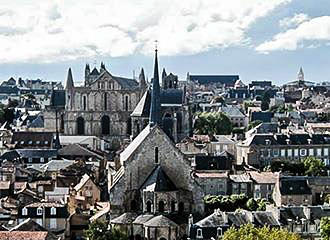 Poitou Charentes Poitiers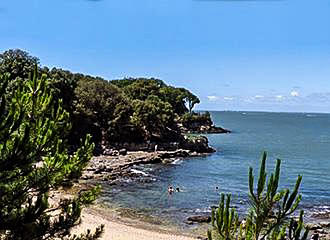 Poitou Charentes coastline
And you have probably guessed by now that it is Cognac, which is the preferred after dinner drink in this area. And just like Champagne that can only be classed as champagne if it is produced from certain grapes from a certain area, the brandy Cognac has the same strict rules in place with some of the most famous names like Remi-Martin and Courvoisier having their Cognac houses in the Poitou Charentes region. You can even decide to go on one of their guided tours where you will get to see the process and how the cognac is aged in the Limousin oak casks, along with the Cognac tasting sessions that are also available.

But the other well known beverage is called Pineau des Charentes, which is an aperitif and was originally found by the mistake of a wine maker back in the 1500s. Today the process of blending is very strictly controlled and it must still be made from the same type of grapes and in the Cognac area.


Places to visit and tourist attractions in Poitou Charentes

Poitiers is the capital city of this region and is an old hill top town that has a rich history with a lovely old centre, along with ancient churches including one of the most distinctive and famous Romanesque churches in France.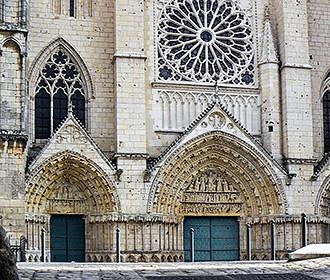 Poitou Charentes Cathedral
In fact, when it comes to fortifications, castles and churches, if this is something that interests you, then you will be in your element whilst on your holiday in Poitou Charentes, as there are so many villages that have a rich medieval heritage and some fine examples of 11th and 12th century Romanesque architecture like at Saintonge, or the five impressive castles in the medieval quarter of Chauvigny.

Keeping on this theme of architecture and historical buildings, you have the old French town of Niort with its medieval castle, the impressive fortified bridge at the small town of Parthenay, the town of Saintes that is home to a Roman triumphal arch called the Arch of Germanicus and the remains of an amphitheatre and many more to be discovered.

Plus, there are also numerous different museums that you can visit when on holiday, which include the Musee des Tumulus with its archaeological objects and Neolithic burial mounts, then you have the 12th century Chateau de la Rochefoucauld and the new world museum dedicated to transatlantic trade at La Rochelle, which is called the Musee du Nouveau Monde.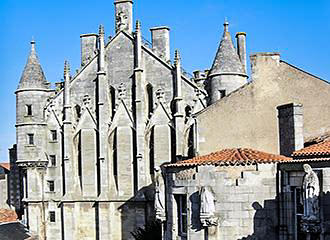 Poitou Charentes Palace of Poitiers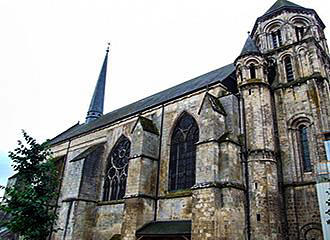 Poitou Charentes Church of Saint-Radegonde
However, some of the tourist attractions that are ideal for a family camping holiday in France include the cartoon museum at Angouleme, a steam train ride or a boat trip along the canals and secluded waterways in the Le Marais Poitevin area, either by guided tour or renting your own boat.

Yet there are also the lovely sandy beaches that are great for a lazy day in the sun where your children can swim and play happily and if you go to the port of La Rochelle, you can take a trip round the islands and the famous Fort Boyard.

You can also visit other islands by car which are linked by toll bridges like the islands called Ile de Re and Oleron and these have beautiful beaches, plus they are ideal for sailing and wind surfing. Yet if you like golf and want to keep your feet firmly on the ground, there are also 14 different golf courses in the Poitou Charentes region that are suitable for all levels.

Poitou Charentes La Rochelle
Now one place we cannot forget to mention is the Futuroscope theme park, which attracts millions of visitors every year and in fact there is a French campsite open all year called Camping Futuriste that is so close you can see the park in the distance with its giant dome. Yet there is also an aquarium at La Rochelle that is one of the best in France with over 10,000 sea creatures and a zoo set within a pine forest called Zoo de la Palmyre that has polar bears, Siberian tigers, elephants and much more plus there is a crocodile centre, a butterfly centre and a park for all different species of birds.

Children, and of course us adults, will love to visit many of these places whilst on a camping holiday in France and there is far too much to see and do in only one or two weeks away, and in fact we are only just scraping the surface of what you can do and the places you can visit.

And you will find many different French campsites in Poitou Charentes you could stay at, like the one we mentioned earlier that also has a swimming pool complex to enjoy, but in addition this is one of the French campsites with fishing available, so you can always have a day relaxing after all the places you have visited.