Tourist information on Basse Normandie region in France

Originally Normandie, (which is known as Normandy in the UK) used to be one whole region, but back in the 1950's the region was divided into two parts named Haute Normandie and Basse Normandie, that basically translates to Upper Normandy and Lower Normandy, yet there are many people that would like the two rejoined back together, which may well happen in the future.

Today Normandy is known throughout the world for the D-day landings and the good thing about choosing a holiday in Normandy, is the fact that it is very easy to reach from England. Especially since there are direct ferry crossing routes into the port of Cherbourg from either Portsmouth or Poole via Brittany Ferries, or on the high speed ferry with Condor Ferries.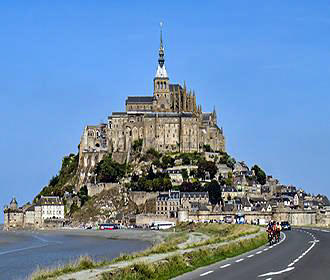 Basse Normandie Mont St Michel
About the Basse Normandie region in France

There are actually three different departments in Basse Normandie, which are Calvados, Manche and the Orne and the capital of the region is a town called Caen, although a large proportion of the city was destroyed during World War II.

Livestock farming and dairy production are major industries and one of the most famous regional products is Camembert cheese, however this region also produces iron ore that is mined near Caen, Cider, and the famous spirit, Calvados, which is distilled from cider and named after the area where it is made.

With its countryside and gentle rolling hills, this is a great place for hikers and ramblers, but it is also famous for its racehorses with many top breeding stables, plus there are lots of horse riding centres around for those of you that would like to experience the bridle paths and the countryside in a completely different way.
There are also numerous canals and rivers in Normandy, so it is an angler's paradise, but these are also great for experiencing the banks with the old abbeys, flora and fauna, along with river cruising, boating trips or for the more adventurous, you could go canoeing and kayaking.

However, the Basse Normandie region is also ideal for a family camping holiday in France with seaside resorts like Deauville and Caborg along the Cote Fleurie, which were ever so popular in the 19th century, as they were the closest beach resorts from Paris. And this area has around 100km of fine sandy beaches that are sheltered from the Northerly winds and benefit from the warmth of the Gulf Stream, yet in between them you will get harbours or rocky outcrops.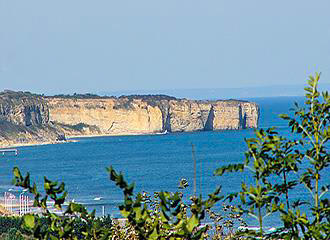 Basse Normandie coastline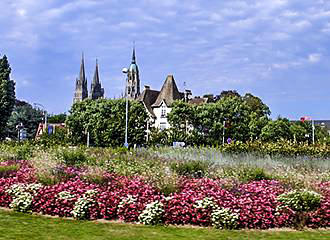 Basse Normandie Bayeux countryside
You could also admire the rugged coastline of the Cotentin Peninsula for a completely different change of scene and over 20,000 hectares of marshes that surround the area are a must for birdwatchers as it is on the migration route between Africa and Northern Europe.

But with its rich heritage there are also many different cathedrals, traditional half-timbered houses, quaint villages, grand abbey's and much more of architectural interest, along with numerous museums and memorials to discover, whilst on your camping holiday in Normandy France.


Just some of the tourist attractions and places to visit in Basse Normandie region

No holiday in Normandy would be complete without a visit to the famous D-Day landing beaches of World War II that were all given names by the English and the American's such as Juno or Omaha Beach and these names remain in place today.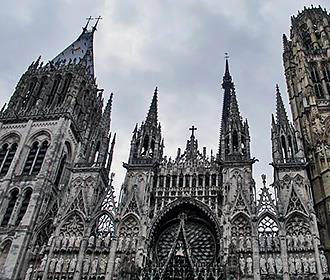 Basse Normandie cathedral
A perfect place you could stay is Port en Bessin which is Basse Normandie's busiest fishing port, yet is host to landing beaches on either side of it and one particular French campsite called Camping Port'Land is located right here, plus this is a French campsite with fishing available, a swimming pool complex and much more for a family camping holiday as well.

But, getting back to D-Day and World War II, there are also numerous war memorials, monuments and cemeteries to visit, or you could take one of the many guided tours available, lots of which start from the town of Bayeux, plus there are several museums dedicated to this time in history including the Memorial Museum in Caen and the Musee Memorial de la Bataille de Normandie 1944 in Bayeux.

Talking of Bayeux.. This is an attractive historic town with its cobbled streets and old houses where you can find lots of cafes and restaurants to enjoy, but of course it is most well known for where the famous Bayeux tapestry that was made over 900 years ago, and this can still be seen today in the museum at the Cathedral Notre-Dame in Bayeux itself.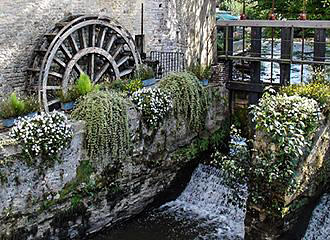 Basse Normandie Bayeux water wheel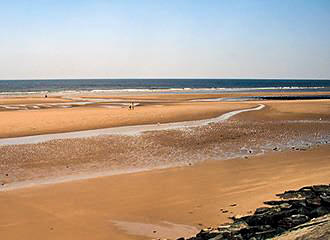 Also, the Baie Mont St Michel is also a very popular place to visit in Basse Normandie and it actually has the highest tides within Europe, but as the tide goes out, you can then see one of the largest oyster farming and mussel growing areas in the whole of France. And overlooking the bay Camping Caravaning La Route Blanche is a fantastic campsite in Basse Normandie to stay at and experience the area like a day out at the Alligator Park.

Plus the bay is also home to Le Mont St Michel, which started life as a small chapel built on a rock in the bay back in the 11th century, yet over time it grew into a stunning abbey and a major place of pilgrimage. Today Mont St Michel has been classified as a world heritage site, and is one of the most visited historic places in France where you can admire this wonder with its ramparts, Gothic buildings, cloister and stunning views over the bay.

How about a trip to Avranches were you will find a World War II museum, a basilica and a museum that has ancient manuscripts on display that date from the 9th century. Yet for a completely different scene you could enjoy the botanical gardens and the fabulous views from there over the Baie Mont St Michel.

Basse Normandie countryside
Then you have Deauville, which is a one of the seaside towns in the Basse Normandie region of France that was very popular in the 19th century, and has a harbour full of pleasure boats, with boats trips available, but here there is also a casino and one of the famous French horse racing tracks.

Yet if you are thinking of a family camping holiday where water sports play a major role, then you could consider the seaside town of Granville, which has the strongest tides in Europe, but is also the harbour that has ferry services to the Channel Islands of Jersey and Guernsey. However, bear in mind that you cannot take your caravan or motorhome to these islands unless you have booked a campsite and obtained a permit!

Now Cherbourg has always been a maritime town but with extremely rich history and has things such as a statue of Napoleon, the Holy Trinity Church that dates from the 5th century, numerous museums including the Liberation Museum housed within the fort that overlooks the harbour and much more.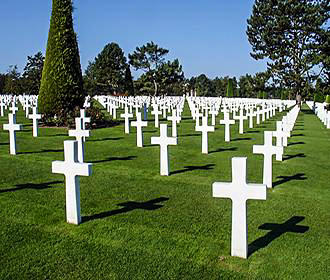 However, for a great family day out, you could visit La Cite de la Mer at Cherbourg, which is devoted to underwater exploration with a large aquarium that is the deepest in Europe, but also there is a submarine museum section where you can visit the Redoubtable, which is the largest submarine you can visit in the world.

Then you also have the medieval fortress that was the birth place of William the Conqueror, plus numerous churches to visit, the town of Villedieu-les-Poules with its coppersmiths, workshops and museums, obviously the marshes we mentioned earlier and much, much more to keep everyone occupied whilst on holiday in this historical region of France.