French Christmas markets and Christmas shopping in France

Even though most people think of a camping holiday in France during the summer months, there are lots of things to do and places to visit in the winter season and if you choose one of the French campsites open all year, you could then enjoy the fabulous Christmas markets or a skiing holiday in France.

Anyway, in this article we are looking at Christmas markets in France and in general, shopping in France during the Christmas period, because the festivities and atmosphere make a holiday at this time of year even more appealing to many, especially for a family holiday in France.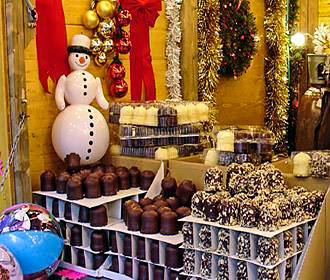 ---
Strasbourg

The most well known Christmas market is located within Strasbourg, the capital of the Alsace region in France, and it could even be the most well known within Europe, with people visiting every day from all over.

Known as the Christkindelsmarik or Christ child market, it is located around the ancient cathedral in the heart of the really historical centre of this city with its lovely quaint narrow streets that have hundreds of different stalls.

Incredibly, this Christmas market was originally held back in the late 1500's and has grown to a major event over the years, with there being hundreds of stalls today, that attract absolutely thousands of visitors from all over the world, so its no surprise that a family camping holiday at one of the French campsites open all year near to Strasbourg is so popular, not forgetting the different crafts and gifts that you can purchase to take back to your loved ones.
This particular Christmas market normally runs from the end of November through to Christmas Eve, although certain parts with stalls are still awaiting your visit even up until New Years Eve.


Christmas in Paris

Paris, the capital city of France, is obviously a destination to think of for Christmas shopping and Christmas markets, so here you will not be disappointed.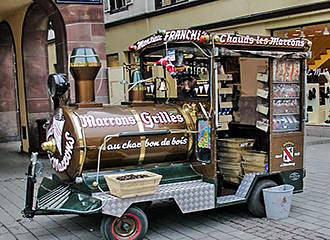 ---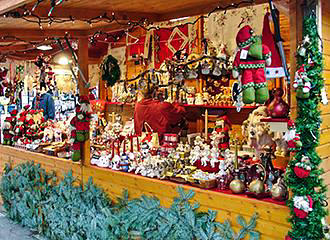 Now, even if you do not have your own motorhome or winterised touring van, getting to Paris is definitely a lot easier to reach than some cities or regions of France and therefore you could still opt for a French campsite open all year near Paris with one of the mobile homes or chalets to rent.

Probably the most famous avenue in the world, the Champs Elysees, holds a Christmas market every year from mid November through to Christmas Eve, yet the lights decorating this avenue are also spectacular, leaving many people speechless and in awe.

In fact, when it comes to Paris, there are actually lots of different Christmas markets that provide gifts, craft products, local specialities of cuisine and much more to tempt you in different areas known as Arondissements, such as the Saint Germain des Pres area, which becomes Santa's village.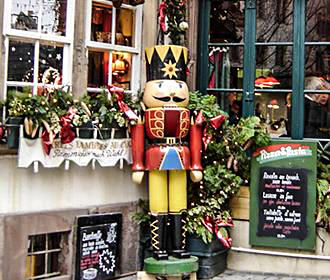 ---
However, we would like to point out that many of the Christmas markets in Paris do not actually start until at least the first week of December like the one by the Eiffel Tower at the Jardin de Trocadero and some finish even before the 24th December like the one that is held opposite the Notre Dame Cathedral.

Yet if you wanted to do a flying visit just to experience the atmosphere, the good thing is that you could always utilise Eurostar for a daytrip to France and maybe even have time to admire the department stores like Printemps and Galeries Lafayette with their fabulous window displays. But, of course, you could take a ferry to France and stay one or two nights, whether it be on a French campsite open all year or in accommodation such as a hotel in Paris to experience even more with the twinkling lights of an evening.


Christmas markets in other cities in France

No matter what you region of France you decide to visit on holiday, you will find that most major towns and cities will make sure that everyone gets into the Christmas spirit by holding some sort of Christmas market or craft fair, especially on the Eastern side of France such as Colmar and Nancy.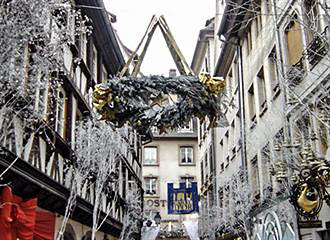 ---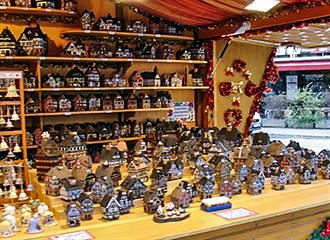 However, other cities such as Bordeaux in the Aquitaine region, Clermont-Ferrand in the Auvergne region and Lille in the Nord-Pas-de-Calais region, which of course is a lot closer to the ferry crossings of the English Channel, also hold incredible Christmas markets with all kinds of crafts and gifts plus regional specialities of cuisine to tempt you even further.

Calais, which is a very convenient place to get to from the Channel Tunnel or the ferry ports, also pulls out all the stops for Christmas shopping including a Christmas market and is therefore a great destination for a day trip to France or a short weekend break. With places like Carrefour being open every day so that you can stock up on drink, perfumes and numerous gifts to make your festivities even better, it is the ideal time for a family holiday in France with a difference.

Also, instead of paying out for a hotel or B&B, there are campsites open all year in the Nord-Pas-de-Calais region as well, some of which have mobile homes to rent in case you do not have your own touring van.


Shopping in France during the festive season

Christmas time in France tends to be the busiest time of the year, which is actually the same for most European countries and therefore the shops will often stay open longer to take advantage of the amount everyone spends on extras.

Even local shops and the large out of town supermarkets tend to have extended opening hours and often stay open at lunchtimes instead of the normal two to three hour closure and this is especially true of the major towns and cities that hold the Christmas markets as well.

Many shops and supermarkets also open on a Sunday for a few hours each weekend in the run up to Christmas and lots also stay open later into the evening, so you will be able to experience even more of an atmosphere on your family holiday in France at this very special time.