Tourist information on the Auvergne region in France

The Auvergne region is ideal for outdoor activities and is famous for its mountains, valleys and rocky peaks at the Massif Central, along with its lakes, hot springs and the dormant volcanoes that make up the largest volcanic area in Europe, yet it is also famous for its mineral waters, such as Volvic and the Michelin tyre company that are all centred around the city of Clermont Ferrand.

And even though the Auvergne has not been one of the main tourist destinations for a camping holiday in France in years gone by, it is now attracting more tourists and visitors that want to experience the great open spaces and natural phenomena that make this landscape so unique in France.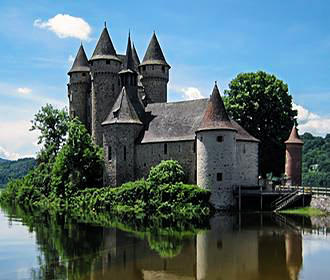 Travelling to the Auvergne region

Almost in the centre of France the Auvergne region is bordered by several other regions in France, which are Burgundy, the Rhone Alpes, Languedoc Roussillon, the Midi-Pyrenees, Limousin and Centre and it takes on average 7 to 8 hours by car to reach here from the ferry ports, yet it is only 3 hours from Paris by train.

However, rather than taking your motorhome, caravan or tent and staying on one of the French campsites in Auvergne, if you wanted to stay in a hotel or gite at the moment there are still no low cost flights to this region from the UK, which can make things a little more awkward, as you would need to get one of the connecting flights from places such as Paris or Mulhouse in the Alsace region to fly directly into Clermont Ferrand, which is the capital city of the Auvergne region.

The other alternative is to get a cheap flight to Paris, and maybe even spend a couple of days in the fabulous city of lights to take in some famous tourist attractions like the Eiffel Tower or one of fabulous French museums such as The Louvre, before you then take the train from the Gare de Lyon train station.
Information, tourist attractions and places to visit in the Auvergne Region in France

Although most people think of the Auvergne for hiking and rambling in order to visit the famous dormant volcanoes, there are many other activities on offer such as mountain biking, paragliding, kayaking and much more during the summer months, yet you can also go on a skiing holiday in Auvergne during the winter season.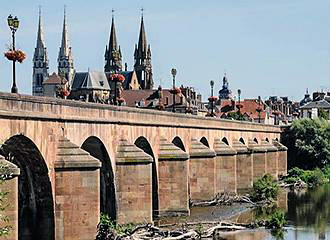 Auvergne Allier Moulins bridge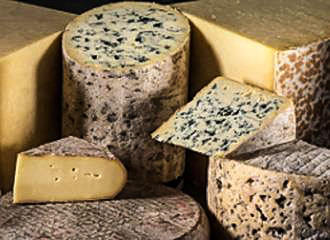 There is also a very rich heritage with many architectural wonders and historical places that are just waiting to be discovered, such as over 50 different chateaux and around 250 religious buildings that were built between the 11th century and the 13th century, and five of these Romanesque churches are situated around the capital of Clermont Ferrand, which are known as the major churches. In addition to this, Auvergne can boast 11 out of the 150 prettiest villages in France, where you can walk along the narrow cobble streets, admire the houses and historical buildings and squares, monuments and old wash houses.

And as you have no doubt realised from any region in France, gastronomy plays a major role in the culture and the French life and you cannot think about going on holiday to France without experiencing the French food and regional cuisine.

To start with you have cheese, yes there are lots of different cheeses produced all over France, but the Auvergne produces five of the famous PDO French cheeses along with lots of other local cheese, and a couple that are really worth trying are the Saint Nectaire cheese, which has been produced since the 17 century and matured in old wine cellars and the Fourme d'Ambert, which is an ancient blue cheese that dates back to Roman times.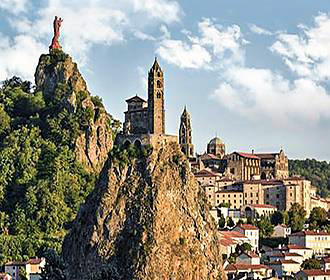 Auvergne Chateau des Martinanches
Other regional specialities of French food from Auvergne include Aligot that is a type of mashed potato with Cantal cheese and garlic, Potful Auvergante that is basically like a casserole with the local ham and sausages and the green Puy en Velay lentils. However, you will also find trout and salmon on the menu from the local rivers, stuffed cabbage, other vegetables and fruits along with berry tarts and much more French cuisine to tempt your taste buds.

Now when it comes to drink, of course you have the minerals waters that come from this region, with the most well known being Volvic, but did you know that this region is one of the oldest wine producing regions in France, even though they are not as well known as the French wines from Burgundy or Bordeaux in the Aquitaine region. Yet there are some lovely light fruity flavoured wines and some nice full bodied reds to enjoy with your meals, but prior to your meal you could also enjoy the Gentiane Liqueur as an aperitif.


Places to visit and tourist attractions in Auvergne region

Ok, we have really got to start with the volcanoes. Now the Puys volcano range extends to over 30km where there are around 80 domes and craters with the most famous one being the Puy de Dome at over 1400m that provides a great panoramic view over the entire area. Then the Plomb dy Cantal is the largest volcano in Europe and in fact it is larger than Mount Etna in Italy, but there is also another claim to fame in the area, as the Puy Mary at over 1700m high, is actually one of the highest points in France, as well as the Puy de Sancy and these are also included within the Regional Natural Park.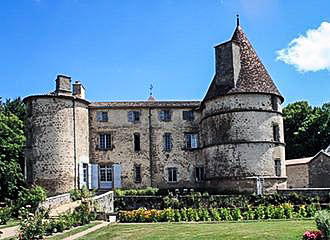 Auvergne Chateau des Martinanches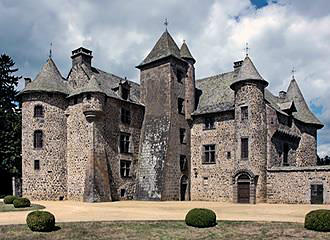 Auvergne Chateau de Cordes
Another major attraction are the natural crater lakes, which are also a fabulous sight, but if you want to learn more about the history of the volcanoes, yet let your children have some fun and excitement at the same time, then you should try and make the time to go to the Vulcania theme park with its attractions, rides, 3D cinemas etc, that should keep everyone happy when on your holiday in France.

Now, the capital of the region, Clermont Ferrand sits at the foot of one of the dormant volcanoes and is hive of activity, life, shops, bars and more, yet you can get a shuttle bus from here to take you to the top of the Puy de Dome mountain. Plus there are Romanesque churches, a gothic cathedral and other historical buildings you can go and visit.

Talking of historical buildings, at Le Puy en Velay, which is an old city with a cathedral, here you could follow the pilgrims path to a 10th century chapel that is on top of a rocky pinnacle and can only be reached by negotiating over 250 steps!
Then Le Monastier has a 12th century abbey, which is where Robert Lois Stevenson set off with a donkey, Thiers was once a small city famous for its cutlery where you can visit a factory and cutlery museum, Ambert is home to a historical paper mill and the town of Noyant d'Allier has a mining museum where you can also go on a mining train down into a reconstructed part of the old mine.

Or you could visit Pont de Garabit with its famous railway viaduct that was the highest in the world until the late 1990s it is an absolute marvel of engineering by colleagues of Gustave Eiffel who designed the Eiffel Tower in Paris, and another must see place whilst you are on a camping holiday in Auvergne are the Gorges de la Truyere where you can take boat trips as well.

There are also cable car trips available at Monts du Cantal and Le Sancy both in summer and winter, along with spa towns famed for their health giving properties and the hot springs that are the warmest in Europe. Yet for something completely different you could visit a race course, an opera house or perhaps go on the chateau route, where you could marvel at around 50 different chateaux within the region, so whatever you enjoy doing, there will always be something to keep you enthralled whilst on your camping holiday in France.