Tourist information on Languedoc Roussillon region of France

Bordering the Mediterranean sea the Languedoc Roussillon region has a fantastic Mediterranean climate and many unspoilt beaches, however, there are the Pyrenees Orientals for hiking and mountain biking, the famous town of Carcassonne with its ramparts, Nimes with its Roman Coliseum, the incredible regional park and plenty of vineyards to enjoy when on your family camping holiday in France.


Information, tourist attractions and places to visit in the Languedoc Roussillon Region

Located in the South of France and bordering the Mediterranean sea you will the Auvergne region to the North, North East is the Rhone Alpes, East is the Provence Alpes Cote d'Azur region also known as the French Riviera, to the West is the Midi Pyrenees and Languedoc Roussillon also borders on to the country of Andorra, plus to the South you have the border of Spain.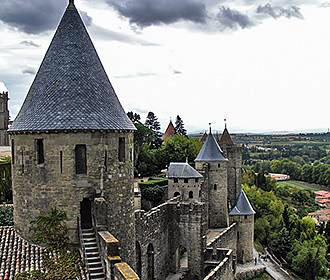 Languedoc Roussillon Cite de Carcassonne
Often just referred to as Languedoc, with the Mediterranean climate, it is not just an ideal place to soak up the summer sun lazing on one of the many unspoilt sandy beaches, you will find the area inland is dominated by vineyards and is around three times the size of the Bordeaux vineyards. It has also been estimated that one in ten French wines sold throughout the world comes from the Languedoc region and one of the well known wines from this region is called Corbieres.

However, agriculture is also a very popular industry with crops such as apricots, melons, figs and rice along with olives for producing olive oil and herbs plus goats cheese to name a few things produced locally, and hence all of these feature heavily within the regional cuisine, depending upon what area you are in.

To give you a greater idea of the types of French food you can expect, if you are by the coast, then oysters, mussels, sea bass and other fish are often found on the menu, whereas if you are inland, during the hunting season from the autumn until spring, you will often find wild boar on the menu at French restaurants. However, if you are further down south towards Spain, then the Catalan influence features heavily in the regions cuisine with rice, tapas and grilled sausages.
Some of the activities that are available for a fun packed family camping holiday in Languedoc Roussillon

OK, so we will start with water sports and because you have the coast obviously you could go swimming, sea fishing, wind surfing, jet skiing, sailing and more, but inland there are many rivers, lakes and canals that are ideal for fishing, canoeing and kayaking.

Plus there are numerous places where you can go boating and take boat trips on the canals, especially on the famous Canal du Midi that ends at Sete. And it is at the town of Sete that you will find a lovely port and marina, which also offers boat trips, cruises and fishing tours.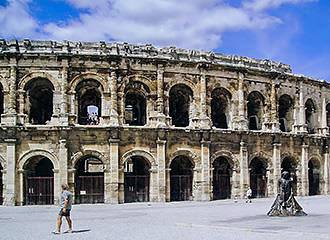 Languedoc Roussillon Arena de Nimes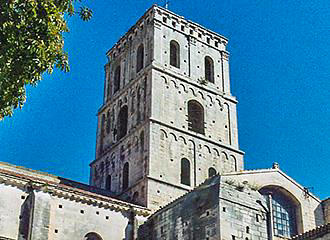 Languedoc Roussillon Staint Trophime
As with most of France, walking and hiking along with cycling and mounting biking are past times that most people enjoy doing and there are lots of different routes that you can experience from the gentle paths through the vineyards through to the more exerting trails in the mountains. And staying on land, perhaps horse riding is more to your liking and there are many equestrian centres where you can go on guided trails. In fact, the Languedoc Roussillon region also plays host to the famous Le Sentier Cathar horse trail.

When it comes to the mountain area, some more extreme sports such as climbing and rock climbing with the rugged terrain, with different sites that are suitable for different levels of expertise are another popular activity, as is skiing in winter. Golf courses and tennis courts are also dotted throughout the region.

However, if you like the idea of getting off the ground, then you will find that there are opportunities to do some paragliding, hang-gliding and kite surfing along with hot air balloon rides, plus you can even have guided tours over the Cathar castles, the gorges or the vineyards, giving you a true birds eye view of the area and making your camping holiday in France that little more special.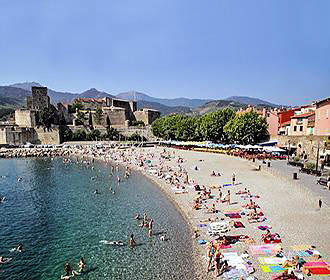 Languedoc Roussillon Boramar beach
Just some of the tourist attraction and places to visit in Languedoc Roussillon

One of the most popular tourist attractions in Languedoc Roussillon has got to be the city of Carcassonne, which is classed as a world heritage site and attracts millions of visitors every year. Basically, the major attraction is its fabulous castle and ramparts that are a major part of this city. However you can also wander round cobbled streets, get some souvenirs from one of the numerous souvenir shops, just relax at one of the restaurants or cafes or maybe experience one of the museums although this is a very touristy place to visit.

Another world heritage site is the Canal du Midi, which is also very popular as it is one of the longest and widest canals in Europe with some very unique features of engineering that had never been done before.

But if you really want to visit some of the amazing historical sites whilst you are on your camping holiday then you will definitely not be disappointed, as this one of the regions in France that has a very long and rich history that will satisfy anyone.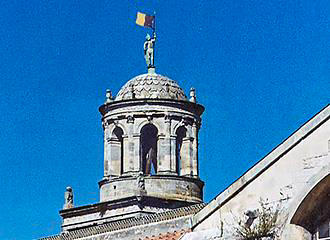 Languedoc Roussillon Arles mayors office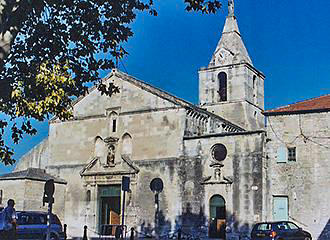 Languedoc Roussillon Arles church
Now even though it is Montpelier that is the capital of the Languedoc Roussillon region, it is the city of Nimes that is more thought of as one of the major cities, especially with its rich history, and who can be surprised! In fact, Nimes is home to many Roman remains including the best preserved Roman Coliseum in the world along with the Maison Carree that was a temple based upon the Apollo and Mars temples in Rome and today it is the only fully preserved temple.

Just outside the city of Nimes you have Le Pont du Gard, which is not only an impressive Roman aqueduct bridge that was built around 60AD, but it is also the highest and best preserved aqueduct bridge in France that dates from Roman times and is again, another world heritage site.

Keeping on the theme of historical sites, you could also visit numerous cathedrals such as those in Agde and Narbonne. However there are medieval cities, castles and ruins like those in Cathar and St Guilhen le Desert that has a Romanesque abbey, ruined castle and a small medieval city, along with Aigues Mortes, which is a fortified town where crusaders once set off from the port.

Languedoc Roussillon Puivert Lake
But now let us take a look at some of the other tourist attractions and things to do that are great for family days out when on holiday.

Obviously you have the beaches, but forgetting these, there are many other points of interest. To start with, Cevennes has beautiful mountains and steep wooded valleys plus is home to the Regional National Park and some very impressive caves and there is a steam railway that provides trips with a difference.

Then you have Grotte de la Clamouse, which is a must for anyone that wants to discover the underground world of stalactites and stalagmites, and today this continues to be a living cave system being hollowed out by a river, yet you can still enjoy tours of this spectacular phenomenon that are available daily.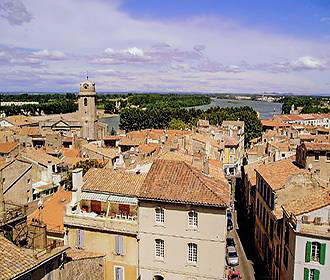 Languedoc Roussillon Arles roof tops
You also have a tourist train that leaves near Perpignan and rises to a place in the Pyrenees called Le Petit Train Jaune, which is a fabulous experience and has some spectacular scenery, although young children may get a little bored if you travel all the way to the end! However, something that all the family will enjoy is the African safari park called Sigean.

There are also mazes, tree top adventure centres, leisure bases for lots of different activities and much, much more, which also make for great fun days out when you are on your family camping holiday in France.

With so much to see and do, it is no surprise that there are many different types of French campsites in Languedoc you could stay at, like one of the campsites with a beach nearby, plus due to the mild weather in this region, along with the winter skiing in the Pyrenees, you will also find some campsites open all year, so you can be sure to find the right place for you next holiday in France.