Place Denys Cochin Square in Paris

Located close to Les Invalides this square was named after a French writer and politician and originally held a statue of General Mangin, yet this has been replaced by a statue of Marechal Lyautey, a Marshal of France.


About Place Denys Cochin

The Place Denys Cochin is actually a triangular shaped square situated in between the Avenue de Tourville, the Avenue de Lowendall and the Boulevard de la Tour-Maubourg looking over towards the immaculate gardens of Les Invalides, and this was officially named by decree on 24th December 1930.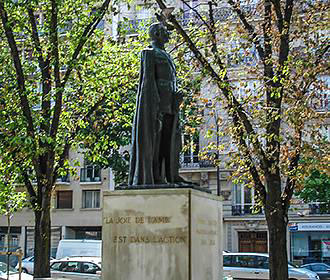 This square in Paris was named in honour of Baron Denys Marie Pierre Augustin Cochin, who was born in Paris in 1851, and became a French writer and politician. Plus he had also studied chemistry at the laboratory of Louis Pasteur, which led to working on developing explosives and chemical weapons in World War I, yet Denys Cochin was also an elected member of the Academie Francaise and a part of the French National Assembly that sits at the Palais Bourbon.

Now, back in 1932 a monument was erected within the Place Denys Cochin dedicated to the memory of Charles Emmanuel Marie Mangin, who gained a title of General Mangin within the French army, and his body is interred in a sarcophagus within Les Invalides.

This particular statue in Paris was sculpted by the French artist Maxime Real del Sartre, however, unfortunately this was destroyed by the Germans when Paris was under occupation in World War II. And it was not until the 1950s that another monument to General Charles Mangin was produced, yet placed in a different location close by on the Avenue de Breteuil and opposite the Eglise Saint-Francois Xavier. But all was not lost, as the original head of the monumental statue can be found within the Musee de l'Armee in the Hotel des Invalides.
Yet in the Place Denys Cochin, in the centre of this square you will now find a different monumental statue, which was produced in memory of Louis Hubert Gonzalve Lyautey, who was also a French army General, who served in places such as Madagascar and Morocco, and earned a title of Marechal de France, or Marshal of France in English.

And this particular memorial monumental statue of Marechal Lyautey was sculpted by the artist Francois Cogne, and put in position within the Place Denys Cochin in 1985, which is where you can discover this today, along with numerous other statues in the same area.


Visiting Place Denys Cochin in Paris

You will find the Place Denys Cochin located in the 7th Arrondissement close to numerous famous tourist attractions in Paris such as Les Invalides, which is home to the Tomb of Napoleon Bonaparte.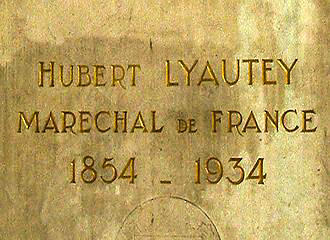 And when it comes to reaching here via public transport in Paris, the nearest Metro stations are the Ecole Militaire stop serving line 8 or the Saint-Francois-Xavier stop serving line 13. Alternatively the bus lines 28, 82, 87 and 92 will also get you close by.