Musee Maillol museum in Paris

The Musee Maillol is run by the Foundation Dina Vierny, and is dedicated to the French sculptor, woodworker and artist, Aristide Maillol, and this museum in Paris was founded by Dina Vierny who was his model and muse, plus you can find Italian restaurant here as well.


A bit of history

Aristide Maillol was born in France in 1861 and from a very young age had a passion for drawing and painting, which then led to him becoming a sculptor and it was in his more mature years that Aristide Maillol focused on the female body, which is when he produced some of his most works.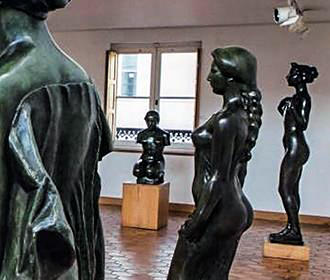 Dina Vierny was only 15 when she first met Aristide Maillol and became his model, and was with Aristide Maillol for ten years as both his model and companion before he died, and it was Dina who provided much inspiration for some of his greatest art works, that can still be admired today.

Unfortunately, Aristide Maillol died in a car accident in 1944 and it was Dina, who had become an avid French art collector and dealer that set up the Foundation Dina Vierny and the Musee Maillol, in which to showcase the artistic works of Arisitde Maillol along with those she had collected herself.

Yet the realisation of this goal did not come about until 1995 when the Musee Maillol was first opened to the public in the 18th century townhouse that Dina Vierny had fully restored to its original glory with its impressive architectural features.
About the Musee Maillol

The Musee Maillol and the Fondation Dina Vierny is spread over three floors in a fully restored 18th century townhouse, and in the basement or the cellars, is where you will find La Cortigiana Italian restaurant in Paris, which also provides afternoon tea and pastries as well.

You will find there are permanent collections dedicated to Aristide Maillol, which have been broken down into three different main sections. The first is Maillol and his sculptures with famous pieces such as one he produced in 1905 called The Mediterranean, then the second section relates to him as a painter, which is what he concentrated on prior to getting into sculptures.

The third section is dedicated to him as a designer and looks at the different notes and drawings that he produced over the years, and these were often his observations for the start of the work that Maillol produced.

Yet there are also temporary exhibitions that take place here throughout the year, so there is always something different to see, not forgetting that the entrance is right next to the fabulous Fontaine des Quatre-Saisons, which is one of the large ornate fountain in Paris.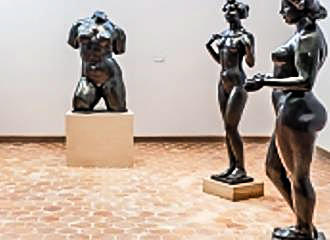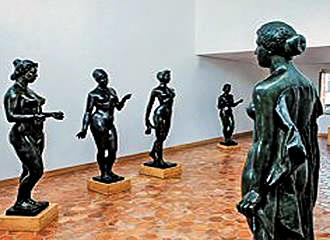 Visiting Musee Maillol museum in Paris

You will be pleased to know that the Musee Maillol is open daily from 10.30am through to 7pm and on a Friday they have late opening until 9.30pm, but we would like to point out that the last time you can enter is a minimum of 45 minutes prior to closing time.

This museum is open on a Tuesday, unlike some other museums in Paris such as the famous Musee du Louvre that close on this day, but the Musee Maillol is also open on lots of the National French holidays such as 1st May.

The cost of entry to the Musee Maillol for both the permanent collections and the temporary exhibitions is €13 as of 2014, however, there are concessions available for certain people such as students or groups, and children under the age of 7 can visit free of charge.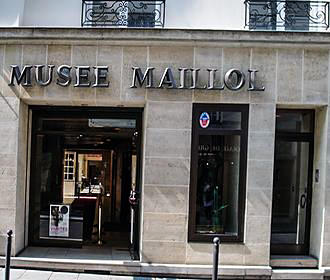 And you can of course wander around the museum on your own, but there are also audio guides available in French, English and Italian at a cost of €5 if you would like to learn far more about Aristide Maillol, his life and his works.

You may also be pleased to know that this museum along with the Cortigiana restaurant is accessible to the disabled with moveable ramps and a lift in place, plus wheelchairs are available at the reception desk when you purchase your ticket. However, we would like to point out the electric wheelchairs are not permitted due to the small scale of the museum, and pushchairs or strollers must also be left at the locker room along with any other bulky items, yet baby carriers are available.

Located in the 7th Arrondissement, when it comes to public transport in Paris, the nearest Metro station to the Musee Maillol and Fondation Dina Vierny is called the Rue du Bac via line 12, or alternatively, you could utilise the bus numbers 63, 68, 83, 84 and 94.

However, if you have your own means of transport, then the nearest car park is called the Bac-Montalembert that faces 9 Rue de Montalembert or there is also a Velib station on the Bd Raspail if you are utilising the bike rental system.