This location is now closed with no re-opening date.

The following article is left as-is for historical and archiving purposes.
La Cortigiana restaurant in Paris
NOW CLOSED
Located within the Musee Maillol that is dedicated to a French sculptor, you will find this small Italian restaurant that has a warm, cosy and refined atmosphere within the old cellars underneath the museum that was set up by the model and muse of Aristide Maillol.


About La Cortigiana in Paris

With a refined and elegant atmosphere, this restaurant in Paris is located underneath the Musee Maillol in the old cellars with its white stone walls and the vaulted ceiling.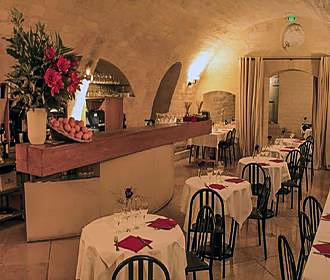 Yet with flowers on the tables and soft lighting to give a warm but simple aspect to the small dining room of La Cortigiana, you can enjoy a delicious Italian meal prior to or after having visited the museum.


The cuisine at La Cortigiana

La Cortigiana is an Italian restaurant that serves seasonal and inventive cuisine with afternoon tea and pastries available, along with a full a la carte menu and formulas such as a main dish and dessert.

The Antipasti or starters could be delights such as Mussel soup, Carpaccio and crunchy vegetables or Tiramisu, parmesan and pine nuts with an average cost of €12 as of 2014.
When it comes to the main courses could be tempting dishes such as Shellfish and crustaceans, House lasagne or Ravioli with eggplant, mozzarella and meat, to name a few and these do range in cost quite a bit, but the average as of 2014 is around €20 for a main course.


Visiting La Cortigiana Italian restaurant in Paris

As we have mentioned before, the Cortigiana restaurant is located beneath the Musee Maillol in the 7th Arrondissement within walking distance of the Musee Rodin and Les Invalides, yet also not far from the River Seine and the fabulous Musee d'Orsay Museum.

You will find that this restaurant in Paris is open daily from 10.30am through to 6pm, however they are also open for dinner on a Friday evening, but for the evening you do have to book in advance.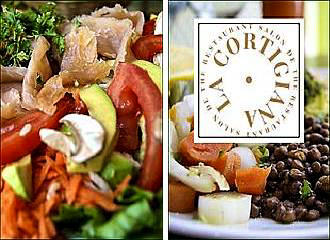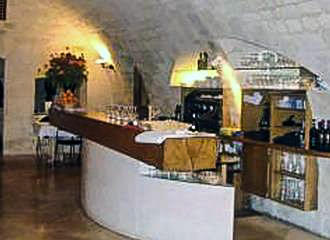 We would also like to point out that if you are not visiting the Musee Maillol, then it is highly recommended that you book a table, and for groups, reservations must be made in advance.

Now when it comes to the public transport in Paris, you will find that the nearest metro station is called the Rue du Bac stop via line 12, however, the bus numbers 63, 69, 84, 94 and 95 will also get you close by to this restaurant and museum.