Jardin Catherine Laboure Garden in Paris

There are many different parks and gardens in Paris you can visit, and often these are tucked out of the way or very little known, yet just like the Jardin Catherine Laboure, these are an ideal place to relax in nice weather and often have a historical background behind them.


A bit of history on Jardin Catherine Laboure

This was originally a kitchen garden and orchard of the convent that dates from 1633 and even today the convent windows still overlook the garden that has its path formed in a shape of a cross.

The area has only been opened to the public due to the generosity of the Filles de la Charite, which basically translates to Daughters of Charity whose mission started to help the sick and poor.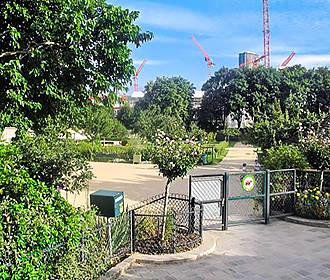 And this park and garden in Paris was named after a 19th century nun by the name of Catherine Laboure, who was originally from the Burgundy region in France and it is claimed that the Virgin Mary appeared to her.


About the Jardin Catherine Laboure

This garden is actually a small haven of peace in the heart of the city of only around 7,000 metres squared, yet is an expanse of greenery and lawns for lazing around along with fruit trees, hornbeam hedges, gorse and willows.
There is also a vegetable garden, where children can learn more about gardening and you will often find school outings visiting the Jardin Catherine Laboure, but this is also a nice place to take a walk along the cross shaped path and under the long pergola that is covered in vines.

However, not many realise that this is also one way to reach and tour the famous Chapelle de la Medaille Miraculeuse, that generally translates to the Chapel of the Miraculous Medal, and located at 140 Rue du Bac, this Marion sanctuary is where the Virgin Mary appeared to Catherine Laboure, and her embalmed body lies within a coffin here beside the alter.


Access to the Jardin Catherine Laboure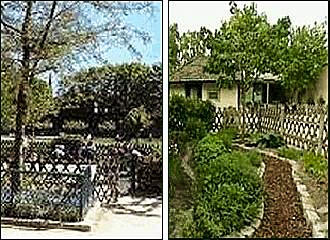 Located within the 7th Arrondissement of Paris the Jardin Catherine Laboure is open from approximately 8am through to 8pm daily, although it does have certain dates when it is exceptionally closed to the public and the entrance is at 29 Rue de Babylone.

However, it is very close to the Chapel of Our Lady of the Miraculous Medal, but is also only a short walk from the Musee Rodin or Les Invalides that is home to other Paris museums and the impressive Tomb of Napoleon I.

When it comes to getting here via public transport, you will find that the nearest Metro station to the Jardin Catherine Laboure is called the Sevres - Babylone stop serving lines 10 or 12, but this garden in Paris can also be accessed via Bus Lines 39, 63, 68, 70, 83, 84, 87 and 94.