Place de Furstenberg Square in Paris

This square in Paris is mainly known today for being the place where Eugene Delacroix once resided, yet is in an historical area that was once the forecourt of a palatial abbey with the original dating back to the middle ages.


About the Place de Furstenberg Square

Located in the Saint-Germain des Pres area of the city, this small square is known for its unusual charm and beauty within an historical area that evokes romance.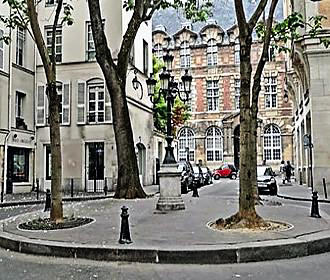 It was named after Cardinal William Egon of Furstenberg who had made this particular place the courtyard, or Cour d'Honneur in French, for the entrance to the abbey, and surrounding the Place de Furstenberg there were stables for horses. Servants quarters in rooms above were also added for the arrival of guests.

The Place de Furstenberg has an unusual formal space laid out as a small circle with four trees placed in it as a square formation, and these ornamental trees that look their most beautiful during the spring, are called Paulonia trees, which have been drawn and painted by numerous artists over many years.

Even though this square in Paris has no places to sit down or no grass to laze on, it is a popular spot, and is classed as one of the romantic settings in Paris, especially late evening when the light comes on from the solitary street light with its five globes.

However, the quaint narrow old street at the Place de Furstenberg is also home to the Musee Eugene Delacroix, which was the last place he lived prior to his death, and you can also visit his artist's studio here as well, plus there many different shops supplying antiques, etc along with cafes in the area.
Visiting the Place de Furstenberg

As we have mentioned above, the Place de Furstenberg is located on the left bank in the Saint-Germain des Pres area of Paris in the 6th Arrondissement, where you will find the Musee Eugene Delecroix. There are also different cafes and other tourist attractions in Paris that are located close by, such as the famous Le Procope restaurant.

When it comes to public transport in Paris, the nearest Metro stations to this small square are the Saint-Germain-des-Pres stop via line 4 or the Mabillon stop via line 10.

However, there are also several Paris buses that stop nearby including the bus lines 39, 58, 63, 70, 86, 87, and 95, along with the Noctilien Night Bus Service via line N01, N02, N12 and N13, which are all within walking distance.