Bibliotheque Mazarine museum and historical library

The Bibliotheque Mazarine is classified as a museum and is the oldest public library in Paris and all of France that was founded by Cardinal Mazarin, and it is located within the building now known as the Institut de France, which he also founded and paid for to be constructed as a college.


A bit of history

Cardinal Mazarin was the chief minister and advisor of King Louis XIV, who was also an avid collector of art and diamonds, and he even bequeathed the Mazarin Diamonds, as they are known, to Louis XIV, some of which are still retained and on display within the Musee du Louvre museum.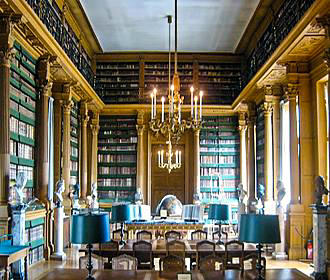 However, he was also a great reader, known as a bibliophile, and over time he had amassed a fabulous collection of books, yet when he had to flee Paris, his first collection was dispersed. Yet later on he started his collection again with what was left of the first personal library, assisted by Francois de La Poterie, which he then opened up as a library to scholars in 1643.

But, he also wanted to found a college, which was named the College des Quatre-Nations, and it was Cardinal Jules Mazarin that bequeathed not only the money to construct the building, but in his will, he also left the Mazarin library to the college, along with a fund as an annuity to support the scholarships of students as well.


About the Bibliotheque Mazarine Museum and Library

The Bibliotheque Mazarine is classed as one of the historical museums in Paris, and as we mentioned above, it is classified as the oldest public library in France, which is located within the impressive building formerly known as the College des Quatre-Nations.
Now known as the Institut de France, this historical college oversees many different museums and libraries around Paris and France such as the Musee Jacquemart-Andre, Chateau de Chantilly, the Bibliotheque Thiers, Musee Marmottan Monet and the Bibliotheque Paul-Marmottan.

But getting back to the Bibliotheque Mazarine, there are over 600,000 printed volumes including approximately 180,000 dated from between the 16th and 18th centuries, along with over 4000 manuscripts and over 2000 incunabula, which are basically early printed books, pamphlets or scripts, normally dating from before the year 1500.

Because some of the books are so rare such as a Gutenberg bible also called the Mazarin bible, these are held within display cases due to their age and fragility. Yet there are absolutely thousands of books on numerous subjects from history, religious history, politics, and much more, that you can have delivered to your reading table for perusal.

Although many of the books are in French and Latin, there are also numerous copies in Italian, English and Spanish, many of which also date from before 1800.

The Bibliotheque Mazarine has been located in the left wing of the Institut de France since it was bequeathed by Cardinal Mazarin, and the beautiful reading room was carefully restored to its former glory between 1968 and 1974.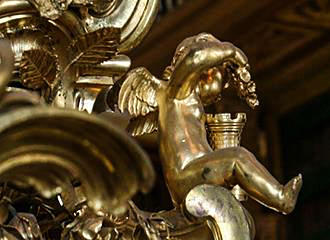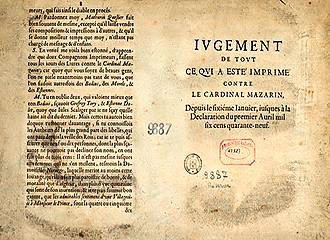 So even if you do not wish to sit and read for a few hours, you can still discover the beautiful 17th century decor of this museum with its ornate furniture, art objects, chandeliers, ancient busts and of course the wood panelling and its bookcases.


Visiting the Bibliotheque Mazarine Library and Museum

You will find the Bibliotheque Mazarine open on a Monday to Friday from 10am through to 6pm, however, it is closed at weekends, on certain National French holidays and for two weeks in August.

Because this is a public library it is open to all, and even though it is also classed as a museum, it is completely free to enter with proof of identity such as your passport. However, we would like to point out that anyone under the age of 18 must be accompanied by an adult, no food or drink is allowed and you must remain silent whilst visiting this historical tourist attraction in Paris.

Also, please do bear in mind, that there are only a small number of visitors allowed to enter at any one time, which is approximately only 5, unless you have pre-booked for one of the scheduled guided tours, which are available for free on certain dates, but these are only in French at the present time.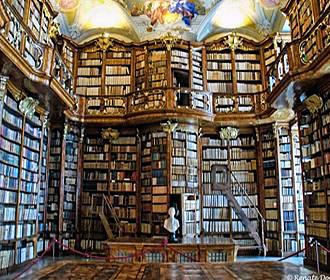 Access to the Bibliotheque Mazarine

The Institut de France and the Bibliotheque Mazarine is very easy to reach with numerous options for public transport in Paris. To start with, the building itself is very hard to miss, being located on the left bank of the River Seine opposite the Musee du Louvre, with the Pont des Arts, Bridge of Love, going in between the two.

When it comes to Metro stations, all within walking distance you have the options of the Pont Neuf stop via line 7, the Louvre - Rivoli stop via line 1, the Odeon stop via lines 4 and 10 or the Saint-Michel stop via line 4, which is also an RER train station for the RER C line.

There are also numerous Bus Lines that will get you within walking distance of the Bibliotheque Mazarine library, which are the lines 21, 23, 24, 27, 39, 69, 72, 74, 75, 76, 81, 85 and 95, along with the Noctilien Night Bus Service Lines N11, N12, N13, N15, N16 and N24.

Yet the Batobus, which is the water bus that travels up and down the River Seine with docks at strategic points close to famous tourist attractions along with bus tours such as l'OpenTour will also get you close by to the impressive building and its library.
Address and contact details
Bibliotheque Mazarine, Institut de France, 23 Quai de Conti, 75006, Paris, Ile de France, France

Tel: +33 (0) 1 44 41 44 06
Fax: +33 (0) 1 44 41 44 07


Related information
Institut de France
Institut de France history
Institut de France photos
Transport options
Paris Metro lines 1, 4, 7, 10
Bus lines 24, 27
Bus line 39
Bus lines 74, 75, 76
Bus lines 81, 85
Bus line 95
Night bus lines N15, N16
RER Train line C
Water bus service
Attractions close by
Square Gabriel Pierne
Pont des Arts
La Balle au Bond Peniche
River Seine
Square du Vert Galant
Pont Neuf
Equestrian Statue of King Henri IV
Musee du Louvre
Square Michel Caldagues
Square de la Place Dauphine
Musee Eugene Delacroix
La Conciergerie
Arc de Triomphe du Carrousel
Tuileries Gardens