Square Michel Caldagues in Paris

This small pretty little square was only inaugurated in 2014 and is named in memory of a councillor and former Mayor of Paris and is laid out with flower borders and grass.


About Square Michel Caldagues

The Square Michel Caldagues is a small garden that faces the Eglise Saint-Germain l'Auxerrois church and the mayor's office for the 1st Arrondissement, which is laid out to grass along with different flowerbeds.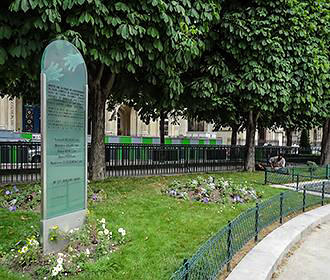 This little garden has railings all the way around it, so that it protects the area from people trampling over it, and it was only inaugurated on 22nd January 2014 by the Mayor of Paris, Bertrand Delanoe.

And the name chosen for this small square in Paris, is in honour of a former politician, Mayor of Paris for 17 years, and an officer of the Legion of Honour, Michel Caldagues, who died in 2012.

And as well as lots of different flowerbeds there are also small ornamental hedges, bushes and a few trees along one edge, plus there are some park benches just outside the railings of the Square Michel Caldagues, that are ideal for a spot of relaxation before venturing on to tourist attractions such as the famous Louvre Museum.
You can also get to see a modern stainless steel and glass memorial with two hands engraved on the top part followed by the enscription, which sits in this middle of a small flowerbed, plus there is also a plaque that mentions the fact that this gentleman was also a senator, etc as well.


Visiting Square Michel Caldagues in Paris

Located in the 1st Arrondissement of Paris, the nearest Metro stations to this square are the Louvre - Rivoli stop via line 1 or the Pont Neuf stop via line 7, yet the Batobus water bus shuttle service on the River Seine also has a stop located reasonably close by.

And situated closed to the mayors office and the Eglise Saint-Germain l'Auxerrois church, you will also find that the Square Michel Caldagues can be discovered 24 hours a day, even though there are railings that go right around the little garden to stop people venturing inside.