The Marc Mitonne show venue and restaurant in Paris

The unusual and inviting Marc Mitonne restaurant in Paris is a friendly place with an authentic and warm atmosphere that is ideal for all the family or a night out with friends as there is also lots of entertainment on offer here as well.


Vaulted rooms of the cellar

Occupying three floors you will find stone walls, original exposed beams and the vaulted rooms of the cellar that date back to the 17th century with an old well that dates back to the reign of King Louis XIV and these have even been classified as historical monuments in Paris.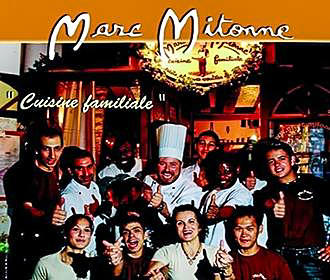 So when we say this is authentic, you can probably understand why and that does not include the fact that there are numerous original artefacts adorning the walls, which goes very well with the sophisticated, yet traditional home cooking style of the French cuisine they serve up for clients.

Talking of the French food at the Marc Mitonne. This restaurant in Paris provides some delicious dishes to tempt your taste buds such as a terrine of Foie Gras with muscat, mussels stuffed with almonds or wild snails in butter garlic and chopped parsley from Burgundy and those are just some of the starters you may be able to experience! When it comes to main dishes you could see Duck breast roasted in honey spices and marinated tomatoes, the true Andouilette sausage of France served with chips in their skins, Ox with mustard seeds and tagliatelle, a salmon lasagne served with summer vegetables, etc.
They also have a cheese board or Camembert cheese available along with some really tempting desserts like a chocolate and walnut brownie, profiterole with hot chocolate sauce, fresh fruits with cinnamon, figs roasted in a salted toffee and much more, plus you can also order aperitifs, coffee, liqueurs, etc.

As of 2012 there are two formulas available along with the a la carte option and for a starter and main course or a main course and dessert it is €23 per person. For a three course meal it is €29 per person, however we would like to point out that there are supplementary charges to be added to certain dishes and obviously the menu does change depending upon what French food is available at the time.

Now when it comes to entertainment, you will also be spoilt for choice and there are always different types of acts that you can get to see virtually every day of the week. And just some of these shows in Paris at the Marc Mitonne include Brazilian dancers, a cabaret show, a magic show on a Saturday, live jazz bands, solo singers, a DJ, comedians, a miming act and even a clairvoyant.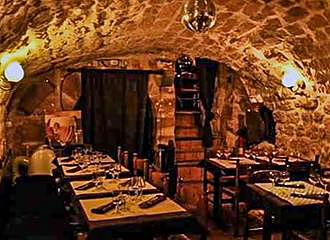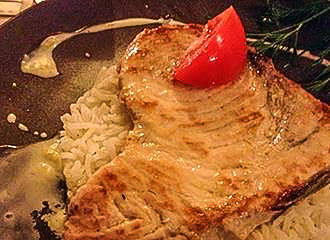 And as well as the normal entertainment at the Marc Mitonne, there are also two specific rooms that are dedicated to parties and events and you can book anything from a hen or stag night through to a birthday celebration or a seminar and set buffet meals for groups are also available upon reservation.

There is a charge added to the bill for certain shows, which normally equates to around €2 per person and sometimes just a small amount is requested to help support the numerous acts. However, for certain types of events that are organised, there will be a specific charge, so not only is it an idea to check out what the entertainment line up is going to be, but also if there is any charge.

Yet if it is a lovely warm day and you are not worried about the entertainment at the Marc Mitonne, instead of sitting inside in this very traditional restaurant that is a part of the history of Paris, you can also enjoy a meal or drink on their terrace.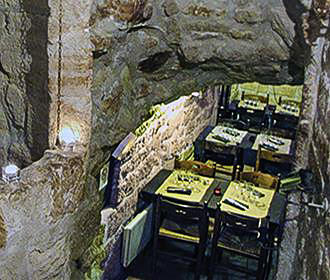 Access to Marc Mitonne shows and restaurant

The Marc Mitonne restaurant and show venue is open from Monday evening to Saturday evening from midday through to 3pm and then from 6pm through to 2am in the morning, however, it is closed on a Sunday.

This restaurant in Paris is located in the 1st Arrondissement between the Rue du Louvre, the Rue de Rivoli, the Rue du Pont-Neuf and the Rue Saint-Honore, which also means that not only is it close to famous monuments and museums in Paris, like The Louvre, but it is also only a short walk from the River Seine and the oldest bridge that goes over it called the Pont Neuf.

The closest Metro station is the Louvre-Rivoli on line 1, then you have Les Halles on line 4 and Pont Neuf station on line 7, which are just slightly further away.
Address and contact details
NOW CLOSED
Marc Mitonne, 60 Rue de l'Arbre Sec, 75001, Paris, Ile de France, France

Telephone: +33 (0) 1 42 61 53 16
Mobile: +33 (0) 6 98 94 29 96


Transport options
Paris Metro lines 1, 4, 7, 11, 14
Bus line 21
Bus lines 67, 69
Bus lines 72, 74, 76
Bus lines 81, 85
Night bus lines N15, N16
Attractions close by
Musee en Herbe
1979 Restaurant
Jewish Children's monument
Monument de l'Amiral Gaspard de Coligny
Musee du Louvre
Au Pied de Cochon
Musee du Barreau de Paris
O Chateau Wine Tasting
Place Joachim-du-Bellay
Tour Jean Sans Peur
Tour Saint-Jacques
Place du Chatelet
Arc de Triomphe du Carrousel
Musee des Monnaies, Medailles et Antiques
Square du Vert Galant