Jazz Club Etoile at Le Meridien Hotel

Located within the 17th Arrondissement, as the name suggests, this is a famous Jazz Club in Paris providing live jazz music events along with soul, blues, etc, yet this is also a restaurant serving gourmet cuisine and a wide variety of different dishes that you can enjoy, including whilst experiencing one of the live concerts.


About the Jazz Club Etoile

The Jazz Club Etoile has become one of the famous Jazz clubs in Paris that is located at the prestigious Le Meridien Hotel, which is a 4 star hotel in Paris located close the Arc de Triomphe, which was first open in 1975.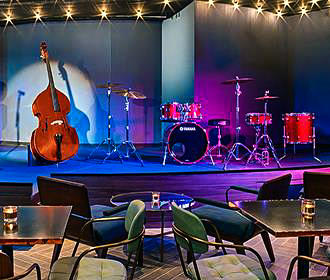 By the 1980s it had a worldwide reputation as the place for jazz fans in Paris, and in fact, over the years it has played host to some of the biggest names in Jazz, Soul and Blues, like Dizzy Gillespie, BB King, Ike Turner, Lionel Hampton, Fats Domino, Cab Calloway and many more.

Recently the Jazz Club Etoile been completely renovated with a new decor and completely new menus that have been designed by the executive chef of Le Meridien Etoile, plus the stage has opened up to Funk and World Music along with the Jazz, Soul and Blues concerts, providing a wider variety of live entertainment.

One of the beauties about this entertainment venue in Paris, is that it can only accommodate up to around 250 people, so this provides a more intimate atmosphere and a better view of the stage.
With blue and purple tones and comfortable velour chairs positioned with glass topped tables in front of the raised stage along with banquet style leather seating and tables in alcoves, the Jazz Club Etoile provides a unique atmosphere in which to enjoy the gourmet cuisine or a live concert.


Concerts at the Jazz Club Etoile

You will find that concerts are held on a Thursday, Friday and Saturday night at the Jazz Club Etoile with a varied programme that includes some of the top names in Jazz from around the world along with up and coming bands and artists.

Doors to the concert area of this jazz club in Paris open at 9pm with the concert itself starting at 9:30pm, and closing time is not until between 1am and 2am depending upon the night and the concert, with these ranging in cost from €28 upwards.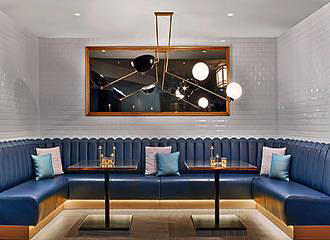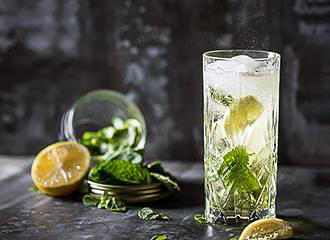 Now as we mentioned earlier, this is a reasonably small venue that can only cater for approximately 250 people at a time, so reservations and the booking of tickets is normally required, and especially if you decide to opt for one of the special deals like the Snack and Jazz you can read more about below.


The cuisine and menus at the Jazz Club Etoile

With gourmet cuisine changing according to the seasons and new plates designed by the executive chef of Le Meridien Etoile that are always tasty and varied with vegetarian options as well as catering to those of you who are meat or fish lovers, there is something to delight everyone, with different menus available according to the time, day and event.


A la carte Menu at the Jazz Club Etoile

The a la carte option is available from noon through to last orders at 10:30pm and starters could be delights such as Three duck foie gras mini-burgers, Quiche with tofu, tomato, ricotta and leek, Platters of cold cuts, ripened cheeses or a mix of both, Vegetable Samoa, Basket of vegetable bites with tomatoes, carrots, broccoli and cauliflower served with 3 dipping sauces or Crispy prawns with a zesty sweet-and-sour sauce for instance.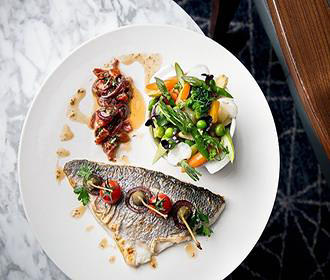 Meat dishes, or main courses could be Beef filet, pepper sauce, steak house style potatoes, Roasted chicken, with seasonal vegetables, Veal cutlet with mushroom cream sauce and penne pasta. Alternatively you could opt for Charolais beef tartare and gourmet sauce or a Hamburger of the month, which are served with a choice of side being Mixed baby greens or French fries with pickled vegetables.

Main course fish dishes could be Sea bream fillet panned with capers and sundried tomatoes and small vegetables, Pan-fried john dory with green asparaguses and shitake mushrooms, Smoked salmon plate with toasts or the fish of the day served as traditional Fish & chips.

Desserts could be very tempting delights such as Floating islands with pink praline, Seasonal Pavlova of crunchy meringue, vanilla whipped cream and seasonal fruits, Intensement chocolat that consists of shortbread, extra bitter chocolate cream, Caramelia ganache and cocoa nibs or Fruit salad that has fresh seasonal fruit in a vanilla syrup.

However, the Jazz Club Etoile also offers vegetarian options such as Penne spaghettis with a choice of sauce such as gorgonzola one of the traditional French cuisine options of a French onion soup with Emmental cheese along with a gluten free club sandwich. For those of you who are not vegetarian, there are also other club sandwiches available, along with salads and wraps with veal, carrots, white cabbage and fennel.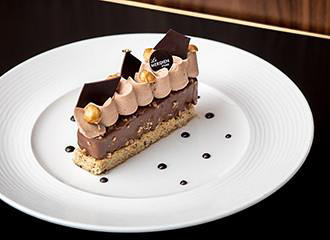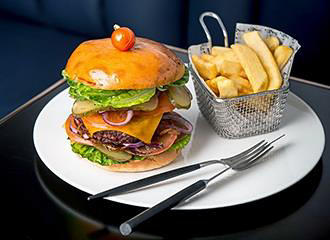 All Bowls

A concept referred to as Poke Bowls, the Executive Chef has come up with healthy recipes based upon this trend and full of vitamins twisted with an Asian touch that are revised through seasonal fresh produce available.

These are cooked right in front of you and served in bowls for a great snack, which are available at the All Bowls corner of this restaurant in Paris from noon through to 5pm, which can be eaten within the restaurant or taken away, and then they are added on to the Jazz Club Menu from 5pm until service finishes.

Starters could be Seaweed and Salmon Salad or Soya and Shrimps Salad followed by a main course of Stir-fried Vegetables and Tofu or Stir-fried beef noodles and then dessert of Roasted Pineapple and Coconut Milk or Exotic Fruit Salad. Plus there are formulas available of either a starter and main or main course and dessert, which are approximately €18.


Jazzy Brunch

The Jazzy Brunch is another option at the Jazz Club Etoile, which is available on Sunday from 12:30pm through to 3pm at an area of the restaurant called the Espace Latitude, which is a cost of approximately €60 per person and you can enjoy entertainment with a live Jazz concert from a Jazz trio.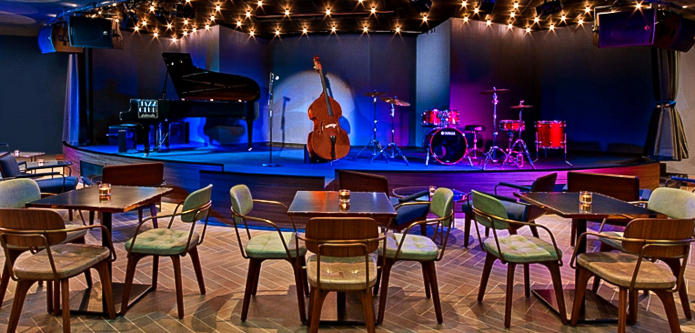 The brunch buffet is composed of a cold section providing seafood, salmon, Lebanese Hors d'oeuvre, sushi and sashimi, Southern roasted vegetables, tapenades and various salads. There is also a hot buffet section with meat and fish along with a cheeses and desserts buffet for so many original dishes and delights to tempt you, all of which is accompanied by tea, coffee and fruit juices.


Snack and Jazz

The Jazz Club Etoile provides a special menu called Snack and Jazz that is available on all nights where a concert is scheduled, with doors opening at 9pm and the live concert starting at 9:30pm.

You can enjoy the Snack and Jazz offer at this entertainment venue in Paris for a cost of around €50, which includes the cost of the concert ticket, one drink that can include a beer or glass of wine, a dish that you choose between a club sandwich, Caesar salad, Hamburger or a smoked salmon plate and one hour of free parking. Yet cocktails can be ordered for an additional charge.


Concert Area Menu

Jazz concerts are normally organised specifically for a Thursday, Friday and Saturday night, and there is a specific menu available for these, not including the Snack and Jazz option mentioned above, some of the options being designed more for sharing, rather than an individual.

You could opt for a charcuterie platter, ripened cheese platter or a mix of cold cuts and cheese, but there are also other options such as the Quiche or Wrap with veal that we mentioned earlier or a Monsieur Longitude that consists of Paris ham or chicken and Emmental cheese, on sourdough bread topped with creamy bechamel sauce.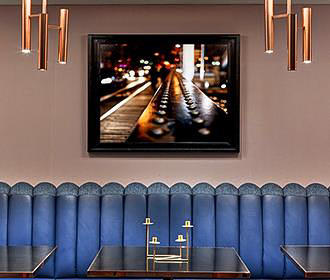 As you would expect, there are a variety of drinks on offer, both alcoholic and soft, yet there is also a dedicated concert cocktail drinks menu that includes classics like a Mojito, Pina Colada, Margarita and Manhatten. Yet the head barman has also come up with contemporary cocktails for the Jazz Club Etoile, which includes cocktails with names such as New Orleans, Latin Jazz, Be Bop, Swing, Dixieland and Delta Blues.


Access to the Jazz Club Etoile

Located within the 4 Star hotel in Paris, Le Meridien Etoile, the Jazz Club Etoile opens at 8am on a Monday to Friday and closing time is 1am on a Monday to Wednesday and 2am on a Thursday and Friday. It is also open on a Saturday from 10am through to 2am and on a Sunday from 10am to 1am.

As we mentioned earlier, the main concerts are held within the dedicated concert area on a Thursday, Friday and Saturday night, with doors opening at 9pm and the show starting at 9:30pm.

However, there is also an option of booking the Jazzy Brunch for a Sunday lunchtime where you can enjoy a buffet brunch accompanied by a jazz band playing, for a set cost.

Being located on the ground floor at the back of the Hotel Le Meridien Etoile, you will be pleased to know that this entertainment venue in Paris is accessible to the disabled and those of you with reduced mobility.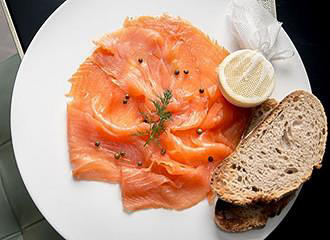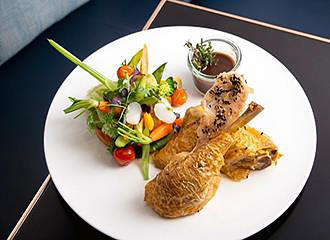 You can no doubt appreciate that bookings are required for the concerts due to limited spaces, plus also for the Jazzy Brunch and reservations are highly recommended for any meal within the restaurant, in addition to the fact that smart dress is also required.

Now when it comes to getting to the Jazz Club Etoile, you will find this located in the 17th Arrondissement of Paris close to the Metro station called the Porte Maillot stop that serves Line 1, yet this is also a train station, which serves the RER C line.

Alternatively, other public transport options include the bus lines 73 and 98 PC along with the Noctilien Night Bus Service via line N11, N24 and N153, plus Les Cars Air France, now known as Le Bus Direct, will get you directly from the Charles de Gaulle airport to within around a minutes walk of this entertainment venue and restaurant in Paris.

However, for those of you travelling into the city with your own vehicle, then parking is available and you will get one free hour of parking when enjoying a concert or one of their special packages, plus valet parking is also an option available.