Musee d'Ennery Asian Art museum in Paris

This museum in Paris offers visitors a rich and varied collection of Asian art that was collected by Clemence and Adolphe Philippe Ennery, and displayed within their mansion house in the city that they had purposely designed.


A bit of history

Adolphe Philippe Ennery was a writer, novelist and playright, but it was the foresight and passion of his wife Clemence that we can now discover the rich collection of Eastern Art, much of which had been accumulated even prior to their marriage.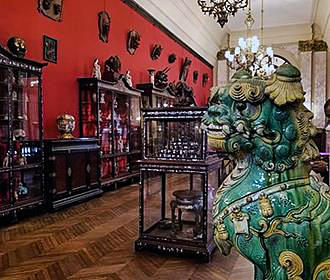 Their mansion house is situated on what was called the Avenue du Bois de Boulogne, which was renamed the Avenue Foch and was constructed in 1875 but quickly became more of a place for the growing collection, rather than a home.

And set within the private apartments, either on furniture or in specifically designed display cabinets and cases, and by 1890 there were are round 3,000 pieces of Chinese and Japanese art works such as porcelains and masks.

Yet, eventually the entire collection was donated to the state and by 1898 there were over 6,000 items within the collection, and although there are some very rare and signifient pieces in the collection, it has been further enhanced by the cabinetmakers who worked on the museums displays.


About Musee d'Ennery
Along with the Musee Guimet and the Pantheon Bouddhique, these three Paris museums are dedicated to Far Eastern Art and all have fabulous collections for people to discover when they are on holiday in Paris, not forgetting that you could also visit a Japanese garden and even attended a Tea Ceremony at the Pavillon de Thé, as well.

You will be able to discover some exceptional pieces at the Musee d'Ennery and unique masterpieces of Japanese porcelain, art of Netsuke, Japanese lacquer boxes, a collection of badges, Chinese porcelain, Japanese masks, figurines, vases, ceramics from Kyoto and much more.

The items were collected more through what caught the eyes of Clemence and Adolphe Ennery, and as such there is a very varied selection of antiques, artefacts, objects from mythology and even souveniers on display, and they are arranged in the rooms just as Clemence had laid them out originally.

Yet it may be a surprise to you, but this couple never actually went to the East, they were just fascinated with it. But the mansion in the Second Empire style and its cabinets also reflect their tastes and elegance like mother of pearl inlay on display cases, marble columns and painted ceilings, along with the amount of gilt, the parquet flooring and the chandeliers.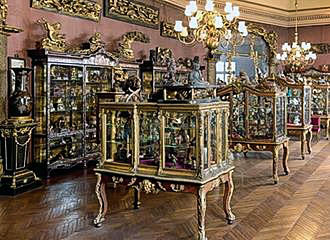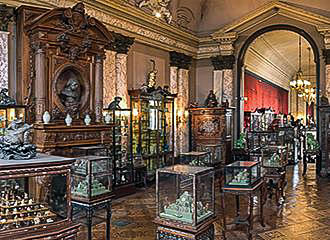 So as you can tell, this is an unusual tourist attraction in Paris that is often overlooked, but it is well worth a visit if you have a chance.


Access to Musee d'Ennery

Even though this museum in Paris was closed for many years due to having to have major renovations undertaken, the Musee d'Ennery is now open again upon prior reservation for a visit. And this is due to the fact that only around 15 people can be accommodated within the mansion house at any one time.

You will be pleased to know that the visit to the Musee d'Ennery is completely free, but it is only open on a Saturday and Sunday. But you do have to make a reservation in advance by telephone on +33 (0) 1 56 52 53 45 between the hours of 10am and 12.30pm Monday to Friday or from 2pm to 4pm in the afternoons except for a Wednesday.
width="330" height="280"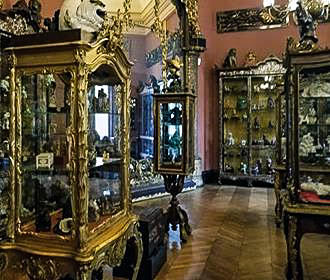 However, if you wish, you can also book a guided tour with a speaker at set times during a weekend for a cost of €6.50 as of 2013, and again you would need to telephone to arrange this in advance, but we would like to point out that at present this is only available in French.

Now when it comes to accessing this museum, you will find that the Musee d'Ennery is located in the 16th Arrondissment reasonably close to the Musee Guimet, yet within an easy walking distance of the Place Charles de Gaulle, which is where you will find the Arc de Triomphe and the start of the Avenue des Champs Elysees.

You will find that the Metro station called the Port Dauphine is closest, although in the opposite direction you have the Charles de Gaulle - Etoile stop that also has the RER station as well, but the bus number 82 will also get you close by.