Palais Maillot Nightclub in Paris

The Palais Maillot is a modern nightclub in Paris with a chic atmosphere located within the Palais de Congress, and plays host to many celebrities and top DJs from a Thursday to Saturday, yet is available on other days for private functions.


About Palais Maillot Nightclub

The Palais Maillot first opened in 2007 within the Palais de Congres and has a contemporary design with black walls, reds and purples for the seating areas, yet with classical baroque styled chandeliers that totally contrast with the chic and modern design of this venue.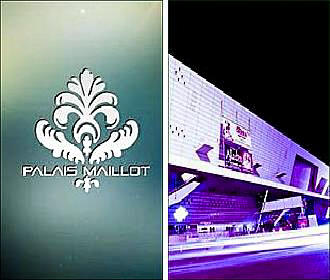 And although the Palais Maillot is used for corporate events during the week such as receptions and press conferences as there are different areas which can accommodate up to 1,500 people, but on a Thursday, they have what is known as an Afterwork evening. Then on Friday and Saturday this venue is used for pure clubbing through to the very early hours of the next morning.

The Thursday Afterwork Evening starts at 7pm and they provide a sumptuous buffet that you can enjoy with drinks either inside accompanied by lounge music or outside on the terrace area, which is heated in winter. But at 9pm the mood changes and turns into a major clubbing scene with its extremely large dance floor for you to party the night away until 1am and entry on this night is €15 as of 2014.

When it comes to a Friday and Saturday night, this is purely a clubbing scene at the Palais Maillot that runs from 11pm through to 5am. And with top DJs providing the sounds through to famous music artists like Britney Spears, Timbaland or the Pussycat Dolls having also performed at the Palais Maillot, it is a night to remember for both hip locals and tourists.
Visiting the Palais Maillot Nightclub

Located in the 17th Arrondissement within the Palais de Congres building, as we have already mentioned, this nightclub in Paris is open on a Thursday, Friday and Saturday with an entrance fee that varies depending upon the event organised.

However, we would like to point out that a smart, almost formal attire, is required, and the management do have the right to refuse entry if they feel you are not dressed appropriately or acting in a civilised manner, as this is an upmarket clubbing scene that upholds a good reputation for its chic and hip clientele.

Now when it comes to getting to the Palais Maillot, this is located by the Place de la Porte Maillot on the axis in between the Arc de Triomphe and the Grande Arche of the La Defense area, and the nearest Metro station is the Porte Maillot stop via line 1. However, the bus numbers 73 and 82 will also get you close to this nightclub.