Musee de la Contrefacon Counterfeit Museum in Paris

This is a unique museum in Paris that allows visitors to discover a wide range of fake merchandise in comparison to the real thing, but it also educates people on the importance of avoiding counterfeiting and the impact it has on economy.


A bit of history

The Union des Fabricants, or Unifab for short, was first started by several pharmaceutical companies at the end of the 19th century after they realised that their products were being counterfeited, and they came up with the Charter of the Union des Fabricants.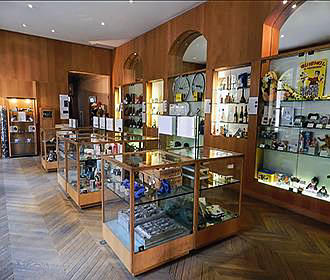 They started to work internationally and took part in drafting the Paris Convention for the Protection of Industrial Property back in 1883 along with being a major part of the Madrid Arrangement regarding International Registration of Trade marks in 1891.

Unifab also helped draft treaties for many different countries to increase protection against counterfeiting, and was recognised as a public interest organisation as early as 1877, plus it took part in the creation of the National Trade Mark and Patent Office in 1901.

The Union des Fabricants was also a founder member of the Global Anti-Counterfeiting Group and over the years has continually tried to heighten the awareness of fake goods to the public, which led to the creation of the Musee de la Contrefacon, with its mission of fighting against replicas and fakes, still remaining true to this day.


About the Musee de la Contrefacon

The Musee de la Contrefacon was first opened back in 1951 by Unifab, in order to present the phenomenon of counterfeiting in different industrial sectors to the general public, so that they could become more aware of the dangers and the financial repercussions this has on industry and worldwide economy.
Located in a former private mansion, the Counterfeit Museum in Paris has information about counterfeiting, its history, the implications and impact it has on economy, along with details about intellectual property rights and legal implications.

And this unusual museum in Paris has a large range of fake items on display along with the originals, so that you can learn how to detect an imitation form the original and authentic product, although you will not find art forgeries here.

Obviously trends change over the years and this means that the museum is forever changing to keep up with the types of fakes that are now being produced, just like you will now get to see mobile phones, CDs and DVDs, which were not even thought of back in the 1950s.

You can discover items such as perfumes, sport wear including trainers, tobacco, dictionaries, CDs, DVDs, toys including Barbie, electrical appliances, cleaning products, pens, jewellery such as Rolex watches, even Faberge eggs with an addition being added in 2017.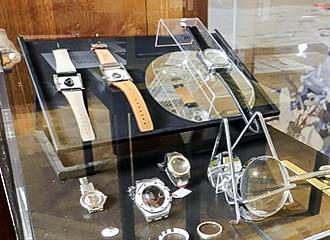 There are also items like Auguste Rodin's bronzes, Regency chairs, Levis jeans, designer clothes and a manikin dressed in awful fake designer clothes, Swiss Army knives, crockery, textiles, even car parts and spare parts and much more that will give you a greater understanding of how to try and recognise a counterfeit item.

Yet making fake items appears way back centuries ago, and of course the Musee de la Contrefacton has a very rich history on the subject. In fact, Greek and Roman wines were once considered superior to French wines, and the oldest item in the collection is an amphora from France, with a stopper that was a crude copy of a mark used for what at the time was classed as a superior wine.

So as you can tell, this is an unusual museum to visit whilst you are on holiday in Paris, and completely different from anything else you will find in other countries, yet never really seems to get crowded like some of the other famous museums such as The Louvre.

There are also themed events held throughout the year at the Counterfeit Museum in Paris, which are held in conjunction with Unifab, and these have included ones related to specific times of the year such as the festive season where numerous counterfeit products are advertised to potential buyers at greatly reduced costs, always keeping up with the trends for that year.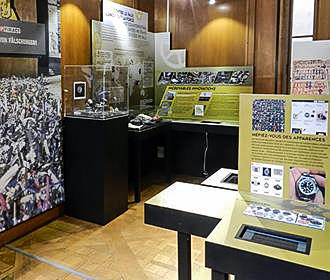 Visiting the Musee de la Contrefacon

Located in the 16th Arrondissement in a private mansion house, the Museum of Counterfeiting in Paris is open on a Monday through to a Saturday from 2pm to 5:30pm, yet we would like to point out that it is always closed on Sundays and national French holidays and last entry is a minimum of 30 minutes prior to closing.

The museum is also closed on a Saturday and Sunday during the month of August plus has an annual closure of two weeks during August along with another towards the end of the year and into the New Year to coincide with celebrations as well.

As of 2018 the cost of entry is €6, however, there is a reduced rate of €5 for students, persons aged under 25 or those over the age of 65. Yet it is free to enter for children under the age of 12, customs officers, the police and the Gendarme.

A guided tour, which lasts approximately 1 hour, is available in both the French language and English, and although wheelchair access is not available at present, this is something that is being sorted out and will be available in the future.

Bookings for groups are also possible in the mornings at 10am or at 11:30am, and in the afternoons at 2pm or 3:30pm, however these do have to be booked in advance by telephone on +33(0) 1 56 26 14 03, plus there is a preferential rate available for group of 10 or people at a cost of €4 per person.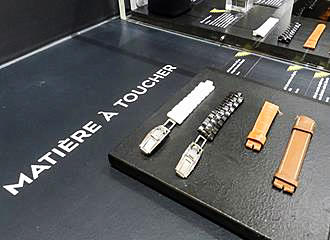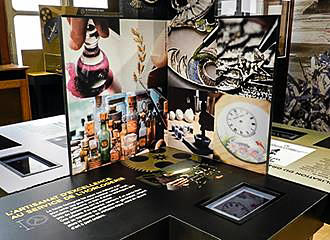 In addition to this, you may well know that there is a World Anti-Counterfeiting Day held each year, and on this day you can gain free access to the Musee de la Contrefacon.


Access to the Musee de la Contrefacon

When it comes to getting to the Musee de la Contrefacton using public transport in Paris, the nearest Metro station is called the Porte Dauphine stop serving line 2 although this also has a full name of the Porte Dauphine - Marechal de Lattre de Tassigny.

Located close to the Bois de Boulogne and the Boulevard de Peripherique in the 16th Arrondissement, if you are travelling on the RER trains, then you would need the RER train station called the Avenue Foch stop serving line C.

Alternatively, the bus line PC1 which is number 97 along with the bus lines 52 and 82 will also get you within walking distance of this unique museum and other tourist attractions in the area such as the Musee d'Ennery, plus there is a Velib station for the self service bike hire scheme along with an Autolib station for the electric car scheme located in easy reach.