Velib cycle hire and bike rental in Paris

The bike sharing scheme, known as the Velib, is the largest of its kind in the world even though it was only started in 2007, yet it is an easy way of getting around the city, where you can do bike rental in Paris on a daily aspect, or cycle hire on a yearly subscription for those of you that are in the capital for longer.


About Velib bike rental in Paris

The Velib is known as a bike sharing scheme, which operates within the capital city of Paris and only started in 2007, yet has become so popular, both with Parisians themselves and for tourists, that it has become the largest type of scheme in the world to date.

You will find that the Velib system is available 24 hours a day 7 days a week all year round, so you never need to worry what time of day or night you wish to use this cycle hire in Paris, as there is an automated machine located at each station.

In fact, there are over 20,000 bicycles available at well over 1,700 different Velib stations in Paris, which are located approximately 300 metres apart from each other throughout the city.

And whether you are a tourist on holiday in Paris, a Parisien, or someone living in the city for long periods of time, then this gives you an option you can utilise, rather than some of the other forms of transport in Paris like the buses or the Metro, which will also keep you fitter and healthier at the same time.
The Velib cycles are distinctive by having the same style including the mudguards, colour and a large capacity sturdy front basket, plus they are classed as unisex bikes, so they are suitable for both men and women, and anyone over the age of 14 can utilise the Velib bike rental system.

You will also find that the seats are adjustable, there are basic gears, which are easy to use, and these along with the chain are covered as a safety feature, plus all of the bikes feature reflectors and lights, even if you are utilising the cycle hire system when it is dark.

But yet another added benefit, is the fact that there are now over 150 people who work full time ensuring that all of the Velib cycles are maintained, up to the required safety standards, and everything works as it should do.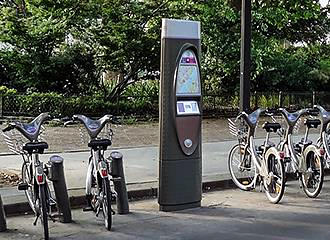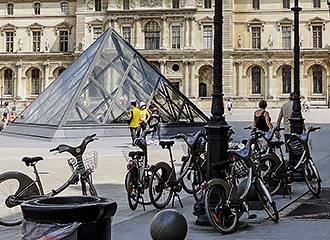 Accessing the Velib bike rental

Unfortunately you will not see any families with children using the Velib cycle hire in Paris as the minimum age requirement is 14 to use the system, but with so many designated cycle lanes along with the numerous Velib stations every 300 metres, this is an ideal way of getting around the city from the Sacre Coeur Basilica to Notre Dame Cathedral and many other tourist attractions you wish to visit.

You can purchase a ticket for one of the Velib cycles via one of the automated machines, which are located at each of the cycle stations, which means you do not have to book in advance. However, we would like to point out that a chip and pin card, JCB or American Express is required to use this, yet if you use an Electron card, then a temporary debit of €150 is taken and re-credited approximately two weeks later. Alternatively, to avoid this, or if you do not have a chip card, then you would have to register online at their dedicated website.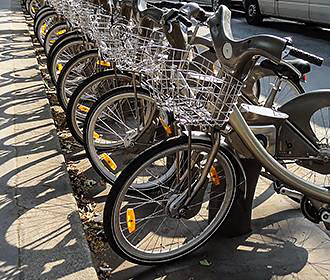 All journeys are free of charge for the first 30 minutes, but you do have to purchase a ticket first, which for a one day subscription this is €1.70 as of 2014 or €8 for a seven day subscription. But for long term subscribers, if you know that you are going to be in Paris for several weeks or months, then this option is only a cost of €29 for a whole year as of 2014, and again the first 30 minutes of each journey still being free of charge.

But if you go over the first 30 minutes, which are free, then the relevant charges are automatically deducted from your account that you chose when purchasing your ticket, and to give you an idea, the following half hour is €1 and the next half hour after that is €2. Yet you can drop off a Velib cycle and opt to get another cycle on hire straight away, so that you do not go over the 30 minutes.

You will find that each bike has its own unique identification number, so when you go to the automated ticket machine, you just follow the instructions on screen and type in that unique number in order to release the Velib bike. And when you return the bike and lock it up securely, you will see an orange then green light followed by a beep to confirm it is secured, then you just print a receipt at the station to confirm that it has been returned.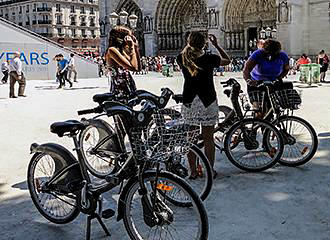 Yet if you do have any problems, then there is a dedicated information service you can telephone on +33 (0) 1 30 79 79 30, which is also available in English, and they can be contacted on a Monday to Friday from 8am through to 10pm, a Saturday from 9am through to 10pm and on a Sunday from 9am to 7pm.

So as you can no doubt tell, this is a convenient and easy way of seeing numerous different landmarks, museums and other tourist attractions, while you are on holiday in this fabulous city, and it is also a cost effective way of getting around for those staying longer, especially when you consider how much parking or other transport in Paris costs.