Batobus water bus in Paris

The Batobus is like a shuttle bus service that stops at eight different points along the River Seine so that people can get to the major tourist attractions in Paris, and is a unique service, which has six boats in the fleet that constantly cruise up and down providing a relaxing way of getting around this city of lights.

They are strange looking glass covered trimarans that operate as a hop on and hop off service that go on a circular route in an anti-clockwise direction along the River Seine and they also operate in conjunction with the l'Open Tour Buses that provides a very similar service all around Paris.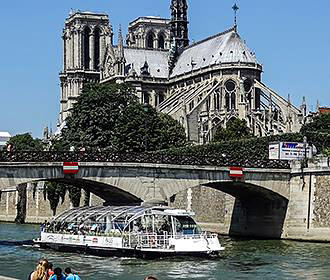 The Batobus is not like some of the cruises on the River Seine and other tourist boats like the Bateau Mouches that have commentary, as these trimarans are designed specifically for people who are going on holiday to Paris and do not always wish to utilise the Metro or standard Paris buses, but want an unusual alternative means of transport in Paris to get around this fabulous city without the need to walk too far.

There are actually six stops on the Left bank of the River Seine, which are the Effel Tower, the Invalides / Pont Alexandre III, the Musee d'Orsay, the Saint-Germain-des-Pres, the Notre Dame Cathedral and the Jardin des Plantes / Cite de la Mode et du Design stops.

In addition to these, there are also three stops on the Right Bank of the river Seine, which are the Hotel de Ville, the Louvre Museum and the Place de la Concorde by the Champs Elysees Avenue. Yet the Batobus does not zig-zag across the river, you just have to wait until the Paris Water Bus reaches the stop you want on its normal circuit and to complete one of these circuits would take approximately 1 hour 40 minutes.
The different Batobus stops provide easy access to many different tourist attractions in Paris and not just the ones that are named as the stops like the Eiffel Tower or the Musee du Louvre Museum. Therefore, by looking at the access to the Batobus stops, you can get a feel for what is in the area within a sensible walking distance of around 15 to 30 minutes or less.

So you could discover areas that are home to landmarks in Paris like the Tomb of Napeleon, Grand Palais and the Arc de Triomphe, tourist attractions like Palais de Chaillot, CineAqua and Trocadero Gardens, then you have the monuments in Paris like the palace that was turned in to a prison called La Conciergerie and many, many more.

But at this stage, we would like to point out that being you have to go down to the River Seine in order to reach the quays, unfortunately there are steps to negotiate, which means that this mode of transport in Paris is not realistic or sensible for the disabled or those with very young children.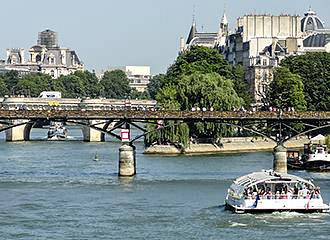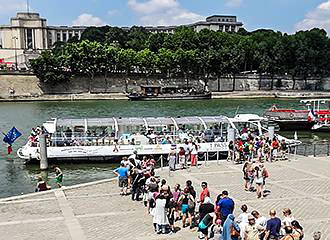 Access to the Batobus water bus service

As we mentioned earlier, this is a water shuttle service that operates along the River Seine and is an all year round service, with a Batobus arriving at a stop every 20 to 25 minutes.

From the start of September through to the start of November the Batobus runs from 10am through to 7pm approximately every 30 minutes. Then from the start of November to mid December the water bus service operates from 10am through to 5pm on a Monday to Thuesday and from 10am through to 7pm on a Friday to Sunday.

During the festive season the Batobus runs every day from 10am to 7pm, then during the first week of January until the end of March you will find that the Batobus runs on a Monday to Thursday from 10am until 5pm, but until 7pm on a Friday and at weekends.

Yet from the end of March to mid April the trimarans operate daily between 10am and 7pm, although for the remainder of the year from mid April until the end of August you can enjoy the hop on and hop off water bus service from 10am through to 9:30pm, with a Batobus boat approximately every 25 minutes.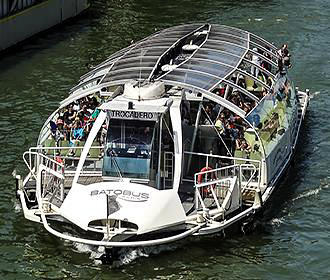 Designed specifically for people who are on holiday in Paris, there are a variety of different tickets available, which are valid for a set period of time you choose, which can be used to get on and off as many times as you like within that time frame.

As of 2020, a one day Batobus pass is €17 for an adult and €8 for a child under the age of 16, although children under the age of 3 are completely free of charge. You can also obtain a two day pass, which is valid for two consecutive days and this is a cost of €19 for an adult or €10 for a child under 16.


Batobus water bus maps, timetables and ticket prices available:
BatoBus Map, Timetables and Prices - PDF (0.341 MB)
BatoBus Map, Timetables and Prices - Image (1.099 MB)

There is also an Annual Pass valid for an entire year, which is ideal for those of you who are visiting Paris or even working within the city for a longer period of time or are thinking about being on holiday in Paris more than once or twice, and as of 2020 this costs €60 for an adult and €38 for a child under the age of 16, but again this is free for children under the age of 3.

The Paris Batobus Pass +, is another option that provides the hop on and hop off service for the Batobus and its 9 stations, along with the l'Open Tour Buses that have 3 different routes and cover over 40 stops around the city of Paris, enabling you to get to some of the prominent attractions not as close to the River Seine.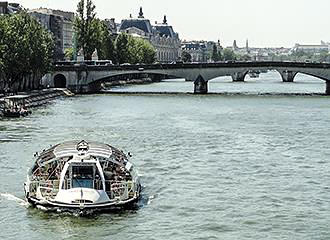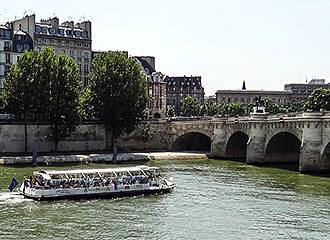 So this means that you can even get to places like the Sacre Coeur Basilica and there is a two day pass available for both of these hop on and hop off bus services, which is referred to as the Pass + (Pass Plus) and for a 2 consecutive day pass this is a cost of €47 for adults and €21 for children under the age of twelve.

Also as of 2020, the rates for a 3 day pass for both the Batobus and the l'OpenTour Buses are €51 for adults and again €21 for children under the age of 12, but as before children under this age are completely free of charge. However, any child from age 12 plus, would be classed as the adult rate for these combination tickets.

You will find that there is a ticket office at each of the Batobus stops and also at the Gare de Lyon, Gare du Nord and the Gare de l'Est train stations or you can also book online. But in addition to these, you can also obtain tickets from the l'Open tour Bus service boutique, if you wish to opt for a combined ticket called the Paris + Pass.

Plus you can book any of these tickets online, however, we would like to point out that if you do book online you have to pick up your tickets from the Musee d'Orsay Batobus station for some options or all stations for others. Also, we would like to point out that depending upon what option you choose, the ticket is then valid from either the day and time of purchase or from the day you pick up your pass, so you would want to do this as early as possible, to make the most of the times.


Now we did quickly mention this before, but because there are lots of steps to negotiate in order to get to the quays and boats, wheelchair access is not possible except for at the Eiffel Tower stop where there is a ramp. However, this is also used by vehicles, so caution is advised!

The other point is young children that would be in a pushchair. Folding pushchairs are allowed on the Batobuses, as are small items of luggage such as a rucksack, but again, it makes life harder trying to negotiate the steps with young children, so it is something you may wish to consider carefully, or even go to one of the Batobus stations and see how you feel once there.

Due to regulations, security and restrictions, no large baggage is permitted, so it is only items like a handbag, small back pack or a laptop bag, however cycles are allowed on board, but only where designated space is available, and this is also the same for pushchairs and prams, although fold up push chairs are the recommended option due to space limitations and accessibility.

But having said all that, this is a fantastic way of getting to see the many sights, museums in Paris and tourist attractions from a completely different perspective and you will also get to see more of the true Paris, whilst enjoying the leisurely meander up and down the River Seine.