The Batobus is a water bus operating as a shuttle bus service on the River Seine with trimaran style boats that provide views to the river banks and many Paris monuments that you can see on your journey, which operates all year round as a hop on and hop off service that has 9 water bus stops known as stations or docking stations.


Paris Batobus map with river stops, timetables and ticket prices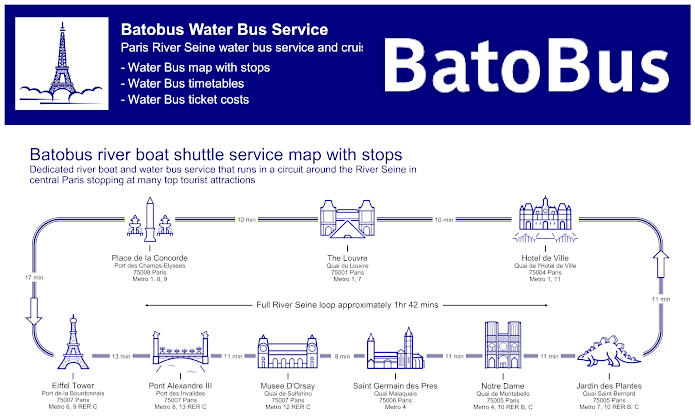 As you will see from the map, the Batobus stops at key locations and famous tourist attractions, with the main departure and terminus point being the Eiffel Tower stop, which is also accessible to the disabled, although all other stations are not disabled friendly due to having to negotiate stairs down to the river bank and their docks.

Yet as you will also see from the timetables, the Batobus water bus service runs daily, although there are different time schedules depending upon the time of year and there can be interruptions through adverse weather conditions.


Batobus River Seine stops with attractions:
Eiffel Tower - Port de la Bourdonnais, Pont Alexandre III - Port des Invalides, Musee D'Orsay - Quai de Solferino, Saint Germain des Pres - Quai Malaquais, Notre Dame - Quai de Montebello, Jardin des Plantes - Quai Saint-Bernard, Hotel de Ville - Quai de l'Hotel de Ville, The Louvre - Quai du Louvre, Place de la Concorde - Port des Champs-Elysees.


Batobus transport connections:
Metro lines 1, 4, 6, 7, 8, 9, 10, 11, 12 and 13
RER B and C


Batobus ticket prices:
Adult One Day Pass €17.00
Adult Two Day Pass €19.00
Child One Day Pass (aged 3-15 years) €8.00
Child Two Day Pass (aged 3-15 years) €10.00
Child (aged -3 years) FREE


Buying Batobus river cruise tickets:
You can purchase tickets at any of the ticket booths found on the Batobus route, or you can purchase online at their website - https://www.batobus.com that can be collected at any Batobus stop of your choice, plus this ticket link will also be automatically sent to your email inbox.


Batobus water bus maps, timetables and ticket prices available:
BatoBus Map, Timetables and Prices - PDF (0.341 MB)
BatoBus Map, Timetables and Prices - Image (1.134 MB)

Batobus tickets can be purchased online or at any of the sales and information points located at the water bus stations, and a 1 day pass is valid for 24 hours from the time you either purchase your ticket or collect this if you have ordered online. You can also arrange an advance ticket in the Paris airports at the Tourism counter and at Disneyland Paris, with the same conditions applying as above.


For more detail information on the Batobus see:
Batobus water bus in Paris
Batobus water bus stops
Batobus photos