About Le Bus Direct Paris

If you want a direct connection to the Paris Orly Airport or the Charles de Gaulle Airport, often referred to as Roissy-Charles de Gaulle depending upon what terminal you are going to, then the shuttle bus service that has been operating for several years, previously under the name Cars Air France, is a great option now run by Keolis in conjunction with Aeroports de Paris as Le Bus Direct for airport transfers.

With comfortable coaches that have reclining seats, air conditioning, along with some that are suitable for the disabled, you will find that they have different pick up and drop off points within the city of Paris, and a luggage service at each designated stop with unlimited baggage included in the price, so that you do not have to drag your cases on board.


Le Bus Direct airport shuttle buses route map with stops and connections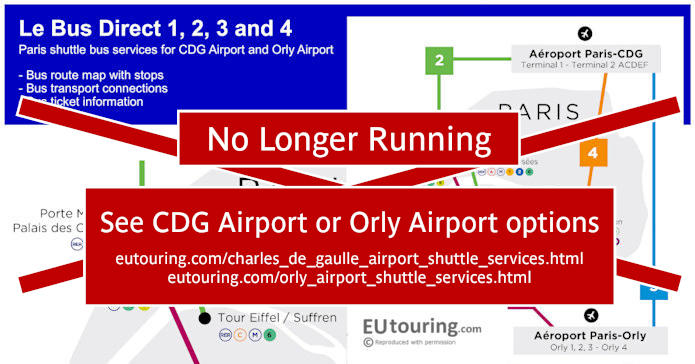 Overview map showing the four different Le Bus Direct airport shuttle bus services for Charles de Gaulle and Orly airports.


Download Le Bus Direct airport shuttle buses route map:
Le Bus Direct buses route map - PDF
Le Bus Direct buses route map - Image

Each of the coaches also has numerous bits of tourist documentation, plus WiFi and USB plugs, so that after your arrival at the airport you can sit back and relax on the journey discovering even more about Paris on your way to the impressive capital city of France.

But if you need to make a transfer between Orly Airport and Charles de Gaulle Airport, then Le Bus Direct also offer a direct service between the two Paris airports, and with a travel time of only approximately 90 minutes between the two, it is a lot less hassle and a cheaper, all-inclusive way to travel than some of the other options available.

Tickets can be purchased online for your chosen route, either as a single or a return, and they are valid for 1 year, so you do not need to worry about what day or time you wish to use it, although Le Bus Direct tickets can also be purchased within the airport waiting rooms, or direct with the bus driver at any of the location, although for this last option there is a small additional charge.