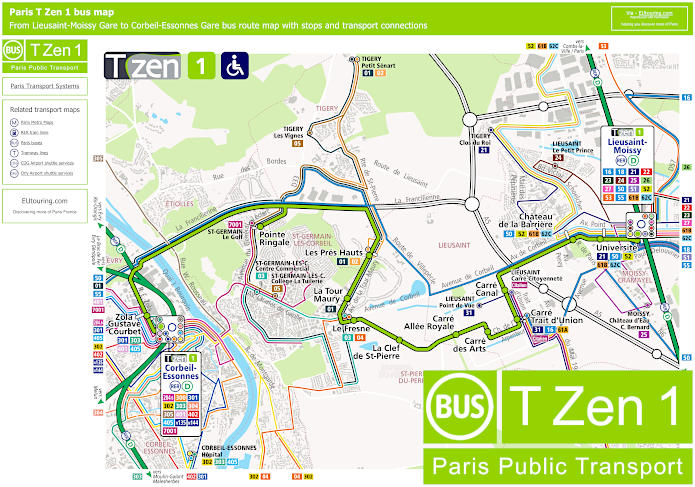 Here you can see a map showing the 14 stops for the T Zen 1 line that travels between Lieusaint-Moissy Gare and Corbeil-Essonnes Gare on a route of just over 15km with over 9 of those being on their own dedicated lanes, making the entire trip a time of approximately 30 minutes with stops at key points like a university.


Paris T Zen 1 bus line stops:
Lieusaint-Moissy Gare, Universite, Chateau de la Barriere, Carre Canal, Carre Trait d'Union, Carre des Arts, Carre Allee Royale, La Clef de Saint-Pierre, Le Fresne, La Tour Maury, Les Pres Hauts, Pointe Ringale, Zola Gustave Courbet, Corbeil-Essonnes Gare.


Paris T Zen 1 bus line transport connections:
Train line: RER D.
Bus lines: 01, 02, 03, 04, 16, 18, 21, 22, 23, 24, 25, 26, 27, 31, 50, 51, 52, 53, 55, 61A, 61B, 62C, 284.6, 300, 301, 302, 303, 304, 305, 401, 402, 405, N135, N144, 7001, Citalien.


Paris T Zen 1 bus line map formats available:
T Zen 1 bus line map - PDF (standard quality - 1.261 MB)
T Zen 1 bus line map - PDF (high quality - 2.877 MB)
T Zen 1 bus line map - Image (standard quality - 1.462 MB)
T Zen 1 bus line map - Image (high quality - 2.480 MB)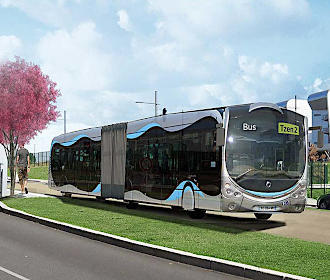 At present there is only the T Zen 1 in operation (shown on maps as Tzen 1), although routes for T Zen 2, T Zen 3 and T Zen 4 are already underway with constructions works and a T Zen 5 is also planned for an additional route within the Paris region, with the majority of the line being on its own dedicated track, making it a faster service for commuting and also accessible to all, whether it be for pushchairs or wheelchairs, etc.

You will find that these state of the art buses are equipped with air-conditioning, passenger information screens and video surveillance, also being spacious, easily accessible and comfortable, which is the same scenario for the stations themselves that also have real time information on when the next buses will be arriving.


Paris T Zen 1 bus line timetables, stops and transport connections