About Versailles Express buses

Versailles Express is a dedicated bus service that runs from Paris by the Eiffel Tower directly to Chateau de Versailles, with comfortable double decker air-conditioned coaches for a hassle-free way of seeing this famous palace and the domain.


Versailles Express buses map with stops, timetables and ticket prices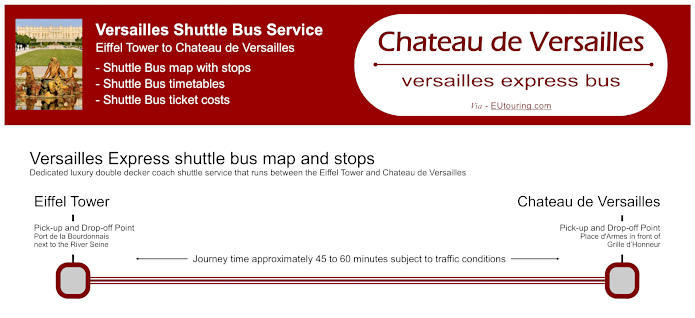 So here you can see the bus stops along with timetables and ticket costs for Versailles Express, with the departure point being right by the Eiffel Tower in Paris on the River Seine quay called the Port de la Bourdonnais. The drop off and pick up point at the palace is the Place d'Armes by the Cour d'Honneur and Grill d'Honneur.

With a journey time of approximately 45 minutes up to 1 hour depending upon traffic conditions, the shuttle bus service will go direct from Paris to Chateau Versailles, dropping you at the main entrance to this famous tourist attraction, and the bus transfers run every day that the Chateau de Versailles is open, normally on a Tuesday to Sunday, except for major French holidays or if there is an event that prevents the public visiting.


Versailles Express bus pick up points:
Eiffel Tower Port de la Bourdonnais next to the River Seine.
Chateau de Versailles Place d'Armes in front of Grille d'Honneur.


Versailles Express bus ticket prices:
Adult Half Day €49.00
Standard return and entrance to grounds + Entrance to Palace Versailles with audio guide.
Childen aged 0-8 years FREE
Each child must be accompanied by an adult with paid admission.


Buying Versailles Express bus tickets:
You must purchase your Versailles Express bus ticket prior to trip, which can be ordered online at their website - Versailles Express.

Yet on the first Sunday of every month during the low season from November to March, you can gain free entry to the palace, and therefore you would only need to book a Versailles Express transfer. However, during the summer season there are fountain shows within the grounds, yet the ticket costs shown do not cover this aspect.

We would also like to point out at this stage that you do have to book a minimum of 24 hours in advance, but unfortunately, the Versailles Express coaches are not suitable for the disabled and wheelchair users, although you can find out more and book directly with this dedicated shuttle bus company.


Download Versailles Express bus maps with timetables and ticket prices:
Versailles Express Bus Map, Timetables and Prices - PDF (standard quality - 0.310 MB)
Versailles Express Bus Map, Timetables and Prices - PDF (high quality - 0.212 MB)
Versailles Express Bus Map, Timetables and Prices - Image (standard quality - 0.368 MB)
Versailles Express Bus Map, Timetables and Prices - Image (high quality - 1.007 MB)