Paris Navette de Vanves bus line 506 with stops, connections and street plan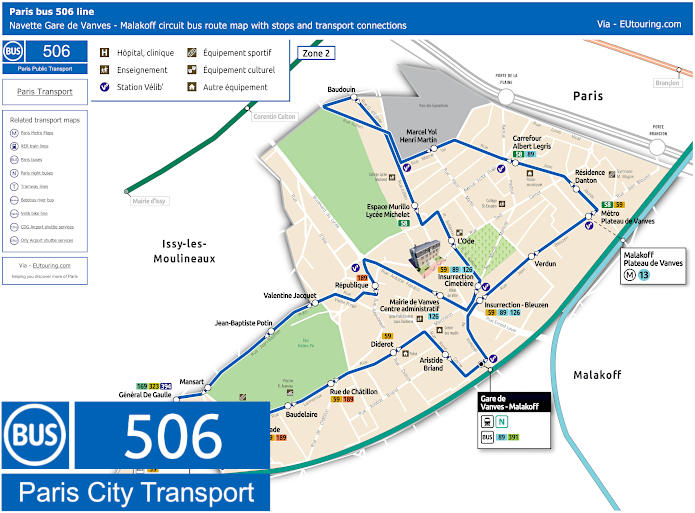 Whereas this map shows the Paris bus route 506, which is also known as the Navette de Vanves line or Vanves line that is run by the transport company Savac in conjunction with LCJ autocars and travels in a complete circuit starting and ending at the bus stop called Gare de Vanves - Malakoff, yet you can also see the timetables and ticketing information for the 506 bus line as well.


Paris bus line 506 stops:
Gare de Vanves - Malakoff, Insurrection - Bleuzen, Verdun, Metro Plateau de Vanves, Residence Danton, Carrefour Albert Legris, Marcel Yol - Henri Martin, Baudouin, Espace Murillo - Lycee Michelet, L'Ode, Insurrection - Cimetiere, Centre administratif - Mairie de Vanves, Republique, Valentine Jacquet, Jean-Baptiste Potin, Mansart, General de Gaulle, Clos Montholon - Larmeroux, Stade, Baudelaire, Rue de Chatillon, Diderot, Aristide Briand, Gare de Vanves - Malakoff.


Paris bus line 506 main transport connections:
Metro line: 13.
Train line: N.
Bus lines: 58, 59, 89, 126, 169, 189, 323, 391, 394.


Paris bus 506 route maps available:
Navette de Vanves Bus Line 506 map - PDF (standard quality - 0.826 MB)
Navette de Vanves Bus Line 506 map - PDF (high quality - 1.735 MB)
Navette de Vanves Bus Line 506 map - Image (standard quality - 0.834 MB)
Navette de Vanves Bus Line 506 map - Image (high quality - 1.804 MB)


Paris bus 506 timetables:
Navette de Vanves Bus 506 timetables - PDF (0.766 MB)
Navette de Vanves Bus 506 timetables - Image (2.175 MB)