This service is now replace with RATP Bus 40.

The following article is left as-is for historical and archiving purposes.
Paris RATP Montmartrobus bus route map with stops

The Montmartrobus is a RATP dedicated bus service that covers the Montmartre area of Paris in the 18th Arrondissement, which starts at Place Pigalle next to the Metro station along Boulevard de Clichy, and this bus service has a specific route that will take you all around the Montmartre area stopping at important points such as Place du Tertre, opposite the Saint-Pierre church, close to the Sacre Coeur Basilica and down to Place Jules Jofferin.


Montmartrobus route map with bus stops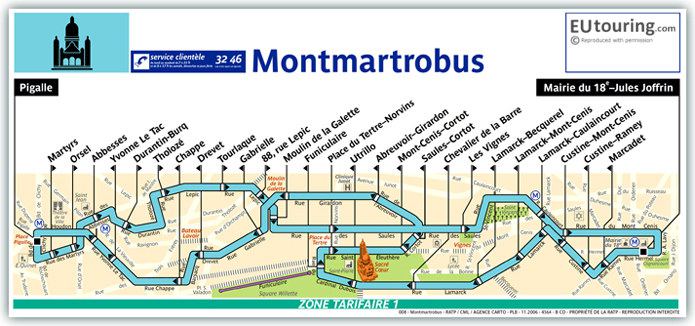 This RATP bus map shows the Montmartrobus route with its different bus stops and street plan within the Montmartre area of Paris, including stops like the Pigalle, Jules Joffin, Utrillo stop close to Sacre Coeur Basilica, Drevet, Place du Tertre-Norvins and much more, now available in PDF and image formats for your mobile device.


Formats available
Montmartrobus Map - PDF (Standard quality - 0.390 MB)
Montmartrobus Map - PDF (High quality - 1.521 MB)
Montmartrobus Map - Image (Standard quality - 0.518 MB)
Montmartrobus Map - Image (High quality - 1.164 MB)

See more information on the Montmartrobus in Paris