Gare de L'Est train station in Paris

The Gare de L'Est is also often known as Paris Est and is one of largest train stations in Paris not far from the Gare du Nord train station, but it is also one of the oldest that provides services to the Alsace region of France along with many other coutries such as Germany and Austria.


A bit of history Gare de L'Est train station

The Gare de l'Est was designed by the architect Francois Duquesnay and first opened in 1849 under the name of Strasbourg Platform by the Compagnie du Chemin de Fer de Paris a Strasbourg, which basically translates to the Paris to Strasbourg Railway Company.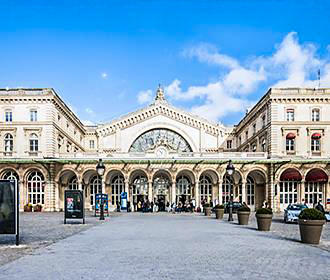 It was originally built just to service passengers from Paris to Strasbourg, which was when the city of Paris was going through major building construction and change that was put in place by Baron Haussmann, and in fact, you will be able to see a statue on the Western facade that represents Strasbourg and this was produced by the sculptor Philippe Joseph Henri Lemaire.

However, when the service was extended in 1854 to provide a railway connection with Mulhouse, again in the Alsace region of France, the name of the train station was then changed to the Gare de L'Est, which is what it is still known as today.

This train station soon expanded the different routes and it was in the October of 1883 that the Gare de l'Est saw the first departure of the fabulous Orient Express on route to Istanbul, and over the years the building was renovated.
This station also saw the mobilisation of French Troops during World War I, and then in 1926 Albert Herter produced a monumental painting that depicts the departure of the soldiers, and this can still be seen today at the Western front in the main line hall of the train station called the Hall Alsace.

Yet by 1931 this train station was proving too small to accommodate the many passengers and a new part was built symmetrically with the old one, which meant that it doubled in size.


About the Gare de L'Est train station today

The Gare de L'Est is one of the main train stations in Paris with high speed trains that connect travellers with many different cities and countries such as Frankfurt, Stuttgart, Berlin and Munich in Germany, Zurich in Switzerland, Innsbruck in Austria, Budapest, Luxembourg, Rome, Istanbul, Prague, etc.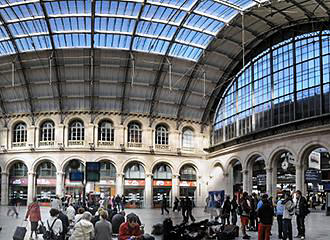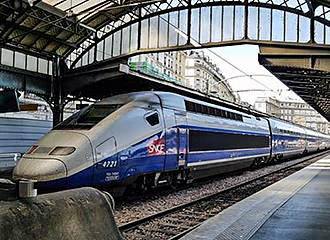 But this is also a Metro station for travelling around Paris and the Metro lines 4, 5 and 7 stop here, plus the Gare de L'Est has high speed trains that operate to many destinations in France such as Reims, Metz, Nancy and of course Strasbourg along with others that operate within the Ile de France region around Paris.

And this is probably one of the most wheelchair friendly train stations in Paris, with dedicated wheelchair lifts to get you from one level to another, such as from the Metro lines up to the main hall that is occupied by numerous shops and boutiques and on to the main train platforms.

As with virtually all train stations these days, all of the information for departures is computerised and at the Gare de L'Est you will see two completely different overhead boards that provide information on the departures for the standard trains on one and the high speed trains to other countries on a diffrent board, and if you are going to another country such as Germany, then you would need to obtain your tickets at the Hall St Martin.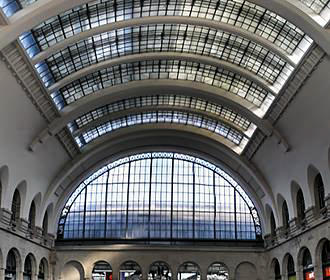 When it comes to luggage, just like at the Gare de Lyon, there are lockers that you can utilise and after going through scanners like you do at an airport, you can choose a locker of varying sizes with a large one being able to fit two very good sized suitcases. These range in cost from around €6 up to €12, but you do need to have Euro coins for these and the maximum length of time you can store your luggage here is 48 hours.

Now we mentioned above that this train station is not far from the Gare du Nord station and in fact, upon leaving the Gare de L'Est station on to the Rue d'Alsace road you head North then onto Rue de Dunkerque road and within around ten minutes on foot you will arrive at the Gare de Nord train station.