Alhambra concert venue for music and shows in Paris

The Alhambra is a concert venue in Paris that provides a variety of different shows throughout the year from one man band and comedy to music like pop and rock in a large comfortable theatre accessible to the disabled.


A bit of history

The building was first constructed back in 1933 and designed for offices and as a drive in theatre for workers of the French railway, although the theatre was very rarely used and over the years it became a junk and storage area.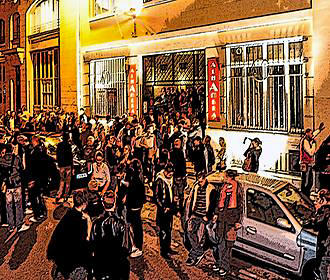 But in 2005 an entertainment producer by the name of Jean-Claude Auclair discovered this dilapidated place with its monumental staircase, art-deco interior with chandeliers and stucco pillars and he wanted to revive the old place.

However, there are many regulations that have changed over the decades including sound issues to ensure a music or concert venue is insulated and soundproofed and therefore the whole room had to be redesigned and is now independent to the building for this reason.

The whole area had to be completely redesigned with advanced technology and a powerful infrastructure along with making the link between the performers and the audience feel much closer and more intimate.
The Alhambra as it was called, took its name from a music hall that was once in the area that disappeared in the 1960s and eventually after a lot of hard work and investment, it opened in 2008.


About the Alhambra Entertainment Venue

The Alhambra has a capacity of around 600 people per show seated, with a fixed stage area, but concerts are also held here and it can accommodate up to around 800 people standing in the concert hall that has good acoustics and visibility.

Plus, as you may have read above, due to the proximity with the audience to the stage and the performers, there is a more intimate and warm feel compared to some concert halls in Paris where you can feel rather distant.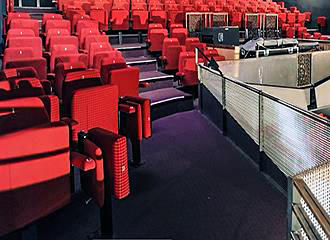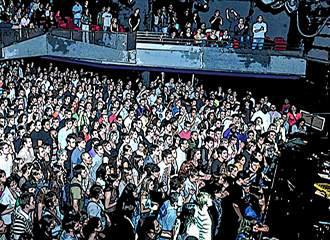 And with its clear cut modern styling, Alhambra has become a major success and is now a venue for all kinds of different music and entertainment acts such as hip-hip, jazz, blues, solo artists, cabaret style acts, world music, pop, tribute bands and much more that will be able to please all tastes.


Visiting the Alhambra in Paris

The purchase of tickets for a specific show can be made in advance via telephone on a Tuesday to Friday from 11am to 7pm, and only on other days at these times when there is a performance being held.

However, if you do book tickets in advance, which can also be done online, then we would like to point out that these are not refundable in any way and the numbered ticket is fixed to yourself until the time of the performance.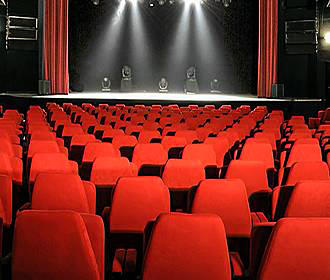 So if you are not sure about being able to make it to one of the shows at the Alhambra, then you can always purchase a ticket at the box office, even on the day of the performance and the address for administration and ticketing is 26 Rue Yves Toudic. But of course, with this option, you certainly will not have the same amount of choice when it comes to what seats are going to be available. Also, for those that are disabled and are wheelchair users, the tickets normally have to be booked in advance to ensure an appropriate space.

Yet putting these points to one side, when you do decide to spend an evening enjoying a performance, then you will need to get there, and you will find Alhambra located in the 10th Arrondissement close to the Musee Gourmand du Chocolat museum and other tourist attractions.


Now the nearest metro station is the Republique, which is accessible via lines 3, 5, 8, 9 and 11, or alternatively you have the Jacques Bonsergent stop via line 5.

The buses numbered 20, 56, 65, 75 stop at the Place de la Republique, which is close by to this entertainment venue, and the Noctilien night bus service numbers N01, N02, N12, N23, N141 and N142 also stop at the Republique square.