The Square Jules Ferry in Paris

Named after a French statesman the square is located by a covered part of the Canal Saint Martin and has a lovely water feature, a statue, childrens playgrounds and plenty of greenery to admire.


About the Square Jules Ferry

The Square Jules Ferry was first created in 1924 on a covered part of the Canal Saint-Martin and it marks the end of the Richard Lenoir Promenade and it was named after Jules Ferry who was a French statesman, politician and republican.

At the very start of this square, which is actually more like a garden, you will see a statue that was produced by Jean-Bernard Descomps back in 1909 and is called La Grisette de 1830.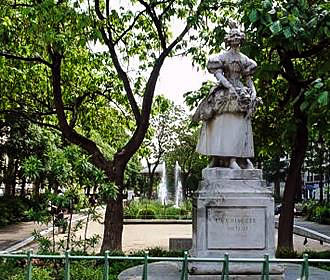 This statue in Paris was sculpted to represent a Grisette, which was the name given to poor young women of the 19th century who worked in garment factories, and they were often classed as easy for gentleman to buy sex so they could earn extra money.

However, these poor young women were also just exploited for hard work conducting errands and delivering goods with very little pay, which when you look at the statue, it seems to be more representative of this aspect of a Grisette.

Yet having this type of statue along with being named Square Jules Ferry is actually very appropriate, because it was Jules Ferry who completely changed the laws regarding education, making this available to the poor as well as girls, and you can also see a Monument to Jules Ferry located in Paris within the Jardin des Tuileries.

But getting back to this square, the garden also has roses, which is another symbol that represents the workers of the area from many years ago, along with numerous other colourful and scented flowers, plus shrubs and trees to admire and enjoy.
However, the Square Jules Ferry also has a water feature and has one of the many fountains in Paris, and you can see the water shooting up into the air from this, which comes from the Canal Saint-Martin beneath, and this feature of the garden is located right by the bandstand on one side and the table tennis table on the other.

Yet there is also a children's playground and plenty of grass to sit and relax on, especially on a nice summers day with a picnic, plus there are park benches that overlook the water features within this garden in Paris.


Visiting Square Jules Ferry

The Square Jules Ferry is located in the 11th Arrondissement at the start of a number of garden areas that go over a covered part of the Canal Saint-Martin, and access to this garden in Paris is facing 11-29 Boulevard Jules-Ferry.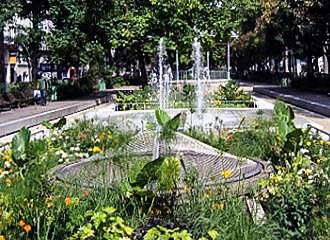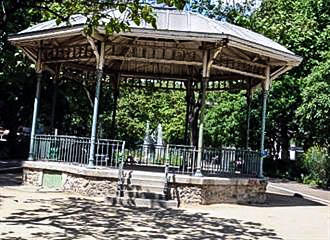 You will find the Square Jules Ferry and its garden open from 8am in the morning on a week day and from 9am at weekends, although the closing times vary depending upon the season, and this could be as early as 5pm or as late as 9pm.

Now you may be pleased to know that this square in Paris is accessible to the disabled in most areas, although there are parts that are not wheelchair friendly, but there is also a public toilet and a fresh water point for filling up your water bottles.

As for getting to the Square Jules Ferry via public transport in Paris, the nearest Metro station is the called the Republique stop, which serves lines, 3, 5, 8, 9 and 11, but other stations are also located close by, such as the Goncourt - Hopital St Louis stop serving line 11, the Parmetier stop for line 3 and the Oberkampf stop serving lines 5 and 9.

Alternatively the Bus lines 20, 46, 56, 65, 75 and 96 along with the Noctilien Night Bus Service via lines N01, N12 and N23 will get you within walking distance of this garden and square above the Canal Saint-Martin.