Bataclan Cafe in Paris with live music and art exhibitions

The Bataclan Cafe is more than just a cafe in Paris, as they are also an art gallery showcasing the talents of different artists, have regular live music nights, provide all the major sporting events on a big screen, host themed party nights and more.


About the Bataclan Cafe in Paris

With a renewed soft, warm and elegant decor, you will find a very large round bar and a large terrace with a no frills type of concept, just a comfortable and relaxing place that is officially called the Ba'ta, Clan Cafe.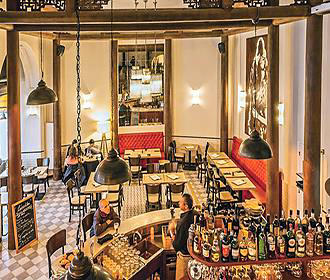 And the Bataclan Cafe is more than just a cafe in Paris serving a variety of different dishes continuously, as it has become a popular place to meet up with friends, watch sporting events or enjoy a night out whilst listening to music.

In fact, whether it be the French Tennis Open held at the Roland Garros Stadium, FIFA football, the Tour de France and much more, you will find all the major sporting events highlighted on the big screen that you can enjoy with a drink or while eating.

Yet, every Thursday you can enjoy live music from a band playing funk and soul music, while enjoying the warm and friendly atmosphere, but there are also themed events and parties that take place here through the year, like for Valentines Day, Halloween, New Year and many others.
Another reason that the Bataclan Cafe has become popular is that it also serves as an art gallery, and each month the theme changes with a new artist being showcased, whether it paintings, drawings, photography, colourful, quirky, etc and all original.

However, they also showcase other types of art and creations like jewellery, flowers, numerous different types of objects and more, to bring awareness to these artistic creators, so you never know what you are likely to be able to admire or discover from one month to the next in this ever changing scene.

But it is not just about the friendly convivial atmosphere and the events, it is also the food on offer that brings people to this cafe in Paris.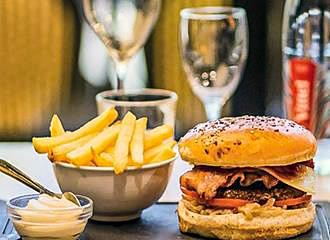 Cuisine at the Bataclan Cafe

The Ba'ta Clan Cafe serves tapas such as fried calamari or spicy chicken wings, different salads, numerous Bruschettas like the Mediterranea with tomato, cheese, tuna, grilled peppers and parsley.

There are also numerous different choices of main meals advertised on the board including daily specials and the wide choice of dishes available could be delights such as lamb with lentils, sardine tartare, steak with a bearnaise sauce and French fries, duck breast with honey and soy noodles or roast salmon with Hollandaise sauce and mashed potatoes.

On a Sunday, there is a Sunday Brunch served buffet style, which is available from 11am through to 4pm with soft background music to accompany your meal.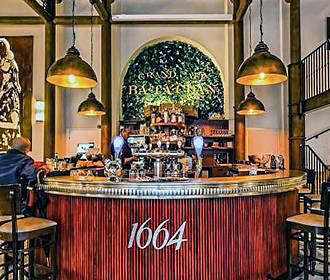 There are also brasserie style choices of food available such as the charcuterie of a variety of different meats, the cheese board, some French delicacies like snails through to things like burgers, so there will be something for everyone to enjoy. And most main dishes are only around the €15 as of 2013, with some being slightly less or more, depending upon what you order.


Access to Bataclan Cafe in Paris

You will find this cafe situated in the 11th Arrondissement close to some other tourist attractions in Paris around the area like the Zebra de Belleville, which is a circus cabaret venue, the Cirque d'Hiver Bouglione circus, plus unusual museums like the Musee Edith Piaf and the Musee du Fumeur.

And being open seven days a week from 8am through to 2am with continuous service and free WiFi, the nearest Metro station to the Bataclan Cafe is called the Oberkampf stop or the Saint-Ambroise stop in the opposite direction.