Bataclan Cafe in Paris with live music and art exhibitions

The Bataclan Cafe is more than just a cafe in Paris, as they are also an art gallery showcasing the talents of different artists, plus they are classed as a concert hall and have regular live music nights, provide all the major sporting events on a big screen, host themed party nights and more.


A bit of history..

When the building was constructed back in 1864 by the architect Charles Duval, it was named Le Grand Cafe Chinois-Theatre Ba-ta-clan, and it was named Ba-ta-clan after the operetta created by Jacques Offenbach.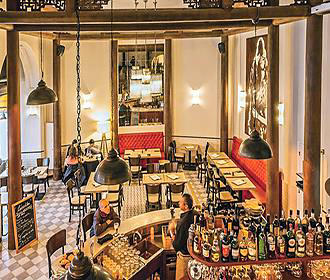 Although the name changed to Bataclan as we know it today, the appearance of the Chinese Pagoda style facade has remained the same and the facade along with the roof have been classified as an historical monument in Paris since 1991, and incredibly, it is the only building still standing within the city that was designed by Charles Duval.

From the very start, the Bataclan became a popular place to enjoy music and various shows with many famous names having been received at this venue including Mistinguett, Maurice Chevalier and many others where it became a music-hall, a cafe and concert venue, theatre and even cinema.

Yet it also had many down periods as well as the good times, but the venue gained popularity again in the 1960s with rock'n'roll and rock bands, which started with Soft Machine followed by Velvet Underground, the Ramones and Iron Maiden with many others in between.

However, even after this period of success, there have still been other crisis points, with the most horrific being that of the terrorist attack that took place on 13th November 2015 within the theatre with 90 people losing their lives and more than 200 people injured. Wreaths and flowers are still laid each year in memory of the tragic events of that evening, but the venue has once more bounced back driven by the commitment and passion of its leaders and enthusiasts.
About the Bataclan Cafe in Paris

With a renewed soft, warm and elegant decor, you will find a very large round bar and a large terrace with a no frills type of concept, just a comfortable and relaxing place that is officially called the Grand Cafe Ba-ta-clan. Additionally, there is a mezzanine and upstairs area, which can also be privatised for your own special events.

And the Bataclan Cafe is more than just a cafe in Paris serving a variety of different dishes continuously from breakfast right through to late evening, as it has become a popular place to meet up with friends, watch sporting events or enjoy a night out whilst listening to music.

In fact, whether it be the French Tennis Open held at the Roland Garros Stadium, FIFA football, the Tour de France and much more, you will find all the major sporting events highlighted on the big screen that you can enjoy with a drink or while eating.

Yet, various different days each and every month you can enjoy live music at one of their concerts, while enjoying the warm and friendly atmosphere, but there are also themed events and parties that take place here through the year, like for Valentines Day, Halloween, New Year and many others.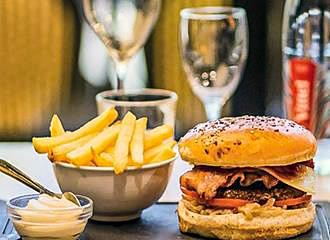 Another reason that the Bataclan Cafe has become popular is that it also serves as an art gallery, and each month the theme changes with a new artist being showcased, whether it paintings, drawings, photography, colourful, quirky, etc and all original.

However, they also showcase other types of art and creations like jewellery, flowers, numerous different types of objects and more, to bring awareness to these artistic creators, so you never know what you are likely to be able to admire or discover from one month to the next in this ever changing scene.

But it is not just about the friendly convivial atmosphere, the concerts and the varied events, it is also the food on offer that brings people to this cafe in Paris.


Cuisine at the Bataclan Cafe

The Bataclan Cafe serves tapas such as fried calamari or spicy chicken wings, different salads, numerous Bruschettas like the Mediterranea with tomato, cheese, tuna, grilled peppers and parsley.

There are also numerous different choices of main meals advertised on the board including daily specials and the wide choice of dishes available could be delights such as lamb with lentils, sardine tartare, steak with a bearnaise sauce and French fries, duck breast with honey and soy noodles or roast salmon with Hollandaise sauce and mashed potatoes.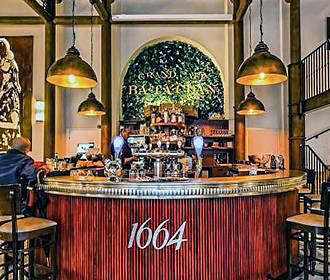 On a Sunday, there is a Sunday Brunch served buffet style, which is available from 11am through to 4pm with soft background music to accompany your meal.

There are also brasserie style choices of food available such as the charcuterie of a variety of different meats, the cheese board, some French delicacies like snails through to things like burgers, so there will be something for everyone to enjoy.

There are also Grand Cafe Ba-ta-clan specials such as Croque Monsiuer with truffle, Mozzarella fritters, their Revisited Caesar salad and casseroles, with an emphasis on fresh and seasonal produce utilised within their dishes.

Most main dishes are around €15 to €20 as of 2020, with some being slightly less or a higher cost, depending upon what you order, but don't forget that the also have Happy Hours daily from 4pm through to 9pm with a wide range of cocktails available from all over the world.


Access to Bataclan Cafe in Paris

You will find this cafe situated in the 11th Arrondissement close to some other tourist attractions in Paris around the area like the Zebra de Belleville, which is a circus cabaret venue, the Cirque d'Hiver Bouglione circus, plus unusual museums like the Musee Edith Piaf and the Musee du Fumeur.

And being open seven days a week from 8am through to 2am with continuous service and free WiFi, when it comes to getting to the Bataclan via Paris public transport, you will find that the nearest Metro station to the Bataclan Cafe is called the Oberkampf stop serving Metro lines 5 and 9 or a slightly further walk and you have the Filles du Calvaire Metro station serving line 8.

You can discover more about how to get to the Bataclan by going to our dedicated page including all the Paris buses that are within walking distance, which includes maps and timetables, not forgetting the Noctilien night buses that run from around 12:30am through to around 5:30am when other public transport has stopped for the night.