La Favela Chic restaurant and club in Paris

La Favela Chic incorporates a restaurant, a club and a contemporary art gallery that opens its doors from 7.30pm through to 4am, and on a tropical theme, you can enjoy traditional Brazilian cuisine to more traditional classics and then dance the night away to Latino music or retro chart toppers.


About La Favela Chic restaurant and club

As we have quickly mentioned, this is a restaurant in Paris as well as a club, that will let you enjoy an exotic and tropical style for a night out in Paris to remember, which is suitable for couples, friends and even groups.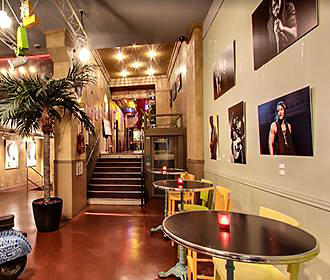 There is a fantastic dance floor within the club at La Favela Chic, although being a popular place for both Parisians and locals and can become rather crowded at times, yet from retro chart toppers by guest DJs, through to Latino music and even live bands, there is always something for everyone to enjoy.

However, there is also a space known as the Petit Club, which is like a club within a club, that is more cosy and confidential and separated with its black velvet curtain, there is a black bar where you can enjoy sophisticated cocktails for a more romantic evening while still listening to music and dancing the night away.

Yet there is still more to this place than meets the eye from the outside, as you will find that there is a space called the Pop-Up Gallery, which is dedicated to providing exhibitions of contemporary art in an intimate space that provides an original setting for different artistic experiences.
Cuisine at La Favela Chic restaurant

You can enjoy festive and colourful Brazilian cuisine at the Favela Chic Restaurant with starters such as Tapas, Caesar salad or Gartine de Crabe, which is basically Marinated crab meat, parmesan and grated breadcrumbs, and these are an average cost of around €9.

When it come to main courses, or Plats as they are known in French, you could opt for traditional Brazilian dishes, which are around €18 as of 2014, a Duo of fish with salmon and cod, grilled mushrooms, sweet potato and cream for €17, Duck with passion fruit juice, lemongrass, roasted new potatoes and roast onions for €21, or alternatively there is a dedicated Vegetarian dish for only €12 as of 2014.

The desserts at La Favela Chic Restaurant include delights such as an assortment of Brazilian desserts, a traditional flan or cheesecake with fruit coulis, and you will find these are an average cost of around €8.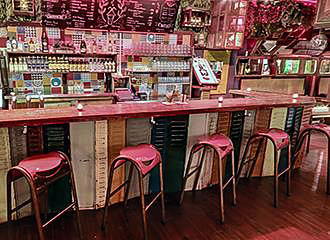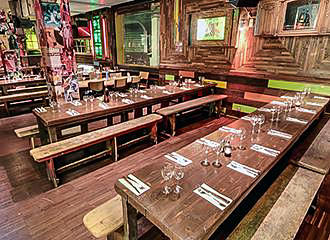 Visiting La Favela Chic in Paris

The Favela Chic is open on a Tuesday through to Saturday, yet is closed on a Sunday and Monday, but we would like to point out that reservations are required between 7.30pm and 8pm in order to dine in the restaurant.

As for the club, this is open on the same days as above from 7.30pm through to 4am, and it is free before 10pm, yet after this time, it is a cost of €10 per person with one drink included.

You will find this restaurant and club in the 11th Arrondissement close to one of the concert venues in Paris called the Alhambra and the Place de la Republique, which means that the nearest Metro station is called the Republique stop and can be accessed via lines 3, 5, 8, 9 and 11.