Musee des Archives Nationales museum in Paris

Located in the Hotel de Soubise, this museum shows permanent exhibits of government archives along with temporary exhibitions, plus the mansion house where it is located plays host to musical concerts.


About the Musee des Archives Nationales Museum

It was originally under the orders of Napoleon Bonaparte that the national archives should be brought together and installed in one place, and the building chosen was the Hotel Soubise that had recently become a state property. Then in 1867 Napoleon III turned the national archives into a French museum, which was first inaugurated in that same year.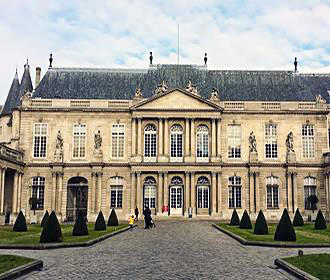 At that time, there were around 1800 original documents that people could view, yet this has dramatically expanded over the years, although the Musee des Archives Nationales was closed for a period of time.

After World War II the archive museum was completely reorganised, but ended up closing at the start of the 2000s. Yet in 2010, this unusual museum in Paris reopened its doors to provide a permanent collection of original documents from the national archives in some of the impressive rooms of the Hotel Soubise mansion house, like the Empire room and the Assembly hall.

So now, you can discover items such as the very last letter that Marie Antoinette wrote before she met her death with the guillotine at the Place de la Concorde. There is the foundation of the Saint-Chapelle, which is located on the Ile de la Cite just behind the Conciergerie, which was the prison where Marie Antoinette and many others were held captive before being executed.

Other items on display include the constitution of the Fifth Republic, the degree of Charlemaine, and these are all relating to the history of France that are held within the Assembly Hall.
Yet in the Empire Room you can discover archives presentations relating to packaging and containers etc dating back from the Middle Ages right through to the 20th century, with an original document being presented on show each month, that constantly changes, as some exhibits are far too fragile to be on display permanently.

Other items on display include a King Louis XV desk where the French historian Jules Michelet once sat at working, and it was him who first came up with the term renaissance, during his writings of the history of France.

Plus there is also a new media room that can present 3D modules, and there are more up to date archives such as facsimiles on display as well, not forgetting temporary exhibitions, and organised events that place here including discussions, workshops, etc.

So as you can tell, the Musee des Archives Nationales is a fascinating and unusual museum, which provides people with a different perspective on the history of Paris and France through the centuries with a rich collection. And many documents are presented for temporary exhibitions on specific themes, and may even include letters from people such as Danton, Robespierre, Napoleon Bonaparte, etc.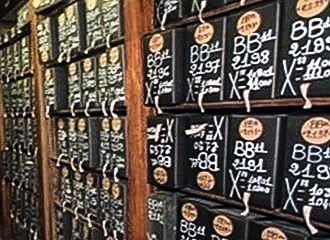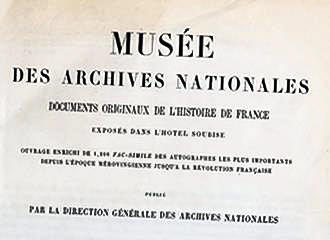 Visiting the Musee des Archives Nationales Museum

You will find the Musee des Archives Nationales located in the 3rd Arrondissement close to many other museums tourist attractions and it is open on a Monday and Wednesday to Friday from 10am through to 5.30pm. On a Saturday and Sunday it is open from 2pm through to 5.30pm, yet it is always closed on a Tuesday and on all National French holidays including 1st May, Bastille Day on the 14th July, etc.

The normal cost of entry is €3 as of 2014, yet there is a discount down to €2 for those aged over 65 or the disabled, but it is completely free for all people under the age of 18 or 26 if an EU citizen, plus it is completely free to enter on the first Sunday of each month.

However, when there is a temporary exhibition being held, then the cost goes up to €6 or a reduced rate of €4 as of 2014, and it is still free for certain people, but we would like to point out that this is only upon providing valid proof.
Guided visits are also possible whether as an individual or as a group at an additional cost, and visits for the Hotel de Rohan as well as the Hotel de Soubise can also be arranged, but these are all upon prior reservation and are normally conducted at set times on set days.

As for the concerts that are held at the Hotel de Soubise, these are very limited, as there is a maximum of 150 people able to attend at any one time, and normally are on early Saturday evenings, therefore reservations are also necessary in order to attend a concert organised by the Musee des Archives Nationales.

The Musee des Archives Nationales also participates in many cultural events that take place in Paris each year, such as the Journees du Patrimoine, which translates to heritage Days, the Nuit des Musees, or Night of Museums, the Fete de la Musique, that basically translates in English to the Festival of Music event, and many others.

But when it comes to reaching the Hotel Soubise and the Musee des Archives Nationales, there are plenty of different options available utilising the public transport system in Paris.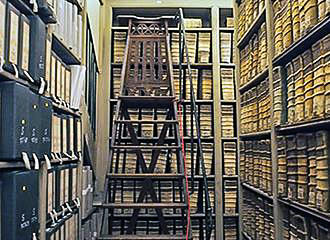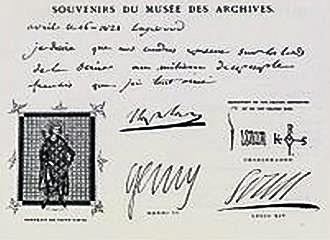 There are Metro stations such as the Rambuteau stop via line 11, which is the closest to the Musee des Archives Nationales, yet you also have the St Paul stop via line 1, the Hotel de Ville stop via lines 1 and 11, the Saint-Sebastien - Froissart stop via line 8, or the Chatelet stop via lines 1, 4, 7, 11 and 14, that will get you within walking distance.

You also have the RER train station called the Chatelet - Les Halles that serves the lines A, B and D, not forgetting that the bus numbers 29, 58, 67, 70, 75, and 96, to name a few, will also get you within walking distance of this museum.
Address and contact details
Musee des Archives Nationales, Hotel de Soubise, 60 Rue des Francs Bourgeois, 75003, Paris, Ile de France, France

Tel: +33 (0) 1 40 27 60 96
Fax: +33 (0) 1 40 27 66 45

Guided Visits Tel: +33 (0) 1 49 27 62 18
Concerts Tel: +33 (0) 1 40 20 09 34


Transport options
Paris Metro lines 1, 4, 7, 11, 14
Bus line 29
Bus line 58
Bus line 67
Bus lines 70, 75
Bus line 96
RER Train lines A, B, D
Attractions close by
Musee de la Chasse et de la Nature
Fontaine de Paradis
Dome du Marais Restaurant
Musee d'Art et d'Histoire du Judaisme
Jardin Anne Frank
Musee de la Poupee
Musee Picasso
Musee Cognacq-Jay
Institut Suedois
Square Georges Cain
Square Leopold Achille
Musee Carnavalet
Bibliotheque Historique de la Ville de Paris
Petit Casino Cafe-Theatre
Andy Wahloo Bar
Pompidou Centre
Dans le Noir restaurant
Place Igor Stravinsky
Musee BouglioneMusee Bouglione
Cirque d'Hiver Bouglione
Pop In Bar