Location is now closed with no re-opening date.

The following article is left as-is for historical and archiving purposes.
Le Dome du Marais Restaurant in Paris

This is a historical restaurant in Paris that was once a pawn shop and antique shop opened in the 1700s, with an unusual glass domed roof dating from the 1800s that is now the winter garden of the restaurant, which serves gourmet French cuisine in elegant and unusual surroundings.


A bit of history

King Louis XIII first founded a pawn shop in Paris, however, it was during the reign of King Louis XVI that the reopening of a pawn shop was instigated to fight poverty within the city of Paris.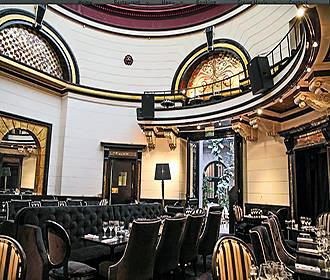 It was in the December of 1777 that work was authorised to start on the new pawn shop or auction house in Paris, and the two architects chosen were Charles-Francois Viel and Jacques Antoine, who also designed the Hotel des Monnaies along the River Seine.

The building itself was designed in a neoclassical style and topped with a dome that was decorated with roses. However, towards the end of the 19th century, the room was changed and topped with a glass and metal dome roof, which can still be seen today, and this has been classed as one of the finest constructions of neoclassical circular skylights in Paris.


About Dome du Marais Restaurant

Le Dome du Marais offers an unusual setting for lunch or dinner, and you enter through an entrance hall that is full of curiosities, antiques, antique furniture and flea market objects where you will be greeted by one of the staff.
You then go through the original double doors into the conservatory or winter garden where you can get to see the impressive glass dome roof, which is decorated with gold leaf, and this former auction room has now been classified as one of the historical monuments in Paris due to its architectural heritage.

But from the winter garden you can also go into their sumptuous dining room decorated with dark velvet seating contrasting against the elegant decor for a more romantic and refined setting for dinner.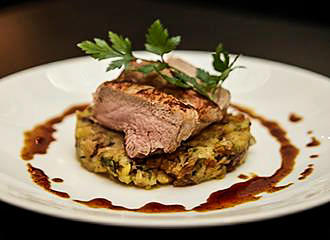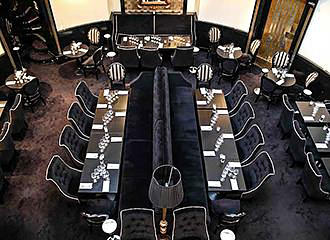 Cuisine at Le Dome du Marais Restaurant in Paris

The Jardin d'Hiver or winter garden bathes you in light and provides a lovely setting with its greenery to give a warm and cozy, yet also refined atmosphere, and this is also classed as a tea room, which is open daily for home made pastries, chocolates, teas, coffee and cakes, etc.

On Sunday Le Dome du Marais offers a selection meals from the menu plus special dishes for that day including burgers and salads, along with a Formula Brunch for €30 as of 2014. For this you can have assorted pastries, a hot drink & freshly squeezed juice plus either scrambled or fried eggs accompanied with either bacon or salmon.

This gourmet restaurant in Paris also offers a Lunch menu on a Monday to Saturday where you can choose between a choice of three starters, three mains and three desserts, and as of 2014 a main course is €18, a starter and main or main and dessert is €25, yet a full three course lunch is €29.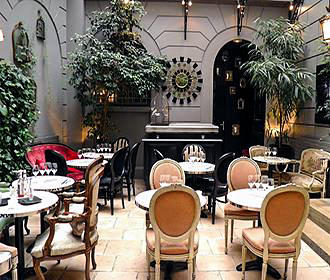 Now obviously the menu changes regularly, however the lunch menu may be delights such as a sea bass tartar and yuzu crean or chilled gaspacho soup with kalamata olive caviar for starters followed by sea bream and work vegetables or beef fillet with fried rice and tiger sauce.

But the Dome du Marais also offers a full a la carte menu for both lunch and dinner that could include selections like we mentioned above, but also starters such as a vegetable tartar with feta cheese, homemade Foie Gras with white miso paste, a green bean salad with kalamata olives, a prawn tartar with lime and ginger, or Iberian belotta ham.

Main courses could be delights such as a salmon cutlet snacked with rice and green herb sauce, roast chicken with morel mushrooms and grilled potatoes, stuffed squids with vegetables, mozzarella and chorizo, a black truffle pizza with Italian smoked cheese and frizzled lettuce, pan seared veal with paprika juice and capotana, a seared Angus beef fillet with potatoes and bearnaise sauce. There are also a variety of different fishes from the market like John Dory, lobster, etc all depending upon what is available, which all come from the French Atlantic.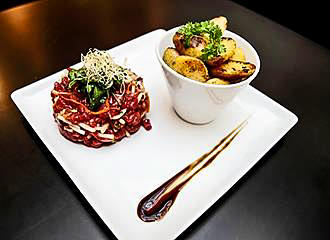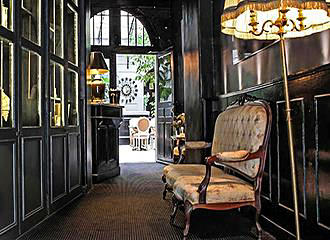 You could then opt for a selection of cheeses at a cost of €12 as of 2014 or go straight for one of the very tempting desserts to round off a delicious meal of innovative French cuisine.


Visiting Dome du Marais Restaurant

This gourmet restaurant in Paris is located in the heart of the city in the 4th Arrondissement close to tourist attractions such as the Pompidou Centre, the Musee Carnavalet and the Jardin Anne Frank Garden.

You will find the Dome du Marais open daily from midday for lunch and then again of an evening for dinner and although reservations are not required, these are highly recommended, and if you have your own vehicle, then you may be pleased to know that valet parking is also available.

However, when it comes to public transport in Paris, the nearest Metro stations are the Rambuteau stop via line 11 or the Hotel de Ville stop via lines 1 or 11, you also have Paris buses on numbers 29, 38, 47, 67, 69, 75 and 96 that have stops nearby.