Square Leopold Achille and park in Paris

Located in the historical Marais area by numerous mansion houses and the fabulous Musee Carnavalet that also includes the Hotel Pelletier de Saint-Fargeau, which this square borders, it is a great place for a picnic or letting the children play.


About Square Leopold Achille

Now the Marais area was once occupied by the Kings of France and there was a royal park that spread out to the Place des Vosges, however, this was all destroyed upon the orders of Catherine de Medici, and gradually over time the area got developed with luxurious mansions.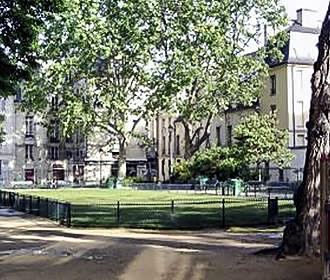 These elegant mansions have become a part of the charm associated with this area of Paris, and the Hotel Pelletier de Saint-Fargeau is one such mansion, which is now a part of the Musee Carnavalet.

This particular mansion now borders onto the Square Leopold Achille, which was only designed in 1913 and it was named in memory of a former councillor of the 3rd Arrondissement, who was also a Deputy Mayor in Paris.

And within this square in Paris, you can discover statues that were from the facade of the old City Hall, or Hotel de Ville, which was burned down and eventually totally reconstructed, and one of these statues is called Femme Debout or Standing Woman, as it generally translates to in English, but is also referred to as Pomona.
And in fact, at the other garden in Paris located close by, called the Square Georges Cain, you can also get to see other remnants from the Hotel de Ville and other buildings like the Tuileries Palace that have since been destroyed.

But getting back to the Square Leopold Achille, you can also find many different varieties of trees and shrubs such as a False Holly that was first discovered in Japan in the 1800s and brought over to France, and it is nicknamed this due to its prickly leaves. But you can also discover poplars and plane trees, a Judas tree, along with many more.

Yet there is also a lovely lawn, which is ideal for a place to relax on a warm summers day or enjoy a picnic, plus there is a childrens playground and sandpit to keep the little ones contented.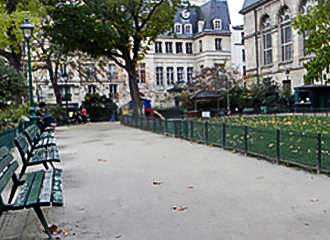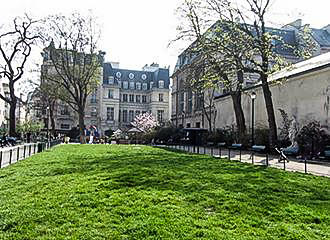 Visiting Square Leopold Achille in Paris

The Square Leopold Achille is located in the 3rd Arrondissement in the Marais area close to numerous different tourist attractions and museums in Paris such as the historical Musee Carnavalet.

And you will find that it normally opens at 8am during a weekday and 9am at weekends, however the closing times vary depending upon the time of year and can be as early as 5.30pm during the winter months.

But you may be pleased to know that there are public toilets, a water fountain for drinking water, and it is one of the free WiFi hotspots in Paris, plus it is accessible to the disabled bar one entrance on the Rue Sevigne where there are five steps to negotiate.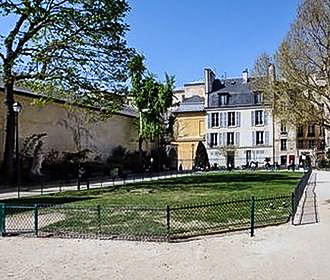 Now when it comes to public transport in Paris the nearest Metro stations are Chemin Vert stop via line 8 or the Saint-Paul stop via line 1, plus there are three Velib stations close by for those of you that are utilising the self service bike hire scheme.