Le Double Fond magic show in Paris

The Double Fond is a café come theatre in Paris that is dedicated to magic and over the years it has become known as a Premier Club of Magic in Europe that attracts thousands of visitors and professionals every year.


Background of the Double Fond

Dominique Duvivier was first fascinated by magic as a child after watching a film and obtained his first set of cards at the age of eight. A self taught magician, he turned professional in 1973 at the age of 23 and he was one of the very first magicians in France to introduce close up magic, or magic of proximity.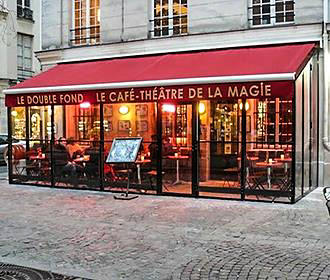 He has been classed as the worlds best close up magician ever seen and Le Double Fond was the brainchild of Dominique Duvivier, who wanted to create a place that was dedicated to the art of magic.

And although many were very skeptical about the idea, he persued his dream and profession and this theatre became the first ever dedicated to magic in Europe and today, it has become a very popular tourist attraction in Paris that has been running for well over twenty years.

However, Dominique never stops for his passion and even though he runs the Double Fond magic show in Paris, he also owns the oldest magic shop in the world that dates from 1808 and called the Mayette Modern Magic, this can be found in the 5th Arrondissement of Paris.
He has also produced instructional DVDs on magic and thousands of different magic tricks that are sold to budding magicians from all over the world, plus he conducts seminars, training sessions and is professor to hundreds of performers, relentlessly and with so much passion, also he constantly is spreading the word and mystery of magic for all to enjoy for years to come.


About Le Double Fond

Le Double Fond translates to Double the Substance and is a very unique place that has become famous throughout the world of magic and people travel from far and wide to experience the magic shows or for lectures for magicians.

Located in the heart of the Marais district in the pretty square of Marche Sainte Catherine within the 4th Arrondissement of Paris close to Place des Vosges, you will not get to experience magicians on a stage performing tricks like sawing a woman in half. Instead of this, just by ordering a coffee or a cocktail, this will be served to your table by a magician who will perform magic tricks right before your eyes so that you will have a very unique and intriguing look at the magic and the mystery that surrounds it.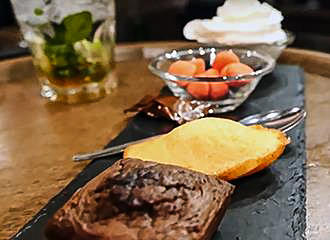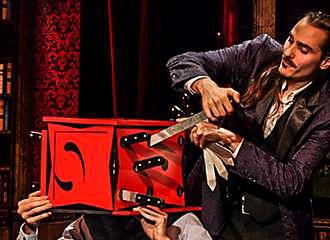 Of an evening in the vaulted stone cellar of Le Double Fond they call the auditorium, there are several magicians that take turns performing numerous different tricks, miracles and humorous skits right before your eyes.

And although this basement is small, as it only holds a maximum of fifty people at any one time, it makes it an intimate and friendly atmosphere with laughter and awe guaranteed, but it is air conditioned for additional comfort.


Different Double Fond magic shows in Paris

You can book to just go to one of the magic shows in Paris that are held on a Thursday, Friday and Saturday evening with an arrival time of 8.30pm and starting at 9pm. Lasting a minimum of one hour of sheer amazement, these are a cost of €20 or €25 per person depending upon the day.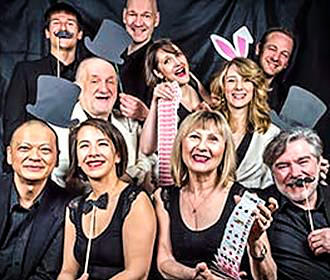 Or how about a glass of champagne, appetizers and a magic show at the Double Fond? Well these start at 7.30pm and are a cost of €40 per person and are classed as the Aperetif and Spectacle.

But for an all out evening of fun, laughter and mystery, then the Dinner show is something not to be missed and there are different options to choose from, although these do need to be booked several days in advance and are for a minimum of two people up to thirty people.

Now, with the dinner shows at the Double fond you will find that these are more like what you would get at a buffet style party or banquet, but definitely with a touch of class, yet you do not get plates and these are like finger food.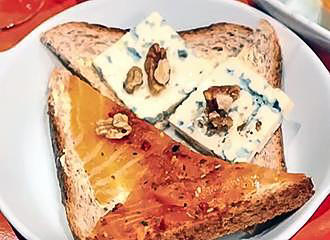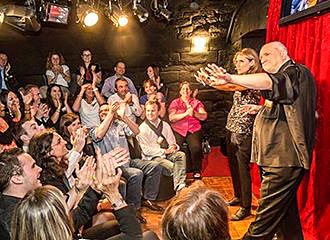 The first called the Formula Pleasure is a cost of €65 per person as of 2012 and includes cold snacks, warm snacks, desserts and unlimited wine, within reason of course. Whereas the second called the Formula 5 Star is a more luxurious menu that includes additional sumptuous French food treats along with a glass of champagne and as of 2012 this is a cost of €85 per person.

The ultimate dinner show in Paris at the Double Fond is called the Formula Diamonds and has a very impressive thirty different pieces that you can experience. Ad some of these may include Bayonne ham from the Aquitaine region of France, Cherry butter and smoked duck, Foie Gras mousse, Peppers stuffed with tuna, Black tiger prawns marinated in spices, Tomato cocktail with aubergine caviar and Julienne of Smoked Salmon.

Children are not forgotten and this is a fabulous place to enjoy when you are on a family holiday in Paris and something that the children will never forget for year to come. But for something completely different that is really designed for children aged between five and eleven, then why not let them enjoy the Double Fond Magic show in Paris on either a Wednesday, Saturday or Sunday afternoon, and it is only a cost of €10 per child for one hour of fun, excitement and bewilderment.


We did quickly mention way above about ordering a cocktail or coffee, and you can do this at the bar or on the terrace and it is not really any more expensive to have a cocktail at the Double Fond as it is at any other wine bar or restaurant in Paris.

However, if you order certain cocktails, then the magician who will be the person serving you, will perform a certain magic trick to coincide with the type of cocktail, and where else in Paris could you even contemplate having a relaxing drink with such an unusual concept?

Now it does depend on what types of fresh ingredients are available for the type of cocktails that you will be able to order, but if you are unable to have an alcoholic drink, then do not worry, as there are plenty of non alcoholic alternatives, so you will not have to worry about missing out on the magic.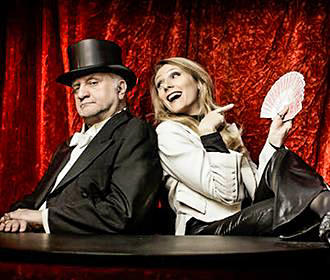 But to give you an idea, there is one particular cocktail called the Caipiroska d'Onosaka, which is named after Ton Onosaka who owns a magic shop in Tokyo and he is one of the most well-known magicians in the world for being a creator of the multiple effects scene with close up magic and in particular special card tricks. And so, by ordering this cocktail it will be accompanied by a special card trick.

Another cocktail with a theme is called the Cocktail Levitation, and as the name suggests, you will get to see a grand illusion that utilises the art of levitation, which defies the laws of gravity.

Parties can also be organised by prior arrangement, both for children and adults and these vary in cost depending upon what sort of option you choose, but these do also have a minimum cost involved.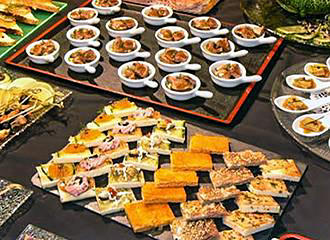 However, for those of you that are budding magicians, have you ever thought about having tuition by a professional magician? Well, now it is possible, as the Double Fond provides a personal session or group sessions, but obviously these do have to be booked well in advance and again as of 2012, one personal one hour lesson starts from a cost of €50.

But if you are on holiday in Paris for a while, then you can also book several sessions like a course and these are at a discounted rate and any tuition is available from the age of 12 upwards, but if it is a child, then an adult would have to accompany them. Yet these courses are not just about learning the art of magic and tricks, but also how to present yourself, how to perform, get over stage fright and much, much more.

There is also an amateur magic show in Paris at the Double Fond, which is held on certain nights and this is where you can get to see up and coming magicians performing, but if feel that you are one of these, then you can also register to perform at one of these, which is a great way to start out in the world of magic.

So, as you can gather, the Double Fond is an ideal place for a family day out in Paris or just to experience something completely different when you are holiday, and it is a great way of relaxing before you decide to experience the next bout of tourist attractions or monuments in Paris.

But please do bear in mind when booking, that whatever option you decide on, you do have to book in advance and the minimum time frame is four days, however, with the popularity growing year by year, this is sometimes extending into weeks for certain events, etc.