The Andy Wahloo Bar in Paris

The Andy Wahloo is a Moroccan bar that was created by Mourad Mazous and with its authentic atmosphere it transports you back to Morocco in the 1970s in a stunning and unusual environment that is ideal for a night out with friends.

However, the Andy Wahloo was originally designed purely and simply to allow people to sit and have a drink in a comfortable setting, whilst they were waiting for a table at the 404 Restaurant next door that is owned by the same people, and yet as time has gone on, it has become a very popular bar with loyal customers and visitors from all over the world.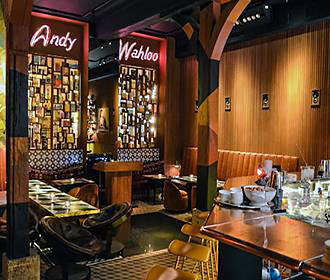 North African and Moroccan artefacts

In a reasonably small space that does get very crowded as it gets later in the evening, there is a unique decor with its North African and Moroccan artefacts and the silk-screened Moroccan coffee tables. It has tiled floors and arched colonnades with brightly coloured lanterns that hang down low, along with the throw cushions and little stalls, which provides an authentic and friendly atmosphere that is ideal with meeting up with friends.

There is also a courtyard outside as well, which of course is where the smokers have to go these days.

But at this bar in Paris you can enjoy sipping one their numerous different cocktails, either alcoholic or non alcoholic versions, or perhaps a mint tea or maybe one of the African wines is more to your liking.
And as of 2012, every day between 6pm and 8pm they do a cocktail of the day for only €5, a bottle of beer is around €7 and the normal cost of cocktails is upwards of €11 plus you can also get shots, shooters, wines, the mint teas, or if you prefer even champagne is available, etc.

Yet if you feel peckish yet do not want a full meal, you could always opt to try some of their tapas dishes that are available and delights on offer that you could try include the Caravane de Halouf which consists of country ham, homemade terrine, sausages, chorizo and duck rillettes served with bread and condiments which will only cost you around €12 as of 2012.

You could also try one of the tartines like the roast chicken, salad, tomato, onion and bacon grill with mayonnaise or the crepe rolled lamb ricotta with basil, Thai tomato confit and onion.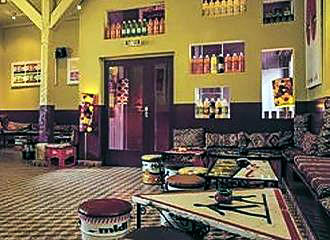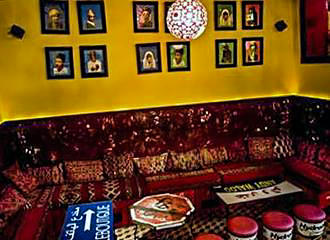 Yet this is not just a bar, but the place turns more into a nightclub in Paris on a Tuesday, Thursday, Friday and Saturday with different DJs to get you in a good mood and maybe try dancing in the small space to the different rhythms, all of which are based around the theme of world music such as African beats.

In fact, the owner Mourad Mazous also has his own record label and numerous different CD compilations have been produced that you can purchase and he also now has restaurants in London as well.


Access to the Andy Wahloo Bar

This bar come nightclub in Paris is open every day from 6pm right through to 2am in the morning.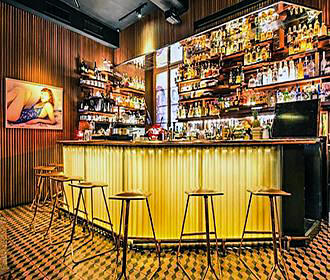 No reservations are necessary and everyone is dressed casually, however, if you do fancy sitting out on the terrace in nice weather with your tartines for instance, then you may wish to reserve a table, as this area is very popular on warm nights.

But you could always opt for the chic atmosphere of the 404 restaurant next door for a nice meal with the same themed surroundings.

The nearest metro station is the Arts et Metiers stop.