Le Petit Casino Cafe-Theatre in Paris

Le Petit Casino is a dinner and show venue that features one man band style comedians and new talents in a brasserie style setting for a buffet dinner followed by the shows, which are full of laughter and comedy.


About Le Petit Casino Cafe-Theatre

The Petit Casino first opened in 1969 and was named after a roll of a dice and gamble to create a venue that would purely offer an original form of entertainment, being comedy with solo acts, which would bring joy and laughter to its patrons every evening.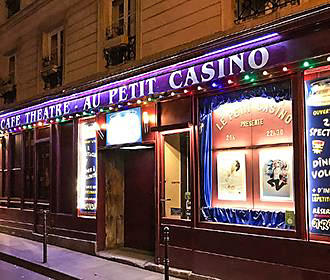 This brasserie style cafe and theatre in Paris was originally a plumbing shop and has still retained some of the original features inside like the exposed stone walls and columns and now has traditional cafe style tables with chequered table cloths and numerous different pictures, photographs, etc that adorn the walls for a relaxed friendly atmosphere when dinning.

You will get to see two different acts of an evening that are cabaret style comediens, although being able to understand the French language is a major plus, otherwise it is very hard to understand some the humour and witty jokes. But at a very reasonable cost compared to many entertainment venues in Paris, it can make a great evening out with friends or family.
Also, a meal at Le Petit Casino Cafe-Theatre is optional and is a buffet style, where you can eat what you like and as much as you like from a wide variety of cold dishes such as charcuterie, a large selection of cheeses, salads, meat, pastries and more that will satisfy anyones tastes. And this is served prior to the evening entertainment commencing, also at a reasonable cost, especially compared to many of the cafes and restaurants in Paris.


Access to Le Petit Casino Cafe-Theatre

This venue for a dinner and show in Paris is located in the 3rd Arrondissement and is open seven days a week all year round and you would need to get to the Petit Casino for the buffet dinner at 8pm, and then the two different acts follow, with the whole evening finishing around midnight.

The cost of the two spectacles as they are known is €20 as of 2013, and then the buffet style dinner at Le Petit Casino is an optional extra of €18 per person on a Sunday through to Friday, but you must make a reservation via telephone on +33 (0) 1 42 78 36 50 in order to enjoy the experience.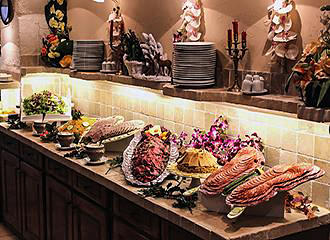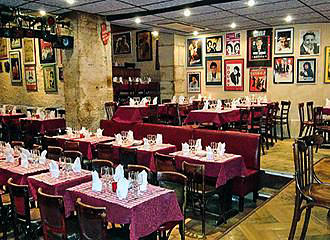 However, there is an additional charge of €6 per person for a Saturday night or any days that are classified as French holidays, yet we would like to point out that although there is a half bottle of wine included with the dinner, any aperitifs, coffees etc are not included within the cost of your meal.

And getting to Le Petit Casino Cafe-Theatre is relatively easy as it is located between the Pompidou Centre, also known as the Beaubourg and the Place des Vosges, and is situated within walking distance of two different Metro stations, which are called Rambuteau and the Arts et Metiers stops. However, if you are travelling via the RER, then unfortunately the nearest stop is the Chatelet - Les Halles train station in Paris.