404 Restaurant in Paris that serves North African Cuisine

The 404 Restaurant in Paris is based upon the North African and Moroccan themes and is one of the chic restaurants in Paris that has a unique décor, but still incorporates the traditional look of the old building that it occupies.


A bit of history

Mourad Mazous was born in Algeria in 1962 and moved to Paris in 1977 with a dream of opening his own restaurant based on the themes of where he originated from, and he first opened a bistro in Paris called the Au Bascou in 1988, and although the Au Bascou is still running, it is not by the same person and now has gourmet French cuisine.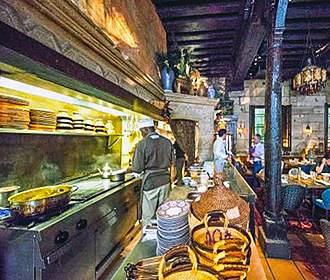 However, shortly after opening the Au Bascou, he then decided to open up the 404 Restaurant, which he named after the Peugeot 404 car that had become a major hit in the North Africa area of Maghreb.

Mourad Mazous remained in Paris for a few years before moving to London in 1995 and opening up two other restaurants called Momo and Sketch along with a café serving Kemia, which is African tapas.

Mourad has since expand further and opened up a restaurant in Dubai, plus he opened the Derriere in Paris, which is a unique restaurant venue behind the 404 restaurant and the Andy Wahloo bar.
He has also produced a cook book that provides a magical journey through North African cuisine and has also launched his own record label with many different CDs that are now available to purchase.

So, as you can probably tell by now, all the restaurants are themed from his roots and they are not just popular, but all are highly recommended by the press and are great places for a chic evening with a great atmosphere and authentic cuisine that matches the decor.


About the 404 restaurant

The 404 restaurant is located within one of the oldest private houses in Paris that dates from the 16 century and when it was first opened over 19 years ago, the owner Mourad Mazous wanted to take great care in preserving the original architecture and structure of the building. Yet he also wanted to create an authentic North African and Moroccan style atmosphere that would blend in with the building and enhance the whole experience, and since it opened, the 404 restaurant has maintained its reputation as being one the top places to eat out in Paris.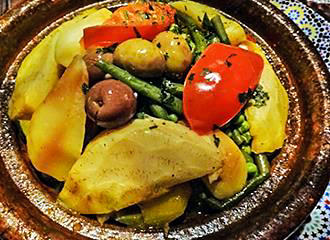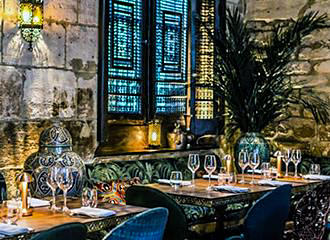 However, because the restaurant is quite small, it soon became apparent that there was no room for people to wait for a table, or just relax with a drink whilst waiting to be seated, and so, Mourad then acquired the building next door. He opened up the bar as the Andy Wahloo bar, and this has now become one of the very popular bars in Paris in its own right, yet still has the same North African and Moroccan theme, plus there are also now DJs certain nights of the week.

But getting back to the 404 Restaurant, it is one of the small and charming restaurants in Paris and there is one main dining room, that also has the open kitchen, yet there is also a small mezzanine area that is reached by an ancient staircase that is lit by flickering lanterns.

The decor within the 404 restaurant includes North African and Moroccan artefacts, subtle lighting and lanterns, benches and lots of cushions along with traditional wood and stone all around.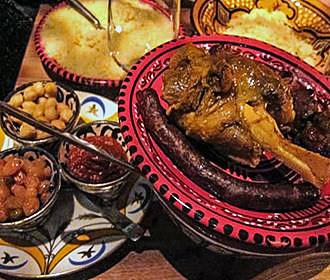 Cuisine at the 404 restaurant in Paris

All of the dishes on the menu originate from North African cuisine and most of them are traditional recipes, although some have a more modern twist utilising distinctive ingredients to get your taste buds tingling and awaken the senses.

Fresh ingredients from the local markets in Paris are purchased every day and then combined with herbs and spices that combine flavours, aromas and colours, yet the food from the Maghreb area is not hot and spicy, it is just well spiced.

For the starters you could choose from delights such as stuffed sardines with lemon, cumin, coriander and garlic or the cheese briouat, which is a filled pastry with mint and potatoes. But perhaps the soup with lentils, chick peas, lamb, tomato and coriander or a cucumber salad with fresh mint and sour cream would be more to your liking, and as of 2012, the cost of a starter is from €8.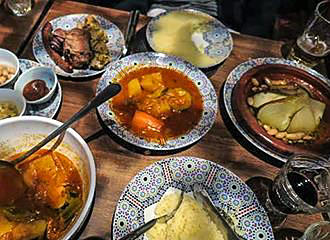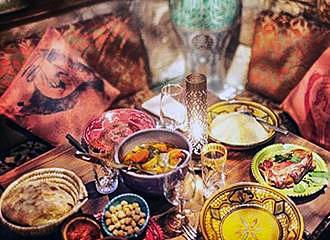 For the main course you could choose a Pastilla, which is filled pastry and these come with wild pigeon or fish, yet maybe stuffed whole seabream, or grilled leg of lamb on the skewer would be your preferred choice. However, the 404 Restaurant also provides a vegetarian dish of mixed grilled vegetables for a main course.

Tagines are also very popular at this restaurant, and these are a classic North African mix of fruit, vegetables, meat and spices that are simmered in a terracotta cooking pot and you could choose from dishes like the lamb, green pea and artichoke tagine, a duck, apple and cinnamon tagine or chicken and pear tagine and these are around €19 as of 2012.

Most people have heard of Couscous and this is a traditional base of steamed cracked wheat for stews and broth within North Africa and has become one of their premier dishes. And here at the 404 restaurant they provide a variety of different Couscous dishes for the main course such as a seven vegetables couscous, or couscous with either lamb or chicken skewer, along with several others to choose from. The couscous dishes range from around €16 up to €26 as of 2012.

There are also different desserts to choose from, however, if you do not wish to have the a la carte option, or would rather go to this restaurant at a lunchtime, then there is a set menu available that includes a starter and a main course along with a drink for €17. But please bear in mind that this is only available on a Monday to Friday at a lunch time and not on any French holidays.

But on a Saturday, Sunday and on the bank holidays, Brunch is served between 12 noon and 4pm at a cost of €21 per person as of 2012, plus there is a wide selection of wines, mint tea and mojito cocktails for an more authentic dining experience.


Access to the 404 restaurant in Paris

For lunch the 404 Restaurant is open on a Monday to Friday from 12 noon, yet the last food order is taken at 2.30pm, however on a Saturday, Sunday and bank holiday, it opens at 12 noon and closes at 4pm.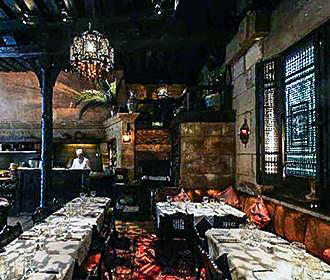 If you feel that you wish to dine out of an evening while you are on holiday in Paris, then you will be pleased to know that they open every day of the week for dinner from 7.30pm and the last food order taken is not until 11.30pm.

Now, we would like to point out that this is a very popular restaurant and is often frequented by celebrities, especially for an evening out, so reservations are highly recommended, and smart casual dress is also recommended.

Located in the 3rd Arrondissement of Paris close to the Marais and Beaubourg districts, the nearest Metro station is the Arts et Metiers.