Derriere restaurant in Paris

The Derriere is designed as a home away from home restaurant in Paris with an unusual twist, as the venue is designed in such a way that you can entertain with friends or family as though you were in your own home.

After years of success with the 404 Restaurant and the Andy Wahloo, which is the bar in Paris right next door, the owner called Mourad Mazous, has expanded with different restaurants in London, Dubai and Beirut.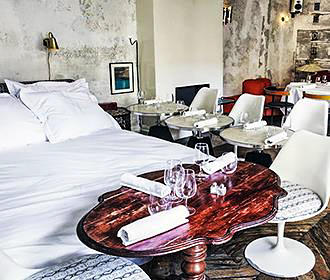 French food served in an apartment

His latest imaginative idea was to create a home from home atmosphere with French food, but served in an apartment, and the ideal location was positioned behind the chic 404 Restaurant in Paris serving North African cuisine and the Andy Wahloo bar and nightclub, which is why this place got the name of Derriere.

Originally first opened in the November of 2008, now when you decide to book a meal at the Derriere apartment style venue, you will find that there is a lounge, dining room, sitting room and even a bedroom, and you can choose where you would like to enjoy your meal.

The actual furniture within the Derriere restaurant is a true mix of many different styles from stone walls to unusual wooden chairs and a bench style dining table, through to an old cabinet. There is the sitting area, a fancy wicker chair and a stool made from a horses saddle, some unusual hanging lights, stereo and numerous CDs, books, lots of pictures, other different seating areas, an old fashioned style TV and even a table tennis table, which just makes this apartment style restaurant even more unique and something completely different!
French Cuisine at the Derriere restaurant

You will find that the food is simple, yet wholesome French cuisine that is made from the finest fresh ingredient that are available daily and of course, because of this, the menu will change from season to season.

And when you see the menu, it will be completely different from any other restaurants in Paris, as each particular dish has different definitions and meanings that are associated with it. Just as an example, beef for instance can relate to the meat, or the slang term for someone that has a complaint, so this really will be a completely different meal experience right from the word go!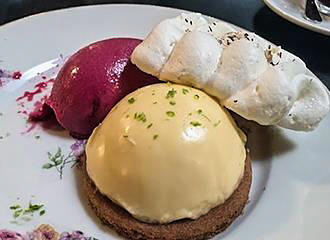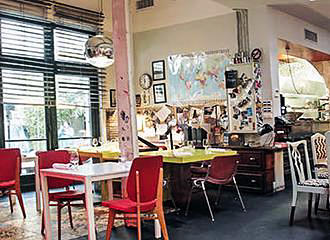 Now at the Derriere Restaurant they have a lunch menu, which could consist of starters such as pumpkin soup or salmon marinated with dill and served with horseradish. Main courses could be veal ribs with rosemary or roasted cod with thyme and olive oil.

However, of an evening, there is an a la carte menu with an even greater selection of dishes to choose from and there are also choices for vegetarians as well.

The starters could include delights such as a spring roll with honey and lime dressing or artichoke with a warm mustard dressing for those that want a vegetable starter. Yet perhaps a home made terrine of game, or maybe foie gras cooked in a terrine with sweet spices and served with toast, then what about mackerel tartar marinated with ponzu would be more your taste. The starter range in cost from €16 upwards per person, as of 2012.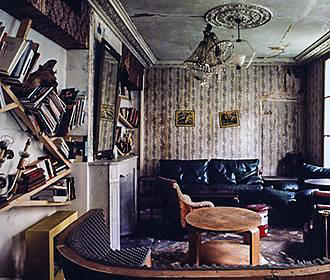 When it comes to the main course, there are also numerous delights that will awaken your senses and a couple of the fish dishes at the Derriere may include sea bass cooked with spicy coconut milk or cod with shellfish and root vegetables.

Of course the meat dishes could be the classic roasted farm chicken served with homemade mashed potatoes or roasted pork with mushrooms, but for something a little different it could be roast beef served with a satay sauce or veal sweetbread braised with ginger.

The main course starts from €19 per person, however, there are actually two dishes available that are designed to be shared between two people which are the veal rib served extra large with lime juice, vanilla and ginger for €70 and the rib eye steak served extra large with green beans and baby potatoes for a cost of €75, again these prices are as of 2012.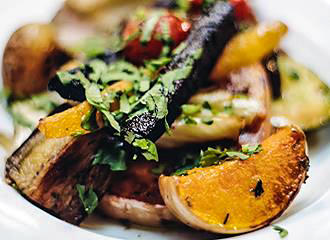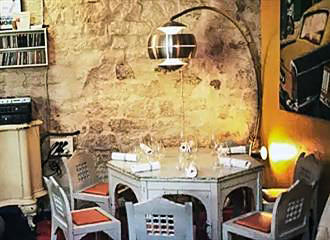 There are also some mouth-watering desserts to choose from like shortbread biscuit with orange and Grand Marnier cream, apple strudel or the chocolate fondant with homemade vanilla ice cream to name a few.


Access to the Derriere restaurant in Paris

The unique and exceedingly unusual Derriere Restaurant is located in the 3rd Arrondissement of Paris behind the 404 Restaurant and behind the Andy Wahloo Bar and the nearest Metro station is the Arts et Metiers.

The Derriere is open for lunch on a Tuesday through to Friday from 12 noon through to 2.30pm, which is the time for last orders.

This apartment style restaurant is also open of an evening on a Monday through to Saturday from 8pm to 11pm, which is the last order time.

We would however like to point out that reservations are required for this unique venue and can be done via telephone or email, plus you can also privatise either a room or the whole apartment for sit down dinners or party style receptions. The choices are wide, and the team at the Derriere are more than happy to help you to make the most of your time at the apartment restaurant.