Zebre de Belleville Circus Cabaret in Paris

This is a cabaret venue in Paris with a difference that is suitable for all ages including young children, and is a dinner show with a circus cabaret, plus you can enjoy magic at your table, enjoy a drink with the artists, then you can get up and dance after the show, etc.


A bit of history

Back in 1945 a cinema called Le Nox was created and then in 1951 this venue became known as Le Berry and continued as a cinema, becoming known as the Berry-Zebre in the 1980s.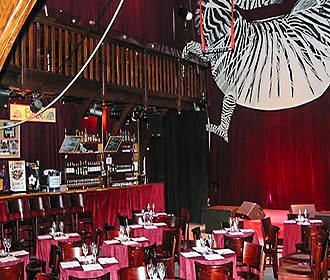 However, by the January of 1995 the cinema was abandoned and stood empty for a few years until it was purchased by the director of the Cirque de Paris, Schoeller Francis, in the January of 1999 because he wanted to provide a completely different form of cabaret entertainment that would be suitable for all.

And after major renovation works, the new circus cabaret venue opened in the old cinema on 1st march 2002 with the name of Le Zebre Belleville, and the first show was called the Cirque Cruel.


About Zebre de Belleville Circus Cabaret

You will find that most small cabarets have a more intimate and friendly atmosphere and this is no exception, for this circus cabaret venue in Paris you will be able to discover wonders like trapeze artists and tightrope walkers through to jugglers and magicians, offering great entertainment for all ages.
This is a small cabaret in Paris that can only accommodate around two hundred people and not only does it provide the dinner show circus cabaret, but there are also numerous different concert performances staged here throughout the year, along with circus workshops.


The Cabaret Cirque at Le Zebre de Belleville

The newly choreographed show is called the Cabaret Cirque Russe, or Russian Circus Cabaret with singing, dancing, a puppeteer, contortionist, an aerialist and of course the other spectacular acts like we mentioned above.

The circus cabaret is a dinner show, and seated at round tables lit by candlelight, you can see performers on stage and even above your heads as you enjoy your meal, not forgetting that in between courses a magician will go round to the tables performing tricks before your very eyes.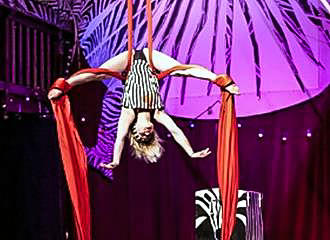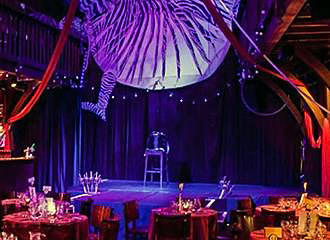 After the show has finished and the meal is over, the artists will join you and maybe have a drink before they invite you to get up and join in and possibly even get you dancing, which makes this a great way to end the evening in a friendly atmosphere.

As for the dining experience, this is based on French cuisine, yet also runs with the theme of the show, and you will be offered an aperitif on arrive. As of 2013 you then get a set three course meal such as a salad with Russian flavours for starters followed by chicken supreme with pilaf rice and a dessert for a cost of €62 or only €29 for children aged 3 to 11. Yet the cost does go up in December.

There is also a special menu and a completely different, even more spectacular show laid on for New Years Eve that starts at 7.30pm and with dancing and partying this goes on well into the early hours for a cost of approximately €150 for an adult and €95 for a child.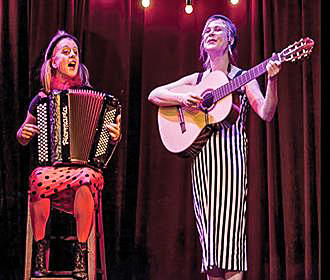 The Z Circus Workshops at the Zebre Belleville

Known as Stories and Strings you get a show with magic, music, the trapeze, the clown, acrobats and more, plus you learn about make-up the circus art itself, etc and then, after a short break it is time for you to try different things, under the watchful eyes of the professionals.

These are available for both children and on a Saturday these run from 2pm through to 4.30pm and on a Sunday from 2.30pm through to 5pm for a cost of around €19 for adults and around €17 for children between the ages of 3 and 11, as of 2013.

Le Zebre de Belleville as holds a circus workshop for a shorter duration on a Wedensday that runs from 2pm through to 3.30pm and is a cost of around €14 for adults and €11 for children between the ages of 3 and 11.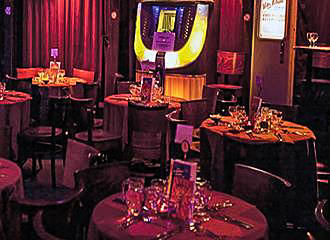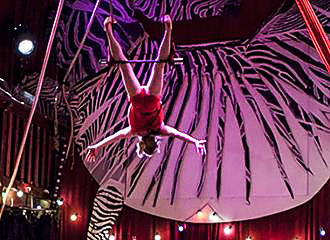 Access to Le Zebre de Belleville Circus Cabaret in Paris

The Circus cabaret itself only has performances on set days such as a Saturday and booking in advance is essential, yet even the concerts or workshops have to be booked in advance, which can all be done online or via telephone on +33 (0) 1 43 55 55 55.

The dinner show cabaret starts at 7.30pm and is suitable for anyone from the age of 3 to 103, but unfortunately, children under the age of 3 are not permitted. However, you may be pleased to know that this cabaret venue in Paris is accessible to the disabled and have the handicap tourism label.

You will find Le Zebre de Belleville located in the 11th Arrondissement, which is close to many different and unusual tourist attractions in Paris, even including a circus venue and the Musee Bouglione along with other museums such as the Musee Baccarat crystal museum.

And when it comes to public transport in Paris, the nearest Metro stations are the Belleville or Crown stops via lines 2 or 11, so if you want a completely different evening of entertainment while on holiday in Paris, then look no further, just remember to book in advance.